Chicken Parmesan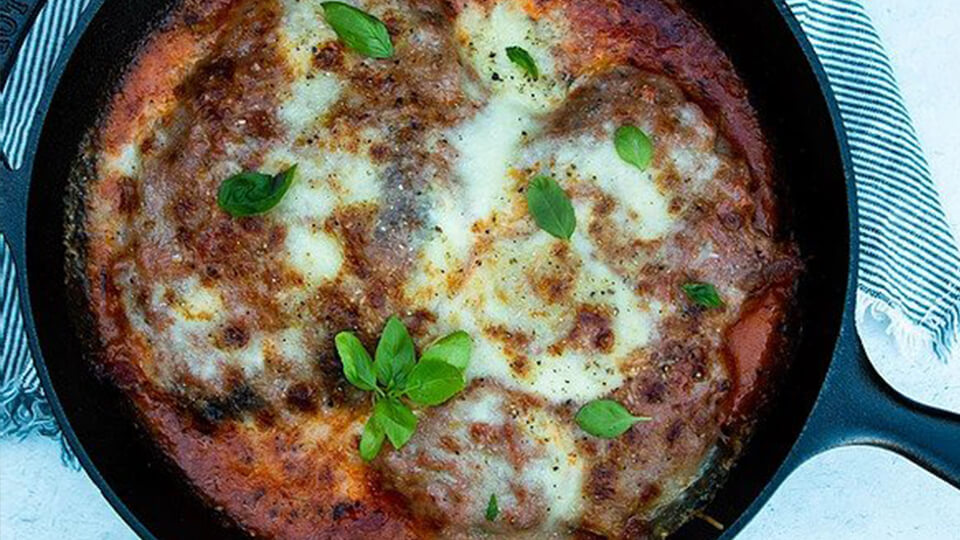 When your Chicago-born honey tells you that the Chicken Parmesan that you've just made is the very best he's ever had, you take notice! Terry is a guy that knows his Italian food. He ran down the list of restaurants that he's had Chicken Parm at and concluded that this recipe beat them all! And, then there's my brother, Ron, who recently asked me to try it in an air-fryer, because he also loves his chicken Parm but wants to keep it healthy (sorry, no such thing). So, for two of the men in my life (I'm sure my other brother and two sons will love it as well), this recipe is for you!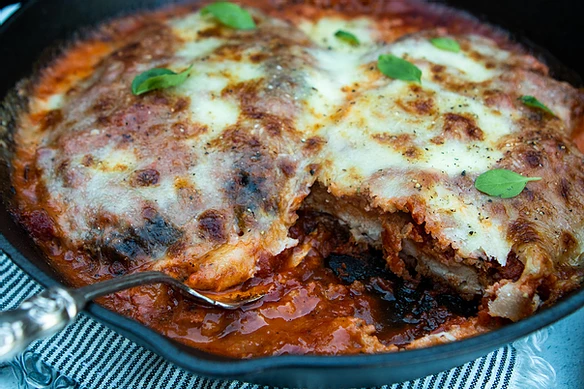 This is another of those nostalgic dishes…our mom used to make this fairly regularly for us kids. I have figured out what makes this recipe just a little bit better:
Pound the chicken breasts. Get them to be an even 1/2-inch thick. The crags that the pounding produces gives an added texture when coated with the Panko crumbs.

Use Panko bread crumbs instead of regular ones. They have larger pieces which create a wonderful crunch when they are fried. These particular Panko crumbs that I've used are Italian-seasoned, and I highly recommend picking some of these up!
Begin by dredging the pounded chicken breasts in flour. Then dip them in the egg mixture. Finally, dredge them in the Panko crumbs. They quickly fry up because you've pounded the breasts nice and thin. Sauce them, cheese them and bake them! All done and awaiting your fork and knife!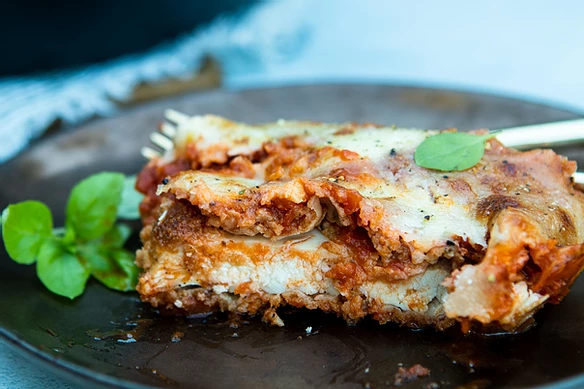 Lastly, if you make Chicken Parmesan, be sure to leave a review down below at the bottom of this page (stars are also appreciated)! Above all, I love to hear from you and always do my best to respond to each and every review. And of course, if you do make this recipe, don't forget to tag me on 
Instagram
! Looking through the photos of recipes you all have made is one of my favorite things to do!
Makes: 4 servings
Prep Time: 10 minutes
Cook Time: 20 minutes
Total Time: 30 minutes
Ingredients
1 (24-ounce) jar of your favorite tomato-based pasta sauce

4 boneless skinless chicken breasts, pounded thin to about 1/2 inch

1/2 cup all-purpose flour

3 eggs, beaten with 2 tablespoons water and seasoned with salt and pepper

1 cup Italian seasoned panko breadcrumbs

1/4 cup olive oil

1 pound fresh mozzarella thinly sliced

1/2 cup freshly grated parmesan

Kosher salt and freshly cracked black pepper to taste

Pasta or Salad on the side to serve
Instructions
Preheat oven to 400°F. Season chicken on both sides with salt and pepper. Dredge each breast in the flour and tap off any excess flour, then dip in the egg mixture and let excess drip off, then dredge on both sides in the bread crumbs.
Heat oil in a large cast iron pan and heat over high heat until almost smoking. Add 1 or 2 chicken breasts to the pan, however many will fit and cook until golden brown on both sides, about 2 minutes per side. Transfer to a plate and repeat with the remaining chicken breasts.
Once the chicken is cooked, let the pan sit for 10 minutes to cool off and then carefully wipe out the excess oil and brown bits from the cast iron skillet. Add ½ of the pasta sauce in the bottom of the cast-iron skillet. Place the pan-fried breaded breasts on top of the sauce in the pan, and spoon the rest of the sauce over the chicken along with a few slices of the fresh mozzarella, salt and pepper, and equal amounts of the freshly grated parmesan. (If the skillet doesn't fit all the chicken breasts, use a large baking dish instead.)
Transfer to the pre-heated oven and bake until the chicken is cooked through and the cheese is melted, about 8-10 minutes. Remove from the oven and garnish with basil. Serve over a bowl of pasta.
Recipe by Gaby Dalkin