Double Chocolate Toasted Graham Cracker Cookies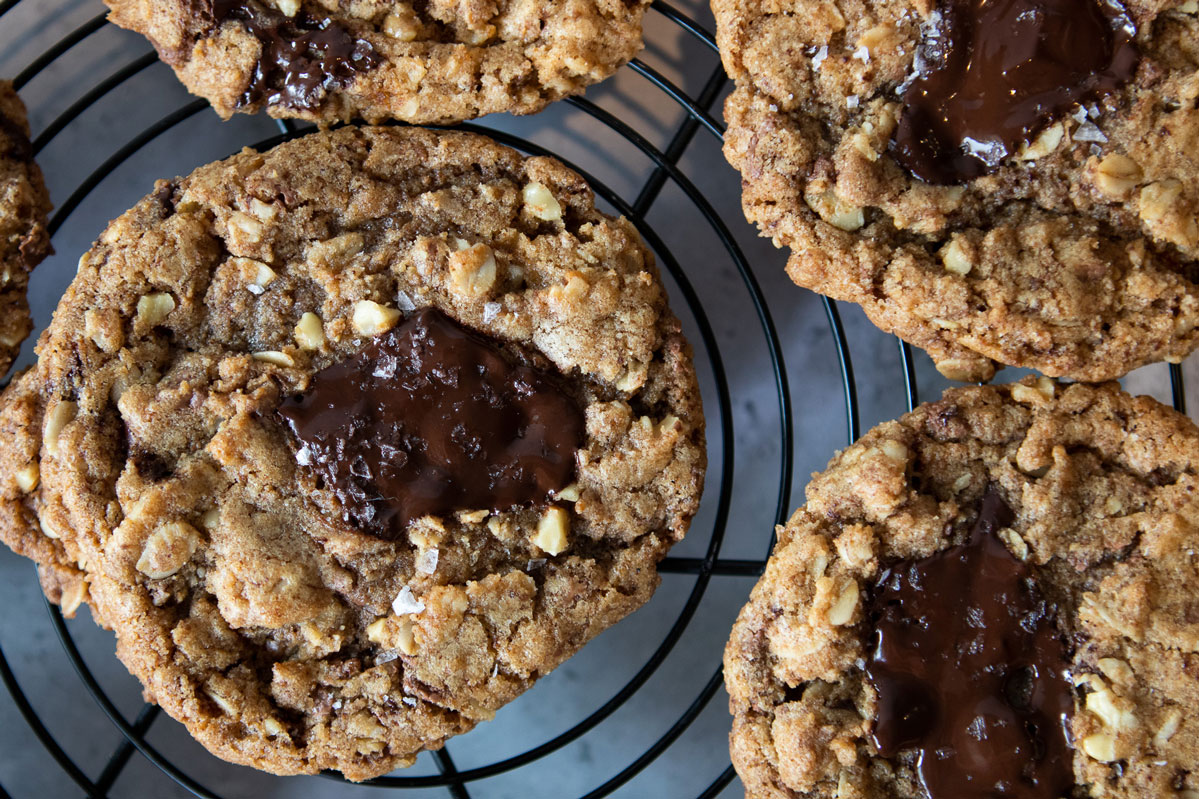 These Double Chocolate Toasted Graham Cracker Cookies are NEXT LEVEL chocolate chip cookies.  While they are a mouthful to say, they are a delightful mouthful to eat!
With brown butter, roasted walnuts, milk chocolate, dark chocolate, toasted graham cracker, and oats, these cookies are loaded with flavor and texture! They're also so chewy with a soft and buttery center. It's a chocolate chip cookie recipe unlike any other!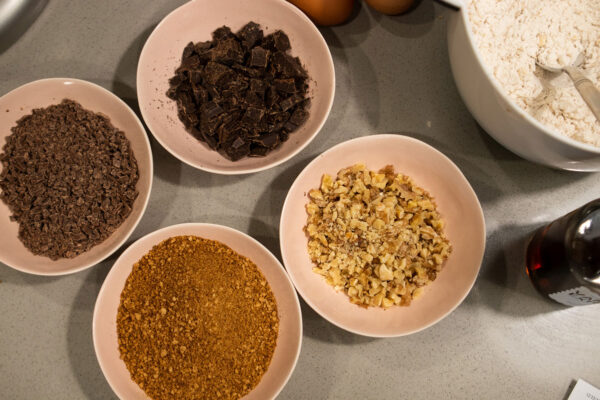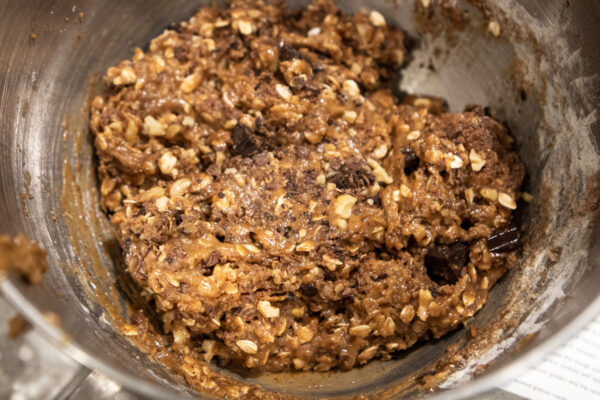 There is a lot going on in these cookies, so let me break it down for you:
Brown Butter:  you've seen it in a lot of my recipes and for good reason…it adds a wonderful depth of flavor, giving it a toffee-like taste.
Dark Chocolate:  this extra-dark chocolate melts beautifully and when you keep it fairly chunky, it pools when baked and allows the cookie to spread thin.  It also matches up with the sweeter milk chocolate.
Milk Chocolate:  paired against the dark chocolate, it adds a smooth, creamy and sweet element.
Walnuts:  these toasted babies bring another texture and flavor to each bite.
Toasted Graham Crackers:  the cracker crumbs are toasted in the same skillet that the butter was browned in, giving the crumbs a buttery flavor and crunchy texture.
Oats:  the oats provide a chewiness to these cookies.
It's crazy to throw this all together in one recipe, but believe me, it works!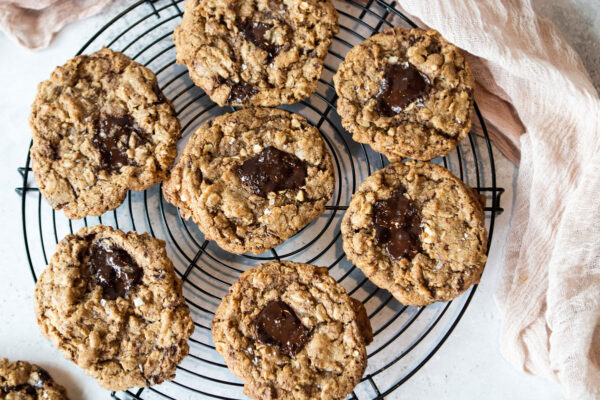 To make these cookies, toast the walnuts in the oven until fragrant and then chop them.  In the meantime, brown the butter per the recipe instructions and then let it cool down.
In the same skillet that you've browned the butter in, toast the ground graham crackers until they are darkened.
Combine the dry ingredients in a medium bowl (flour, oats, baking soda, salt and cinnamon).
In a mixing bowl, combine both sugars with the browned butter.  Mix in the eggs and vanilla and whisk it until the batter is velvety and smooth.  Add the graham crackers and the dry ingredients and fold until they are combined.  Finally, dump in the chocolate and walnuts and mix.
It's best to let the dough rest for about 15 minutes so that the liquid in the batter can moisten the oats.
Then, scoop the batter onto prepared cookie sheets, bake them for 15 minutes and then cool them.  Sprinkle a little sea salt on the top.
Now for the best part…grab a glass of milk and enjoy these delicious cookies!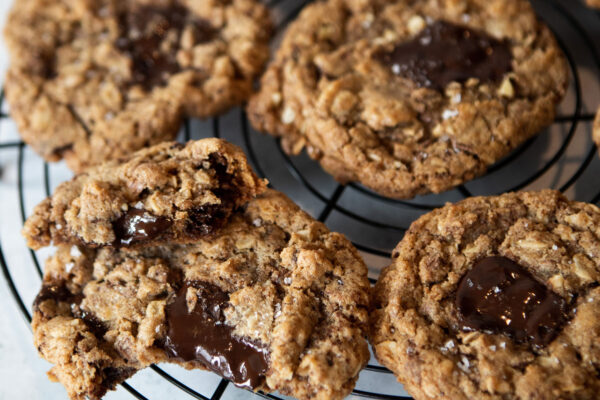 Lastly, if you make Double Chocolate Toasted Graham Cracker Cookies, be sure to leave a review down below at the bottom of this page (stars are also appreciated)! Above all, I love to hear from you and always do my best to respond to each and every review. And of course, if you do make this recipe, don't forget to tag me on 
Instagram
! Looking through the photos of recipes you all have made is one of my favorite things to do!
Double Chocolate Toasted Graham Cracker Cookies
Makes: 15 cookies
Prep Time: 20 minutes
Bake Time: 15 minutes per sheet
Total Time: 1 hour & 20 minutes
Ingredients
1/2 cup walnuts

1 c

up unsalted butter

3/4 cup ground graham crackers (about 6 sheets of graham crackers, crushed)

1 & 1/2

 cups all-purpose flour

1

 cup old-fashioned rolled oats

1 tsp baking soda

3/4

 tsp kosher salt

1/

2 tsp ground cinnamon

3/4 cup dark brown sugar, packed

3/4

 cup granulated sugar

2 large

 eggs

1 tsp vanilla extract

3

 ounces m

ilk

 chocolate, finely chopped

3

 ounces 78% dark chocolate, roughly chopped

Flaky

 sea salt, for sprinkling
Instructions
Preheat the oven to 350°F and line a small baking sheet with parchment paper. Scatter the walnuts and bake for 8-10 minutes or until fragrant.
While those roast, add the butter to a saucepan over medium heat. Melt down and stir until it turns from yellow, loud, and bubbly to amber, quiet, and frothy. Pour the brown butter into a measuring glass where it should measure between 3/4 cup and 1 cup. Place in the refrigerator to cool down.
In a clean skillet set over medium heat, add the ground graham crackers. Stir until graham crackers are darkened and toasted, about 5 minutes. Transfer the graham crackers to a small dish and set aside. Also chop the walnuts when they're done roasting.
In a medium bowl, whisk together the flour, oats, baking soda, salt, and cinnamon.
In a large mixing bowl, whisk together the sugars and cooled brown butter. It's OK if it's still a little warm, just not piping hot. Mix in the eggs and vanilla. Whisk vigorously until the dough turns light and velvety.
Pour in the graham crackers and dry ingredients. Switch to a rubber spatula and fold the dough to combine. Right before the dough fully comes together, dump in the chopped chocolate and walnuts and fold to bring the dough together. Let the dough rest at room temperature for about 15 minutes.
Using a large cookie scoop (3 tbsp worth), scoop the dough out onto a large baking pan lined with parchment paper. Try to scoop with a large chunk of dark chocolate on top. Space the cookies well apart as they spread quite a bit.
Bake one sheet at a time for 12-15 minutes or until the edges are golden and the center looks pale, puffed, and slightly underdone. Transfer the cookies to a cooling rack and continue baking the rest of the batch.
When they're all done, sprinkle with a light pinch of sea salt and enjoy!
Recipe from Butternut Bakery Blog
Double Chocolate Toasted Graham Cracker Cookies