Sugar Snap Peas with Tarragon Butter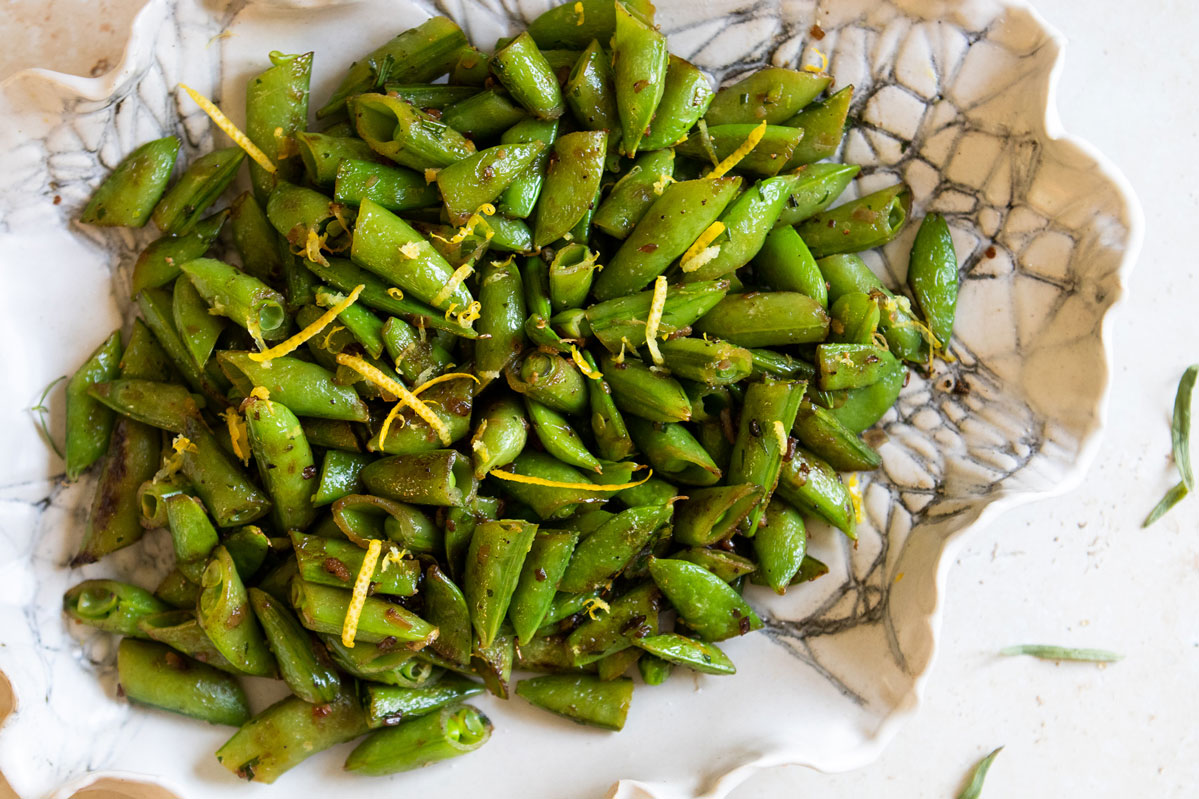 These Sugar Snap Peas with Tarragon Butter are a wonderful addition to any meal.  They are quick and simple; the tarragon butter adds a unique flavor;  the lemon zest gives it a brightness that is oh so good!
The peas get blanched in a pot of boiling water for only a minute.  Drain them, and then immerse the peas in an ice bath (cold water and ice cubes) to halt the cooking.  This keeps them bright green and crisp.  Drain them again and spread them out on paper towel.  Pat them dry.
The minced shallots get sautéed in butter in a heavy skillet until they are soft.  Add the drained sugar snap peas and stir them until the peas are crisp-tender.
At this point, add the tarragon and lemon zest, some salt and pepper and toss it all together.
These peas are ready to serve!
Lastly, if you make Sugar Snap Peas with Tarragon Butter, be sure to leave a comment and/or give this recipe a rating! Above all, I love to hear from you and always do my best to respond to each and every comment. And of course, if you do make this recipe, don't forget to tag me on 
Instagram
! Looking through the photos of recipes you all have made is one of my favorite things to do!
Sugar Snap Peas with Tarragon Butter
Makes: 4 servings
Prep Time: 4 minutes
Cook Time: 6 minutes
Total Time: 10 minutes
Ingredients
3/4 pound sugar snap peas, strings discarded and peas halved diagonally

1 tbsp finely chopped shallot

1 tbsp unsalted butter

2 tsp chopped fresh tarragon

1/2 tsp finely grated fresh lemon zest

1/2 tsp salt

1/4 tsp black pepper
Instructions
Blanch sugar snaps in a 4-quart pot of boiling salted water, uncovered, for 1 minute. Drain in a colander. Immerse colander with sugar snaps in a large bowl of ice and cold water to stop cooking, about 1 minute. Drain again well, then transfer to paper towels and pat dry.
Cook shallot in butter in a 10-inch heavy skillet over moderate heat, stirring occasionally, until softened, about 1 minute. Increase heat to high, then add sugar snaps and sauté, stirring occasionally, until sugar snaps are crisp-tender, 2 to 4 minutes. Add tarragon, zest, salt and pepper and toss until combined well.
Sugar Snap Peas with Tarragon Butter