Summer Heirloom Tomato Salad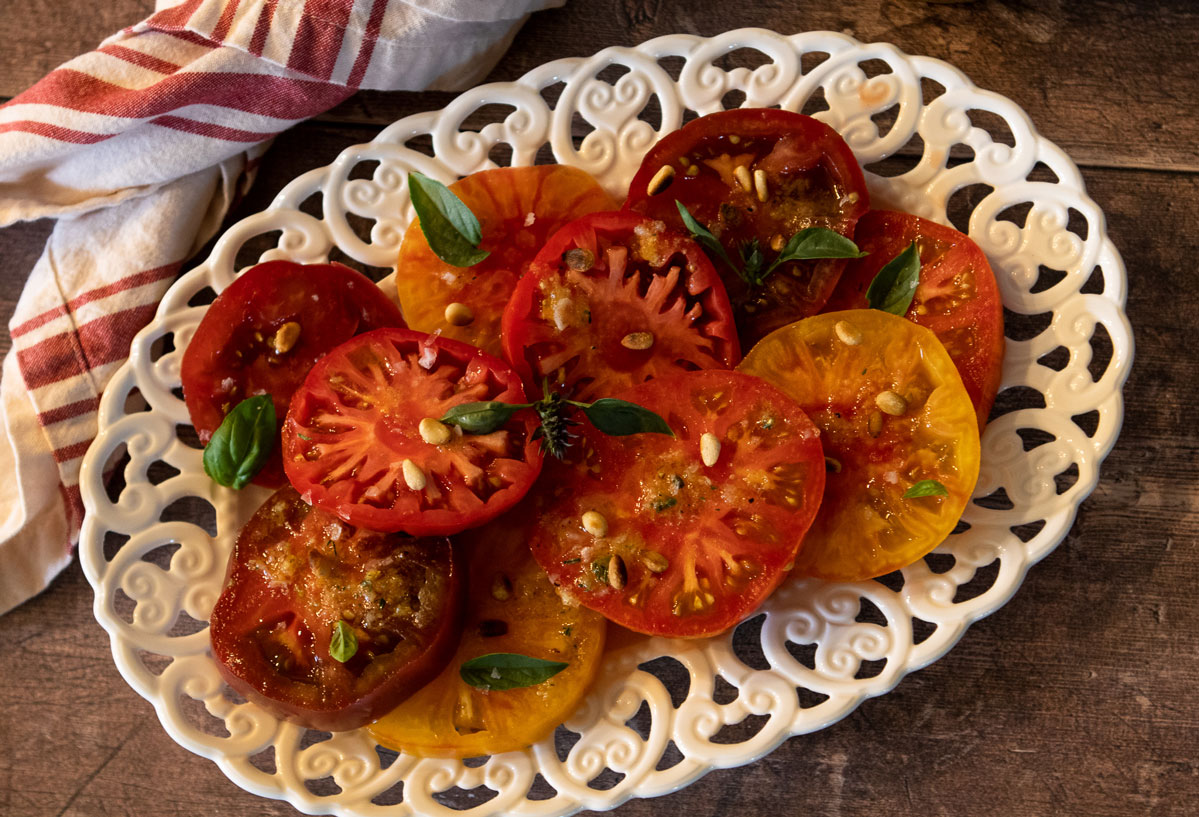 The best thing to make with beautiful ripe tomatoes is this Summer Heirloom Tomato Salad.  It's quick (we love that), it's simple (love that, too), it looks so pretty (uh-huh) and it tastes divine!  Jackpot!
Summer tomatoes speak for themselves…the taste, especially from a farmer's market, is unlike anything you've bought at the grocery store.  They are earthy, sweet, juicy…I could go on and on, but the point is that if you top these beauties with the simplest of lemon vinaigrettes, sprinkle a few toasted pine nuts over the top and scatter some basil leaves, you will have a perfect summer salad.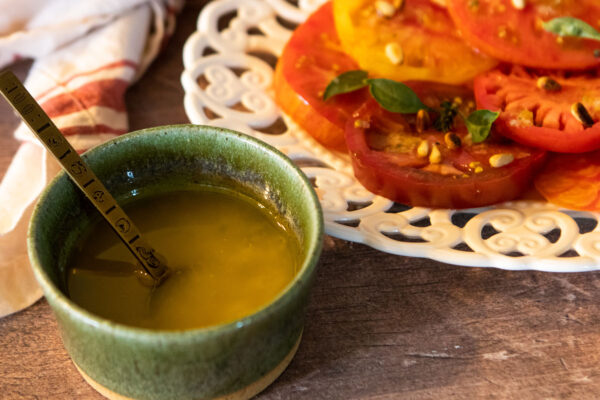 The vinaigrette is a lemon-forward dressing, comprised of lemon juice & zest garlic, herbs, dijon, honey and olive oil.  It's especially tasty when it's served in this beautiful serving bowl from my nephew, Dylan Miller (I'm so proud of him).  You can follow him on IG @jdmceramics.  
The dressing comes together in minutes.
Slice the tomatoes, arrange them on a platter, sprinkle some toasted pine nuts over and scatter the basil leaves over the top.  Drizzle some of the vinaigrette on the tomatoes and serve the rest on the side.
Enjoy the best that summer has to offer!
Lastly, if you make Summer Heirloom Tomato Salad, be sure to leave a comment and/or give this recipe a rating! Above all, I love to hear from you and always do my best to respond to each and every comment. And of course, if you do make this recipe, don't forget to tag me on 
Instagram
! Looking through the photos of recipes you all have made is one of my favorite things to do!
Summer Heirloom Tomato Salad
Makes: 8 servings
Prep Time: 20 minutes
Total Time: 20 minutes
Ingredients
For the Vinaigrette:
1/4 cup extra-virgin olive oil

finely grated zest from 1 medium-size lemon

2 tbsp fresh lemon juice

1 medium clove garlic finely minced

1 tsp finely chopped fresh thyme, chives or parsley

1 tsp Dijon mustard

1 tbsp honey

1/2 tsp kosher salt

1/4 tsp freshly ground black pepper
For the Salad:
8 large ripe vine tomatoes

1 cup of fresh basil leaves torn if large

1/4 cup toasted pine nuts optional

sea salt
Instructions
For the Vinaigrette:
Combine all ingredients in a jar and shake well.
For the Salad:
Cut the tomatoes into slices or wedges. Arrange on a platter. Drizzle with a few tablespoons of the dressing. Top with a light sprinkle of sea salt, pine nuts (if using) and the fresh basil leaves. Serve immediately.
Summer Heirloom Tomato Salad