Sweet and Salty Caramel Apples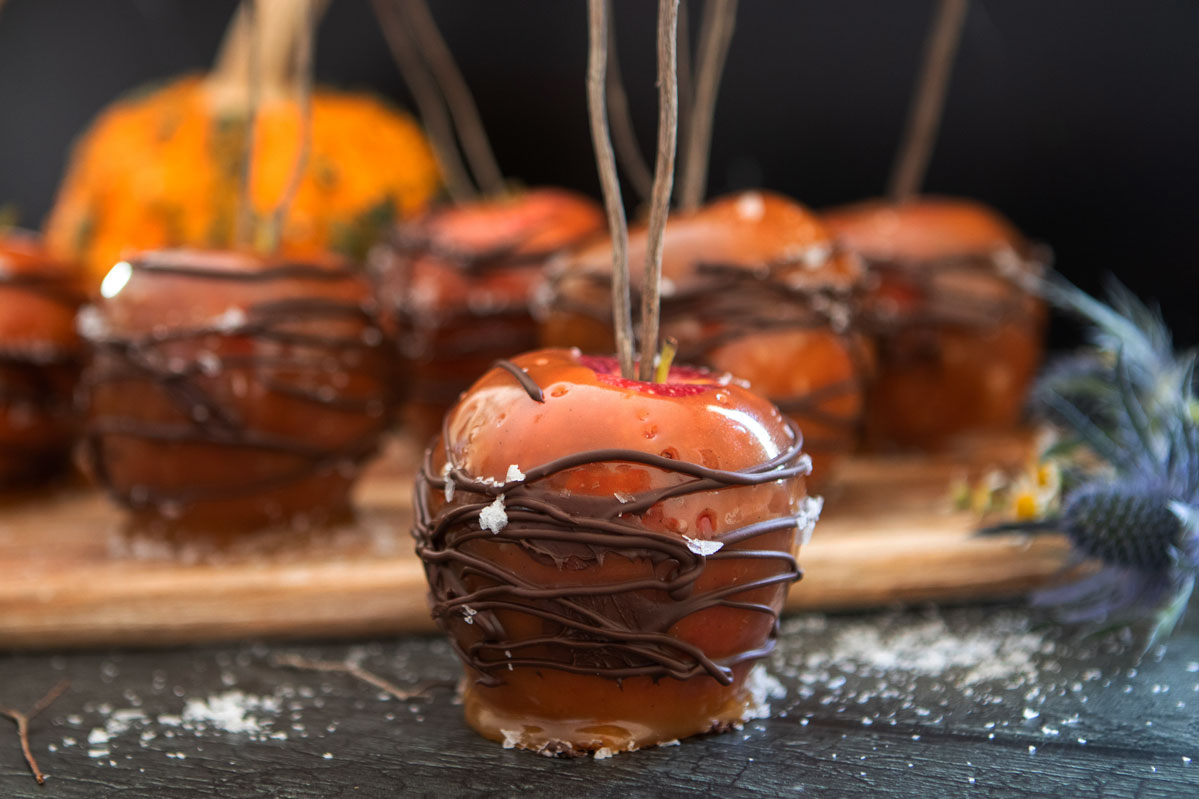 Sweet and Salty Caramel Apples are a wonderful way to welcome in Autumn and Halloween.  This simple confection just got healthier (sort of), with a luscious caramel devoid of any corn syrup and made purely from maple syrup, honey and heavy cream.  Sounds insanely good, right??!!
Just pick up some crunchy apples, poke some sticks or twigs in them, dip them in the caramel and drizzle in chocolate.  Easy peasy!
Just combine maple syrup, honey and heavy cream in a pot and boil until it's thickened into a caramel-like sauce.  This will take 10-12 minutes.  Add in the vanilla and a pinch of sea salt and then transfer the caramel to a deep medium bowl.
Now for the dipping…even though I like to present these apples with twigs coming out of the apples, the best way to dip them is with popsicle sticks as they hold the apple more securely.  You can always pull them out and stick the twigs in after you've dipped them.
Swirl the apples around the caramel and let the excess caramel drip off of them.  Place each apple on a parchment-lined baking sheet.  Let them sit for a few minutes to firm up.  Then, pipe melted chocolate onto the caramel, sprinkle some flaky sea salt and let the chocolate harden.  
If you like, you can refrigerate them and then serve.  They are easier to remove from the parchment if they are cold.
Bite into one or slice it, however you prefer.  Enjoy!
Lastly, if you make Sweet and Salty Caramel Apples, be sure to leave a comment and/or give this recipe a rating! Above all, I love to hear from you and always do my best to respond to each and every comment. And of course, if you do make this recipe, don't forget to tag me on 
Instagram
! Looking through the photos of recipes you all have made is one of my favorite things to do!
Sweet and Salty Caramel Apples
Makes: 6 servings
Prep Time: 15 minutes
Cook Time: 15 minutes
Total Time: 45 minutes
Ingredients
6 small apples

1 cup

pure maple syrup

1/2 cup

honey

(additional maple, if vegan)

3/4 cup

heavy cream

(canned coconut cream, if vegan)

1/2 teaspoon

vanilla e

xtract or vanilla bean powder

melted chocolate, for drizzling

(optional)

flaky sea salt

(optional)
Instructions
Insert wooden skewers or twigs into the apples. Line a baking sheet with parchment paper.
In a medium pot, combine the maple syrup, honey, and cream. Bring to a boil over high heat. Boil 10-12 minutes or until thickened to a caramel-like sauce. It should easily coat the back of a wooden spoon. Remove from the heat and stir in the vanilla and a pinch of sea salt.
Very carefully transfer the caramel to a heat-proof bowl.
Working quickly, swirl the apples in the caramel, then place on the prepared baking sheet. Repeat with remaining apples. If the caramel stiffens too much to dip, warm for 15-20 seconds in the microwave to loosen it back up.
Let the caramel set, about 10-15 minutes, then dip/drizzle each apple with melted chocolate. Let the chocolate harden (you can put them in the refrigerator), then enjoy! The apples will keep in the fridge for about 1 week.
Sweet and Salty Caramel Apples