Summer Vegetable Pasta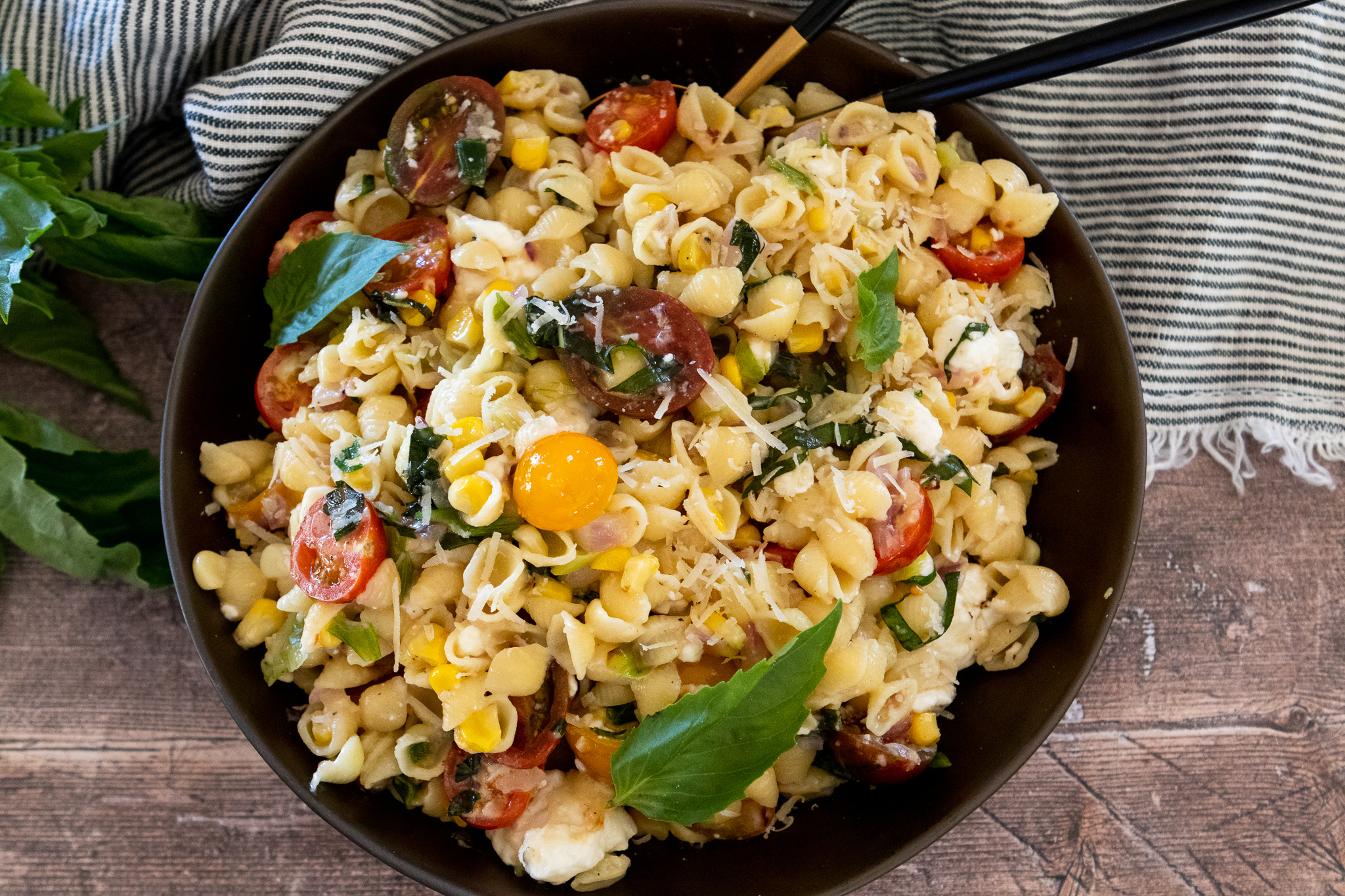 There are some recipes that just scream "SUMMERTIME" and this flavorful Summer Vegetable Pasta is one of them.  It has everything that summer is all about, in the food arena that is:  fresh corn, ripe cherry tomatoes, fresh basil, garlic, scallions and red onions.  Add to that some tiny pasta shells and ricotta salada or feta cheese and you are on your way to a superb main course, side dish or snack!  Serve it in small cups as an appetizer.  Whatever you do with it, it's going to be amazing!
Start by choosing the freshest vegetables you can find.  Be sure you find fresh, sweet corn and ripe cherry tomatoes.  I like to use an assortment of colors of tomatoes, but it's also okay to use one variety.  Your local farmer's market is a wonderful place to find everything you need for this pasta.  Green scallions, pungent garlic and bunches of fresh basil are all available there or at your local grocer.
Cut the cherry tomatoes in half and place in a colander.  Sprinkle with salt and shake them up a bit.  Let them drain for about 30 minutes.  This helps to pull some of the liquid from the tomatoes so that they don't get too saucy in the pasta.  While the tomatoes are draining, sauté the chopped veggies until they are lightly wilted.
Ten minutes prior to the tomatoes being done, boil the pasta.  Keep some of the pasta water to create a sauce for the vegetables.
Mix together the vegetables, the pasta, the tomatoes, cheese, basil and some of the pasta liquid and you will have yourself a tasty, easy summer side dish!
Lastly, if you make Summer Vegetable Pasta, be sure to leave a comment and/or give this recipe a rating! Above all, I love to hear from you and always do my best to respond to each and every comment. And of course, if you do make this recipe, don't forget to tag me on 
Instagram
! Looking through the photos of recipes you all have made is one of my favorite things to do!
Makes: 6 servings
Prep Time: 30 minutes
Cook Time: 18 minutes
Total Time: 55 minutes
Ingredients
3 pints cherry tomatoes, assorted colors, halved

4 tbsp olive oil

1 medium red onion, finely chopped

1 ear fresh corn, kernels removed

6 green onions, thinly sliced on the diagonal, white and green parts, separated

2 large garlic cloves, minced

12 ounces tiny pasta shells

5 ounces ricotta salada or mild feta cheese, broken into small chunks

1/4 cup finely shredded fresh basil

1/2 cup freshly grated Parmesan cheese

Additional Parmesan cheese
Instructions
Place tomatoes in non-aluminum colander. Sprinkle lightly with salt; let tomatoes drain 30 minutes.
Heat 3 tablespoons oil in heavy large skillet over medium heat. Add onions, corn kernels, white parts of green onions and garlic. Sauté until onions just begin to wilt, about 7 minutes.
Cook pasta in large pot of boiling salted water until just tender but still firm to bite. Drain, reserving 1 cup cooking liquid. Return pasta to same pot. Add onion mixture, tomatoes, green parts of onions, ricotta salata or feta, basil, 1/2 cup Parmesan cheese, remaining one tablespoon olive oil and 1/4 cup reserved cooking liquid. Toss over medium heat until heated through, adding more reserved cooking liquid and Parmesan cheese as needed to form light sauce. Season with salt and pepper.
Serve, passing additional Parmesan separately.