Homemade Vanilla Extract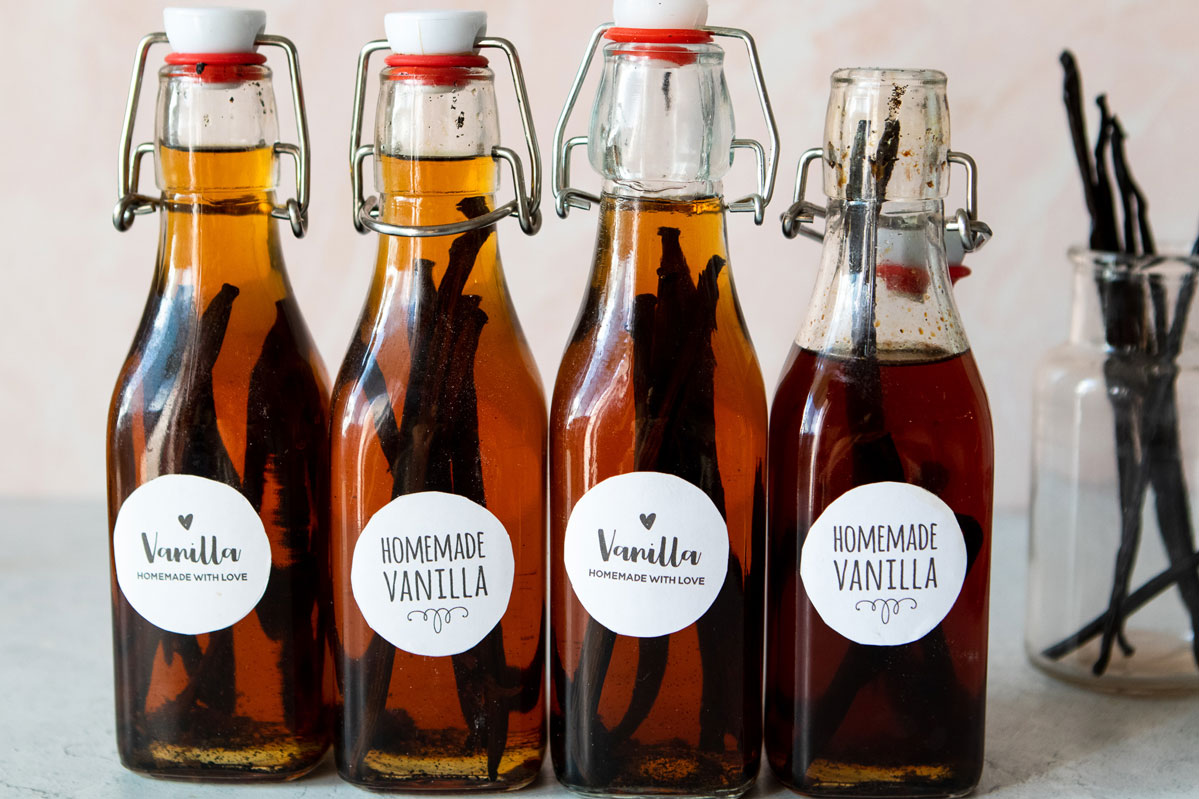 If you've looked at the price of pure vanilla extract lately, you know it's time to consider Homemade Vanilla Extract.  The price, like everything else, continues to rise and even at my favorite big box store, I got sticker shock!  Then I realized that many chefs and bloggers that I admire suggest making your own.  It couldn't be easier!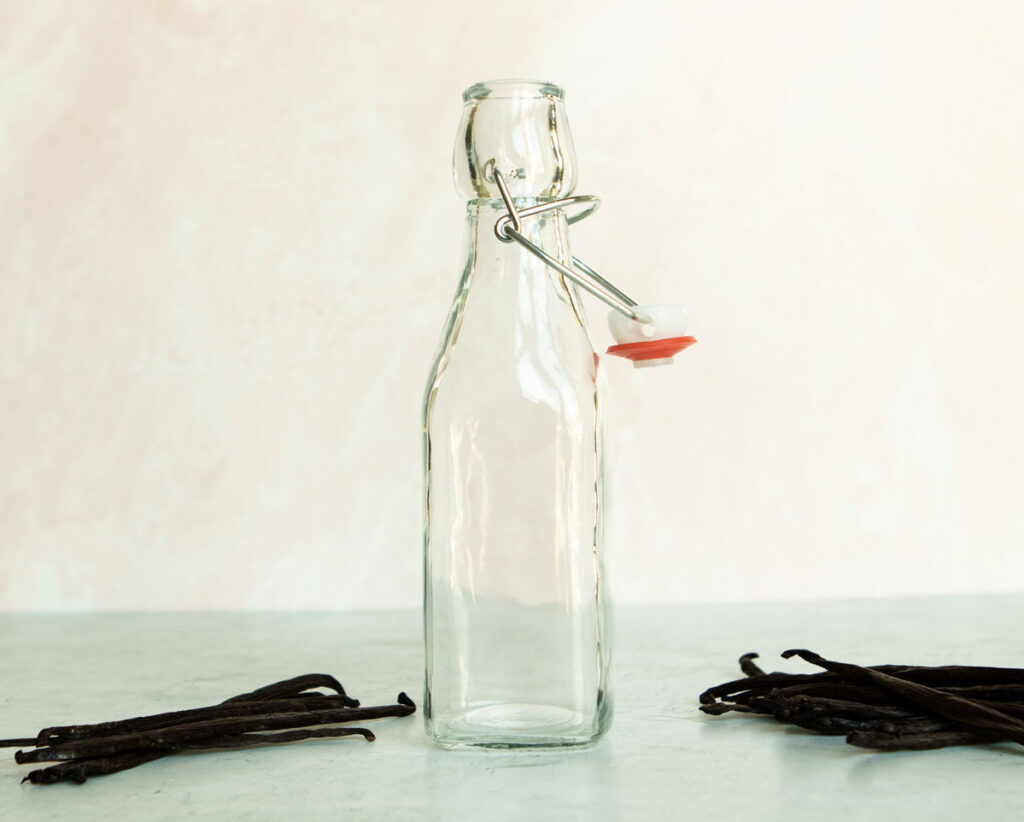 Begin by picking up some cute bottles.  I like these ones from Amazon..they have a convenient swing top and a tight seal.
You are going to fill the bottles with 80-proof vodka.  This is not where you use the good stuff.  Leave the Ketel One and Titos in the cabinet and go buy some stuff you're embarrassed to be seen putting in your grocery cart!  All you need is strong vodka.  So don't spend a lot; go for the low-end.
Finally, you'll need vanilla beans.  You will want 5-6 beans per bottle.  Let's talk about vanilla…there are two grades, A and B.  A is used primarily for scraping the seeds for baking, ice cream, curds, etc.  Grade B is what you will want for extract.  It won't hurt you to use A, but it will be more costly. 
There are different locations where the beans are grown.
Madagascar Vanilla – very common and has a creamy and rich flavor
Mexican Vanilla – has a darker, almost smoky flavor
Tahitian Vanilla – also very common and has a rich floral flavor
Any of these will work. I used these Madagascar ones.  I have also used these Tahitian beans.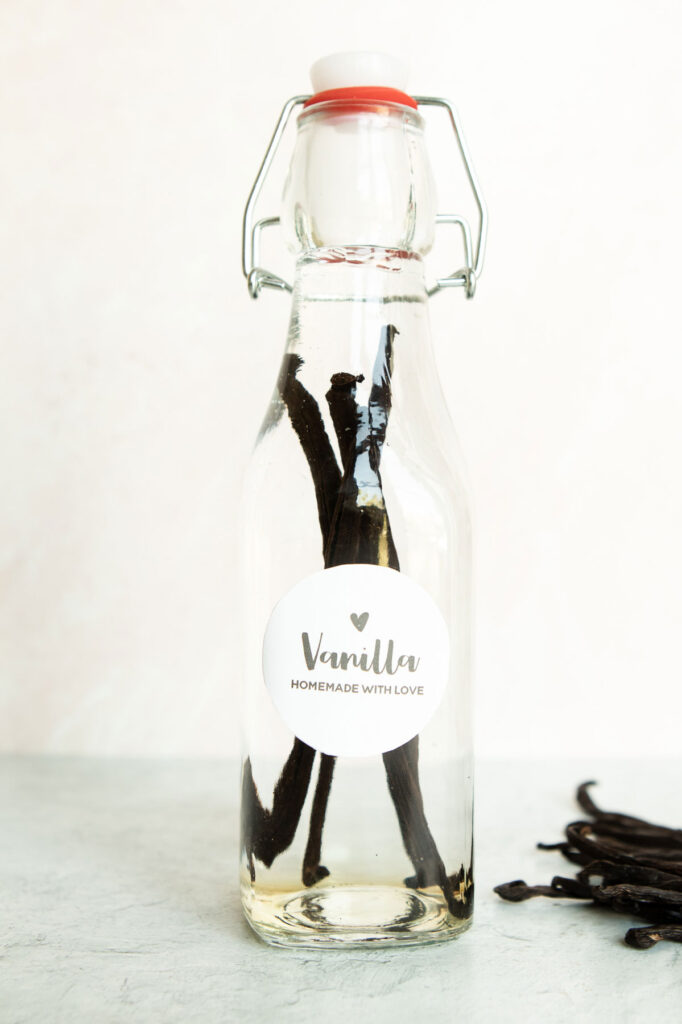 Cut the vanilla beans in half lengthwise so that the seeds are exposed and place 5-6 beans into each bottle.  The seeds will drop into the vodka so if you prefer a "cleaner" vanilla extract, you'll want to run your finished product through a piece of fine cheesecloth.  I prefer my vanilla with the seeds in it.  It feels more rustic and earthy to me!  It's okay to cut the beans into pieces or fold them if they are too tall for the bottle.
Use a funnel to fill the bottles almost to the top with vodka so that the vanilla is submerged.  By the way, you can also use bourbon, brandy or rum. Bourbon vanilla is amazing!! 
And, now we wait!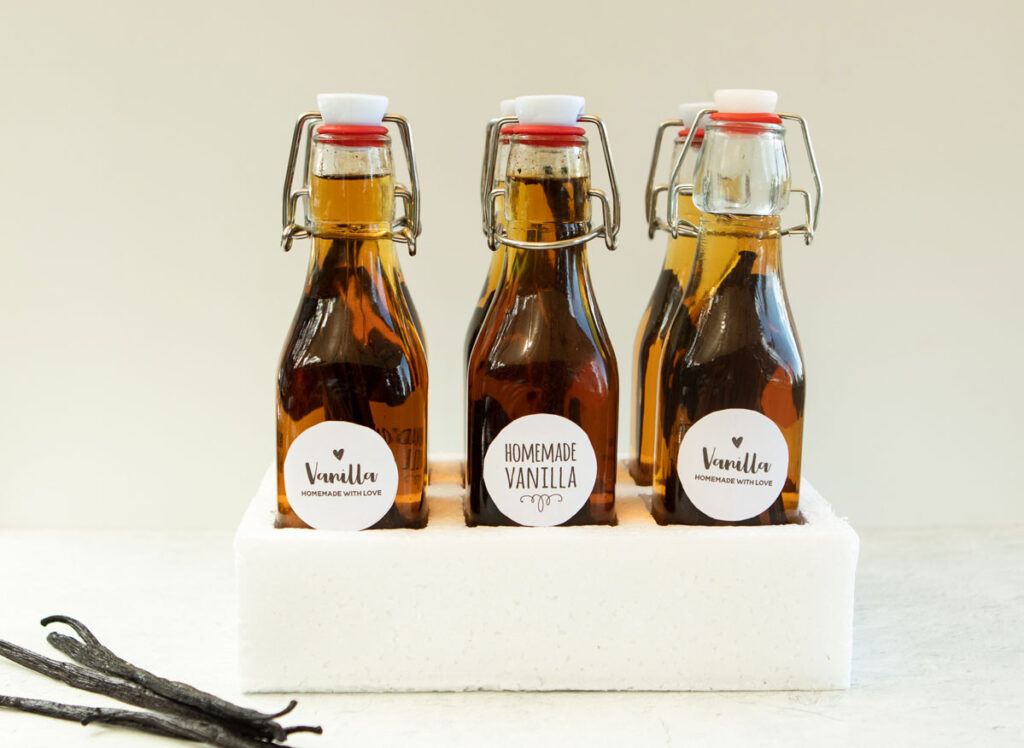 The only problem with homemade vanilla is the wait time.  You have to have patience, and if you're anything like me, you probably don't have much!  You'll need a good 6 months, and ideally one year for the best extract.  The longer you wait, the better it will be!
Store it out of direct sunlight and shake it once a week.
Also, you can add more vodka to the bottle as you use it.  Check out the recipe.
Finally, these make extremely thoughtful gifts for any home baker.  For these cute labels, use Sally's Baking Addiction template, found here.
Lastly, if you make Homemade Vanilla Extract, be sure to leave a comment and/or give this recipe a rating! Above all, I love to hear from you and always do my best to respond to each and every comment. And of course, if you do make this recipe, don't forget to tag me on 
Instagram
! Looking through the photos of recipes you all have made is one of my favorite things to do!
Makes: 6 8-ounce bottles
Prep Time: 10 minutes
Wait Time: 6 months minimum
Ingredients
30-36 vanilla beans

6 cup (48 ounces; 1.44L) 80 proof vodka (or bourbon, brandy, or even rum)

6 8-ounce bottles or jar with a tight seal, washed & dried
Instructions
Using a sharp knife, slit the vanilla beans so the beans are exposed. No need to completely split the bean in half, just slit down the middle. If the length of the vanilla beans don't fit into your bottle or jar, cut the vanilla beans into smaller pieces. Place beans into bottles or jars.
Pour vodka on top. A funnel helps. Use a little extra vodka, if needed, so the beans are fully submerged. Shake a few times.
Store vanilla at room temperature out of direct sunlight. Shake about once per week or once every couple weeks. Vanilla can be ready to use in as little as 8 weeks, but I recommend at least 6 months for optimal flavor. 12+ months is great!
As you begin to use your vanilla, you can refill with a little vodka each time. Give it a shake after you refill and give it a shake before each use, too. If you're gifting the vanilla or if you don't have any more alcohol to refill, remove the beans completely after first use. The beans will become a little slimy if they aren't almost fully submerged.
Unused aged vanilla extract (with the beans fully submerged) will last several years. If it still smells good, it's still good to use! Aged extract without the beans will last indefinitely. Once you begin using the vanilla and adding more alcohol after each use, the beans will eventually need to be replaced. It's hard to give a specific amount of time as some may use (and refill) the vanilla more quickly than others.
After about 1 year of frequent use and refilling, you will you find the vanilla flavor less intense. Simply remove old beans, add fresh beans, shake, and continue to use/refill.
Chef's Notes:
Seeds: Since the vanilla beans are exposed (slit open), there will be vanilla bean seeds in the bottle and therefore in your baked good. They add even more wonderful flavor!
Use the same amount of homemade vanilla extract as you would store-bought in recipes.
Gifting: I usually remove the beans if I'm gifting the bottle, that way the gift recipient isn't responsible for refilling with more alcohol and the beans don't go to waste. (You can reuse the beans for a new bottle.) However, if it's been less than 6 months, I recommend gifting with the beans in the bottle because there's still lots of flavor in there! Tell the gift recipient to remove the beans once he/she begins using the vanilla.
Alcohol: If baking gluten free, use certified gluten free alcohol. Avoid flavored vodkas as they often contain artificial flavors, which negates the purpose of making your own pure vanilla.
Recipe from Sally's Baking Addiction