The Best Apple Cake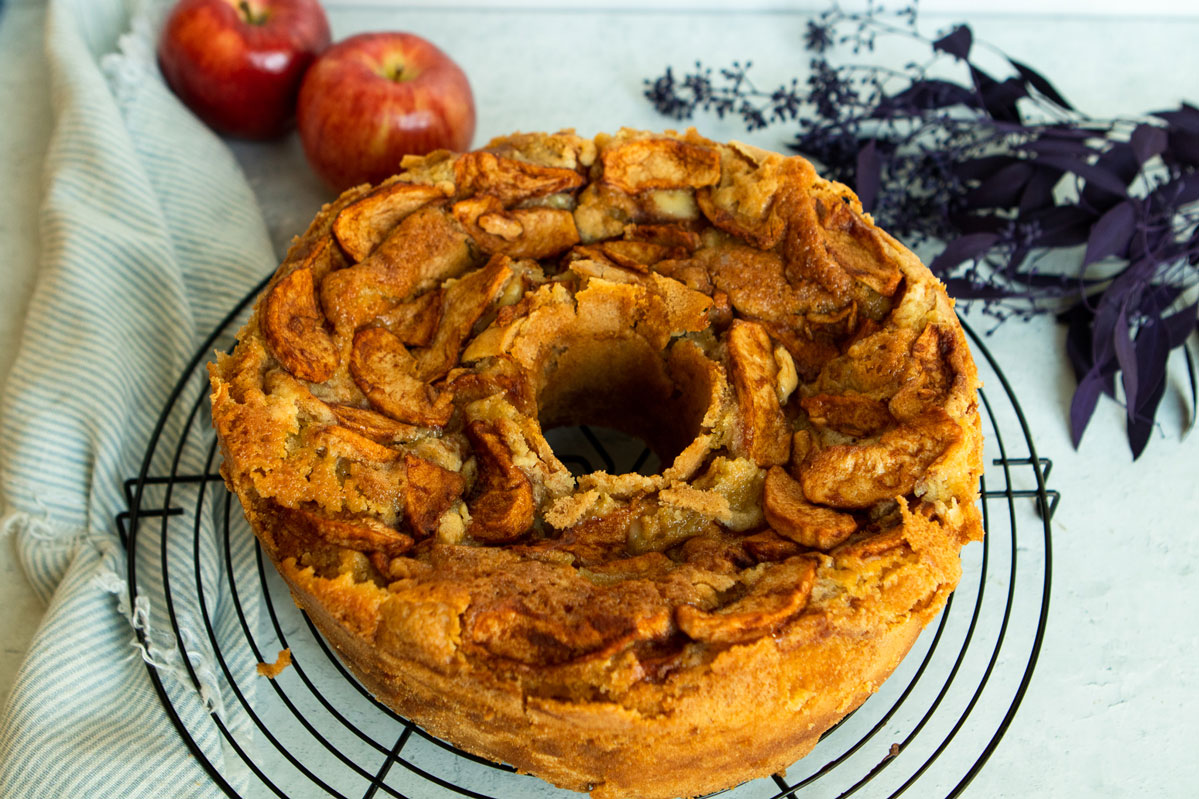 Do you have the best apple cake recipe?  Or do you know someone who claims they have the best apple cake recipe?  Well, I'm here to tell you that THIS is the BEST APPLE CAKE recipe!
This cake has a wonderful flavor and a beautiful moist crumb.  It's layered with cinnamon-sugar apple slices and has a crispy sugary topping.  I'm telling you, it's excellent!
What apple are we using in this fab recipe?  I used Gala but almost any apple will work.  Honey Crisp, Red Delicious, Fugi…I would just stay away from Granny Smiths as they are a little sour for this recipe.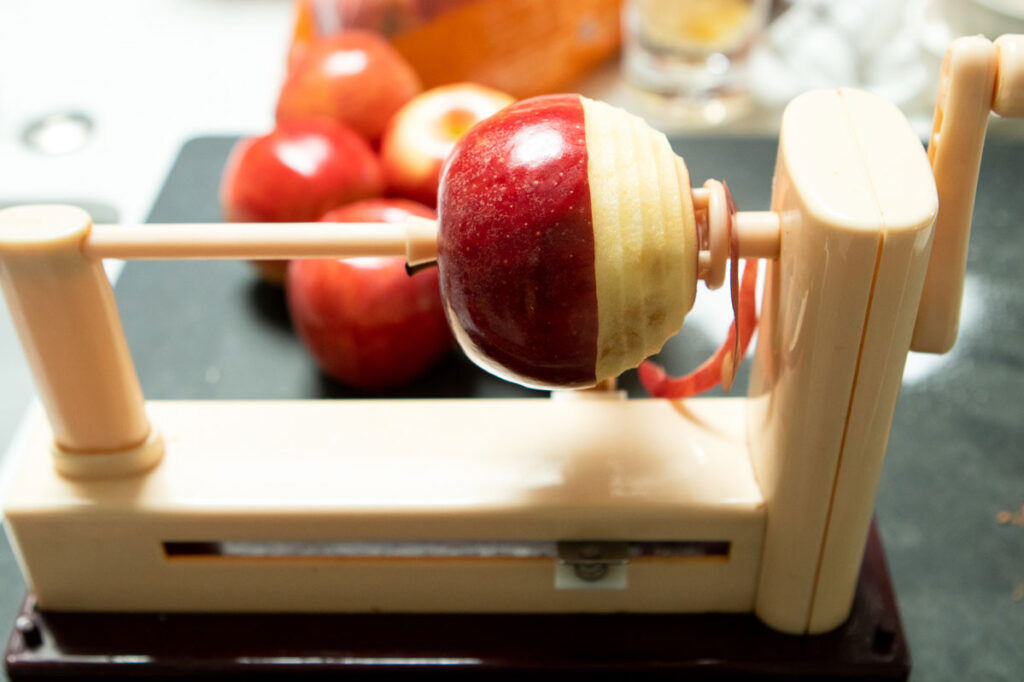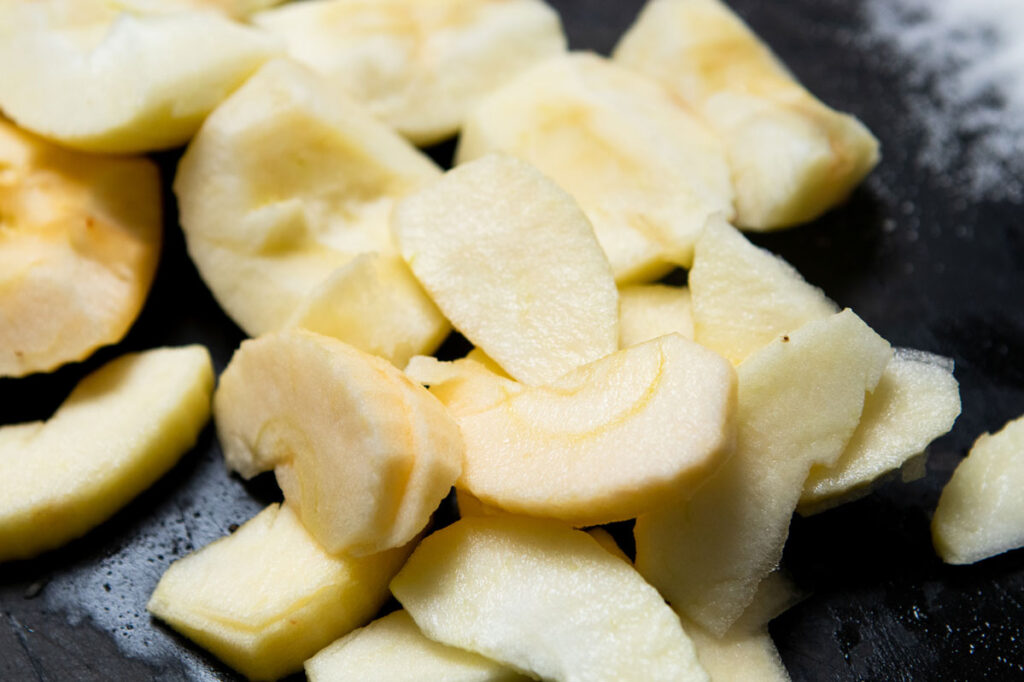 I know you're dying to know about my apple peeler, aren't you?  I got this contraption when I was fresh out of college a million years ago.  I was living on my own in Sacramento, CA and would frequent the incredible farmer's markets.  At one, I found a vendor selling these.  I was duly impressed by her demonstration and bought it.  It never failed me…this is my favorite apple peeler!  Years after I got it, I thought that maybe the blade needed to be changed.  I discovered that there were extra blades on the underside of the base.  Then I realized that because it was so old, the bolt that held them to the underside was corroded and there was no way I was getting any of them off.  Suffice it to say, I've been using the same blade since when I got out of college!  One of these days, I'm going to figure out how to get the blades off, but you can see how sharp it is…still gives me a clean peel!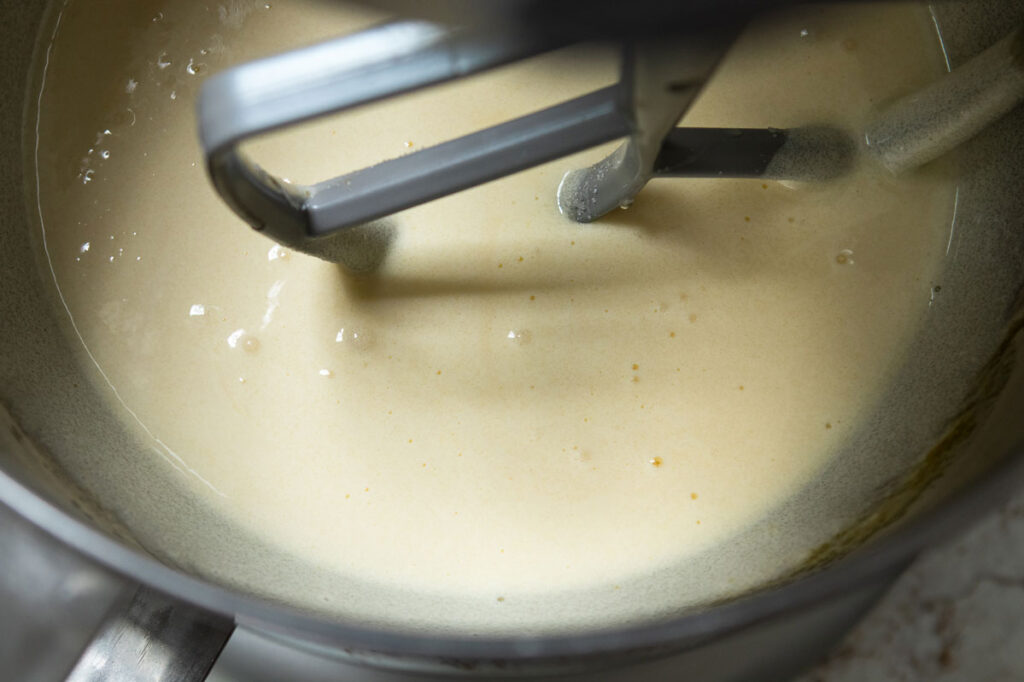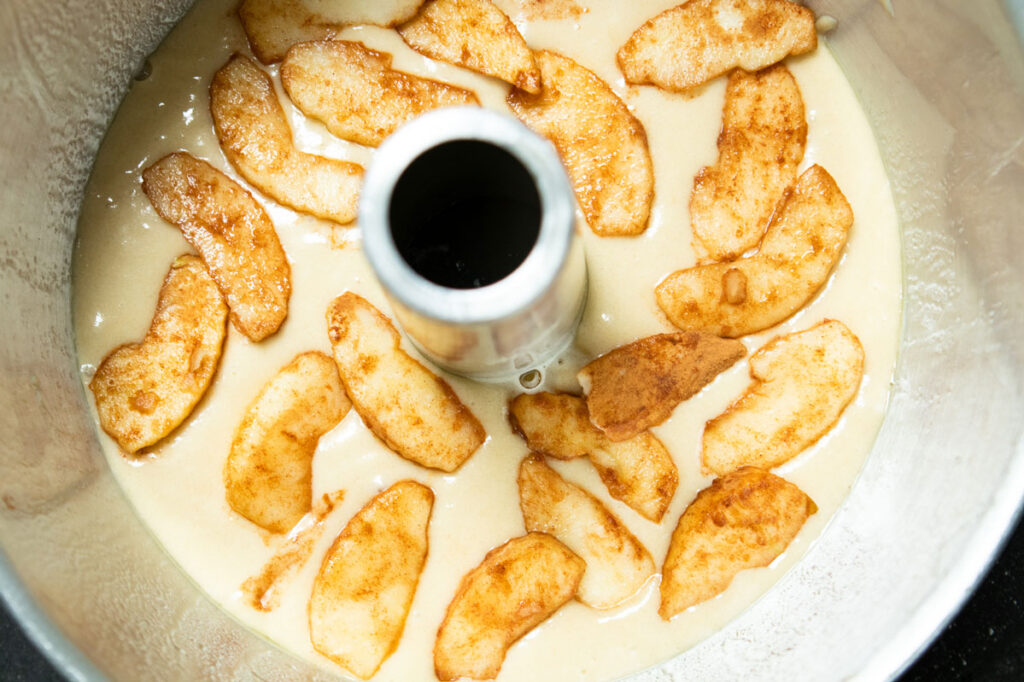 To mix the batter, beat the sugar and eggs together, and then slowly add the oil.  The flour and baking powder get added alternately with the orange juice and vanilla.  
The batter is fairly thin…don't fret.  It will make a stunning cake!
Here's another little story…the recipe calls for tube pan.  I have one in the back of my closet where it belongs, considering how rarely I use it.  But, when I do use it, it reminds me of my mom.  This was her pan.  She died years ago, when I was 24, but she passed on a love for baking, cooking & entertaining, along with the tube pan!  My mom used to make honey cakes and angel food cakes with this pan.  So, it is with that happy memory that I share this recipe with you!
If you don't have a tube pan, it's ok…I give you some alternates in the Chef's notes, but this pan works beautifully for the following reasons:  first, the apples will caramelize while baking and will stick to the sides of a regular pan. It will be hard to get the cake out if you don't use a tube pan.  Second, you really want to show off the top of the cake, and the tube pan is the best way to do that.  If you use a bundt pan, the top will be on the bottom and be hidden.  And, finally, this is a tall cake and the tube pan is tall.  It can hold the cake without spilling over the edge.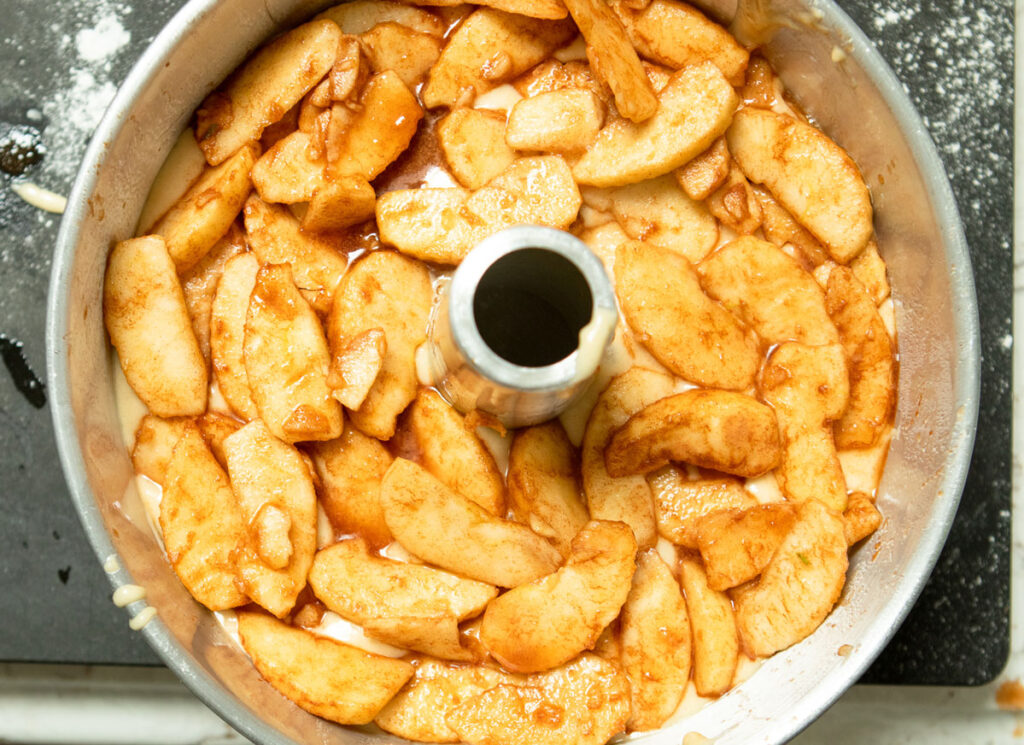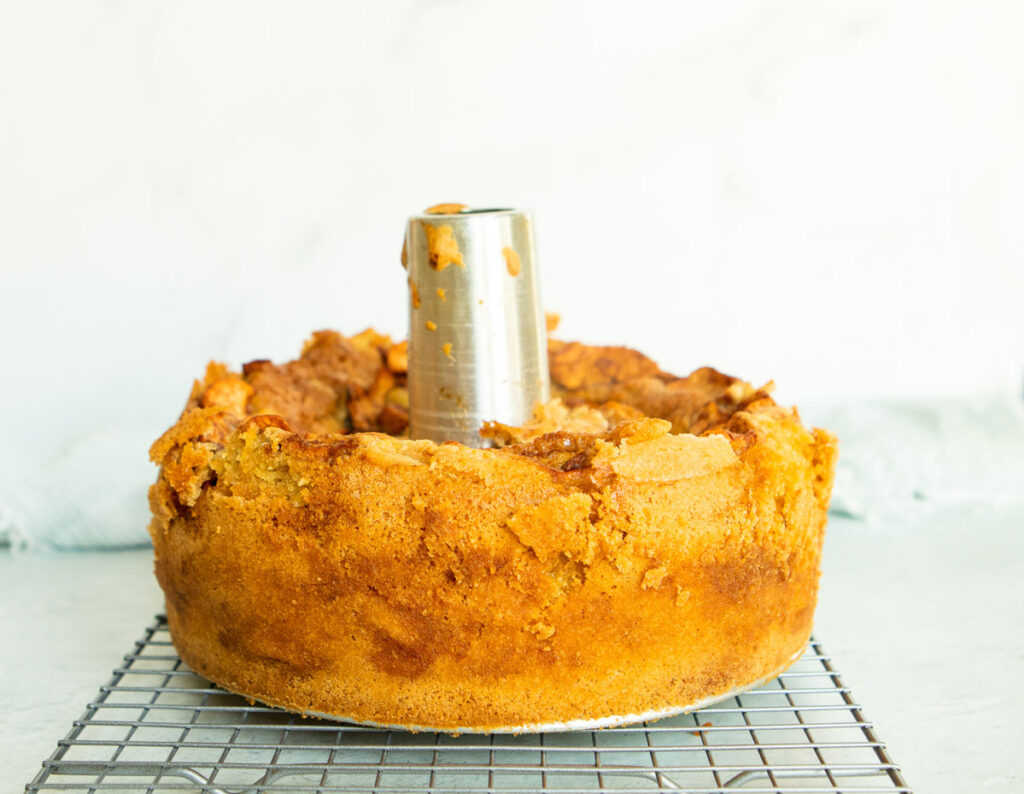 Layer the batter and the apples in three layers, ending with the apples on top.  Drizzle the apple liquid on top.  This will provide a nice crunch to the finished cake.
Once the cake is baked, let it cool and then use a sharp knife to run around the pan and center.  Remove the sides and center (it's okay to turn it sideways, even slightly upside down, to release it).
All that's left to do is to eat this delicious cake!
Lastly, if you make The Best Apple Cake, be sure to leave a comment and/or give this recipe a rating! Above all, I love to hear from you and always do my best to respond to each and every comment. And of course, if you do make this recipe, don't forget to tag me on 
Instagram
! Looking through the photos of recipes you all have made is one of my favorite things to do!
Makes: 18 slices
Prep Time: 35 minutes
Bake Time: 1 hour & 30 minutes
Total Time: 2 hours & 5 minutes
Ingredients
6 medium apples (red delicious or gala)

3 tsp ground cinnamon

3 tbsp sugar

3 cups all-purpose flour

3 tsp baking powder

1/3 cup orange juice

3 tsp vanilla extract

2 & 1/2 cups granulated sugar

4 large eggs

1 cup vegetable oil
Instructions
Prepare the Apples:
Peel, core and slice the apples into 1/4″-1/3″ thick place in a large bowl. Sprinkle the first amount of sugar (3 tablespoons) and cinnamon and use a rubber spatula to evenly distribute. Set aside while you make the cake.
Making the Cake:
Preheat oven to 350°F and grease and flour a tube pan. Set aside.
In a medium bowl, sift the flour and baking powder, set aside. Mix the orange juice and vanilla extract in a measuring cup and set aside. In a bowl of a standing mixer, place the sugar and eggs and beat on medium until light and fluffy, about 2-3 minutes.Reduce speed to low and drizzle in the oil, return speed to medium, and beat until fully incorporated.
Add the flour mixture in three additions alternating with the orange juice , starting and finishing with the flour mixture. Right after adding the last portion of the flour mixture, stop the mixer and finish mixing with a rubber spatula (do not over mix).
Assembling the Cake:
Pour 1/3 of the cake batter (about 400 g /14 oz) into the greased pan and evenly spread using a rubber spatula. Spread an even layer of the sliced apple on top of the batter, using 1/3 of the apples. Repeat the above two steps with the remaining of the batter and apple slices, for a total of three layers. Pour any liquids on the last top layer. Bake for 75-90 minutes or until the toothpick comes out clean from the center of the cake.
Remove from the oven and let cool before removing the cake. To remove the cake, use a sharp knife to run along the sides and bottom of the cake. Release the centerpiece of the pan from the sides of the pan and gently remove the cake.
Chef's Notes:
If you don't have a tube pan, you can use two 9×5 loaf pans or a 9×13 baking pan.  Make sure that you line the sides and bottom with parchment paper.  Only use two layers, not three, of batter and apples.
Recipe adapted from One Sarcastic Baker