Whipped Hot Chocolate Flip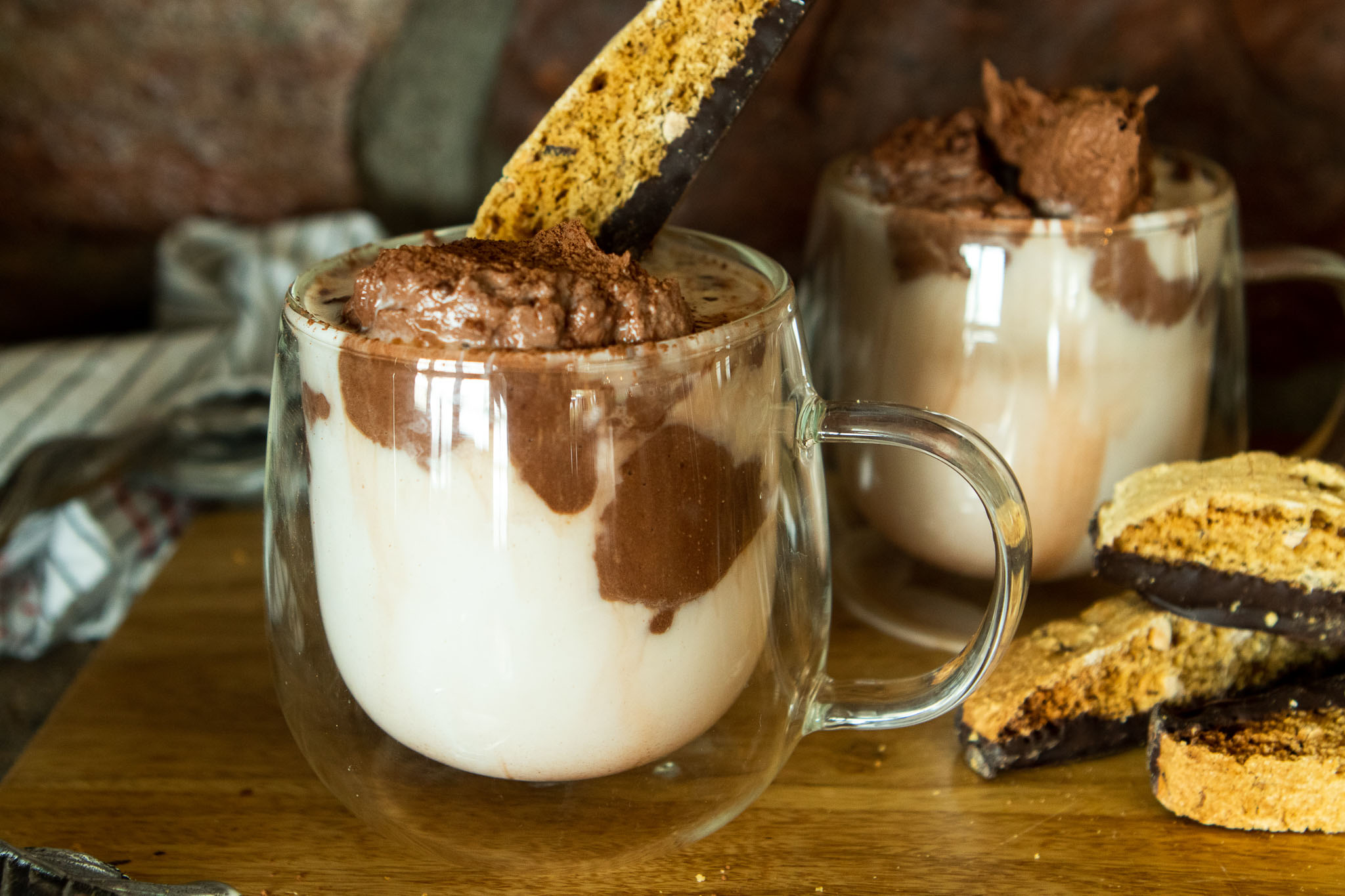 If you love hot chocolate, you need to get crazy and mix it up a bit. This Whipped Hot Chocolate Flip is exactly what it says: whipped chocolate cream sits atop a hot vanilla milk base. Yum!
It's very simple…start by whipping cream with cocoa powder and confectioners' sugar. Heat up milk, water and vanilla extract. Pour the milk mixture into a mug, top with chocolate cream, and dunk a biscotti into it. That isn't necessary, but why not?? By the way, if you're a trend follower, this is all over Instagram. So it must be good, right?? Okay, I'm being a little sarcastic, but it is very popular right now, so give it a go. Let me know how you liked it!
Add a little Peppermint Schnapps or Bailey's Irish Cream if you want an adult libation.

Lastly, if you make Whipped Hot Chocolate Flip, be sure to leave a comment and/or give this recipe a rating! Above all, I love to hear from you and always do my best to respond to each and every comment. And of course, if you do make this recipe, don't forget to tag me on 
Instagram
! Looking through the photos of recipes you all have made is one of my favorite things to do!
Whipped Hot Chocolate Flip
Makes: 2 servings
Prep Time: 5 minutes
Cook Time: 5  minutes
Total Time: 10 minutes
Ingredients
1  cup heavy whipping cream
1/4 cup cocoa powder, plus more for sprinkling
2 tbsp confectioners' sugar
1 cup whole milk, warmed to your desired temperature (see Chef's Notes)
1 cup water, warmed to your desired temperature (see Chef's Notes)
1/4 tsp pure vanilla extract
Biscotti, for dunking
Instructions
In the bowl of a stand mixer with the whisk attachment, mix the whipping cream, cocoa powder and confectioners' sugar on low-speed. Turn up speed, and mix on medium high until soft peaks form, about 2 minutes.
Whisk the warmed milk, water and vanilla in a measuring cup and divide between two mugs.
Using a rubber spatula, divide the chocolate whipped cream evenly and top the milk mixture with the cream. Garnish with a dusting of cocoa powder and serve with biscotti.
Chef's Notes:
Everyone has a different idea of what temperature they enjoy hot chocolate. Heat your milk and water to your liking. You can heat the milk and water in the microwave or in a small sauce pan.
Whipped Hot Chocolate Flip