The final dinner party of the summer season came around way too quickly.  I was sad to see the summer end, with all of its lazy days, friends coming to hang out, golf, cooking and entertaining.  We are fortunate that we have a second home high in the mountains near Flagstaff, Arizona.  Our summers in Phoenix can be interminable without this high-elevation get-away home.  So, on Labor Day Weekend, I gathered some friends to say goodbye to our summer up north.  
Let's talk about what goes into a dinner party.  I know that many  of you might be intimidated about throwing a party, but I'm going to give you some tips to help make it a bit easier to have great food and a great time, as well!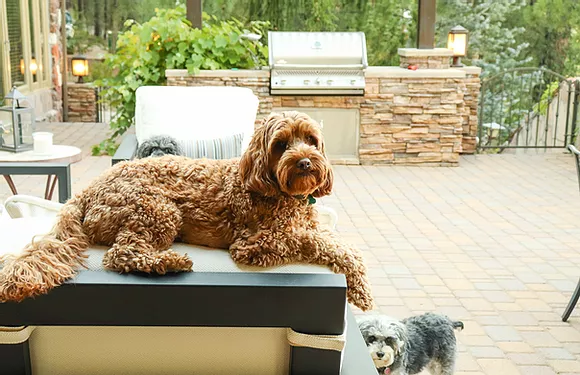 First things first:  choose an easy menu.  Don't go crazy with brand new recipes, unless you're me.  For me, I love the challenge, but as you by now are figuring out, I'm very competitive with myself and want to push myself  beyond normal limits!  Most people should pick recipes that they are familiar and comfortable with!
Second:  be sure that a majority of the menu can be prepped and even made ahead of time.  The last thing that you want is to be stuck in the kitchen while everyone else is enjoying cocktails and nibbles or hanging out on the terrace.  The more time that you can spend with your guests, the more YOU will enjoy it, and the less they will feel like they're imposing (it's funny how after a cocktail or two, no one feels bad about who's in the kitchen!)
Third:  write a timeline.  It can be simple, like on a post-it note (see the picture below) or in a note on your iPhone.  But, this is a critical piece for me…I want everything completely timed out so that I don't miss a beat.  I want to know what time to preheat the oven, when the roast needs to come out of the fridge to sit at room temperature before cooking, I want the time that I intend to roast the veggies and for how long and so on.  I think you get the picture.  Also, I work backwards.  I start with what time I want to serve.  That is the critical decision and then everything else gets times backwards accordingly.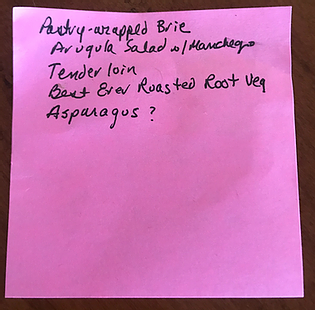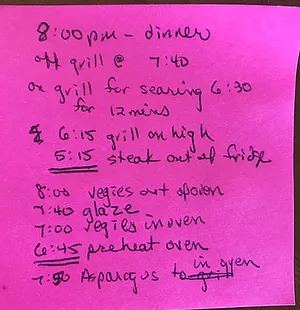 So let's begin with the menu…I always start with the main course and decide on the accompaniments after.  I decided that I was going to serve a beef tenderloin.  Two of my guests don't eat anything that swims, so that gave me a good idea of where I was headed.  I wanted a salad, so I chose my Arugula & Date salad that I posted in this blog recently.  My sides were going to be something starchy and something green.  I went with a roasted root vegetable dish that is the best I've ever had (appropriately entitled Best Ever Roasted Root Vegetables and soon to be posted) and asparagus, if they looked nice at the market, which they did.
The only technicality that threw me a bit was that my favorite way of making tenderloin is Ina Garten's approach of slow-roasting in the oven.  It always comes our PERFECT!  But, I needed the oven for my root vegetables.  Oh, what to do, what to do?  I decided to grill the tenderloin, which took a little more TLC than I had hoped for, but once I was committed to the roasted root vegetables, I didn't feel like changing it for something simpler like grilled corn or a pasta dish.  Both would have been delicious with the tenderloin.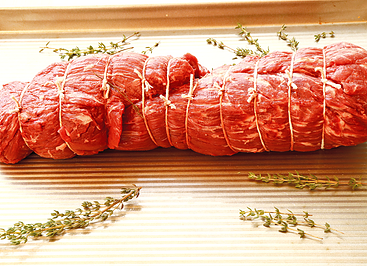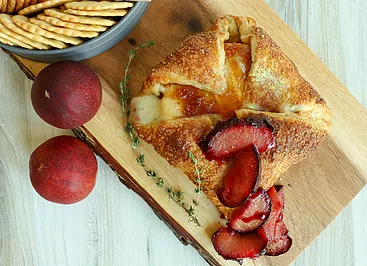 As an hors d'ouevre, I chose Half Baked Harvest's Pastry Wrapped Baked Brie.  This is one of those easy but impressively delicious starters.  It begins with roasting plum slices with maple syrup and butter (wow, that sounds awful) and then wrapping a round of brie that's been covered in fig jam with puff pastry dough.  You bake it and serve it with the plums spooned over the top.  So easy and so good!
Finally, for dessert, my sweet friend Sonja brought an avocado pie.  I never had one of those before and I am here to tell you it was delish!!!  I'll have to start incorporating avocados into baking…I was really impressed!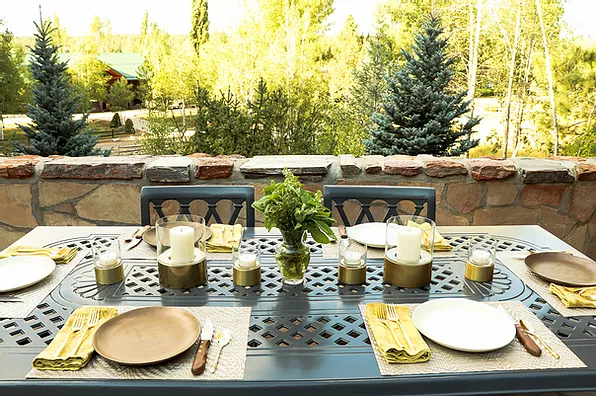 When I thought about how I wanted my table to look, I knew that we'd be sitting on the terrace and that by the time we ate, it would be dark.  I don't have a ton of light on the terrace so I decided to candlelight the table.  The night prior, I lit all the candles to see if they would provide en0ugh light.  It was a toss-up.  That's something I need to work on for next summer (note to self).
In the morning, I did most of the prep (cubing the veggies, making the topping for them, mixing the salad dressing, etc).  The afternoon of the party, I set the table.  I set out serving dishes and utensils.  I pulled out some wine, Vodka and tequila (maybe had a sip, maybe not), some sparkling water, lemons & limes and set up a little bar.  Meanwhile, I'm doing the final prep for the dinner, while making sure I was sticking to the timeline.  Somewhere in there, I figured out the playlist for the evening, which was actually a station on Pandora called, no laughing please, Hipster's Cocktail Party.  Awful name, but great music.  You gotta have great music for a dinner party…not too loud, but definitely there to set the vibe.
We had an awesome time, of course, and even though it was the end of the summer season, it is truly the beginning of the party season.  It starts for me with the Jewish Holidays, then family birthday celebrations, then Halloween, Thanksgiving, Christmas and Chanukah, New Year's and all the little gatherings in between.  This little dinner party reminded me of what it takes to be successful for all of these upcoming gatherings:  an easy menu, lots of prepping ahead and writing down a timeline.  Everything else just falls into place.  
Happy Feasting!!