Easy Dill Pickles
It doesn't take much to make these Easy Dill Pickles besides a little time and dill!  Homemade pickles are a treat to have…they are so fresh and crunchy, flavored with garlic, dill, mustard and coriander seeds.  It's hard to go wrong with this Easy Peasy recipe!
Making pickles is so much easier than I ever thought, and the first time I found Kirby cukes at a farmer's market in Sacramento when I was fresh out of college, I knew I had to give it a whirl.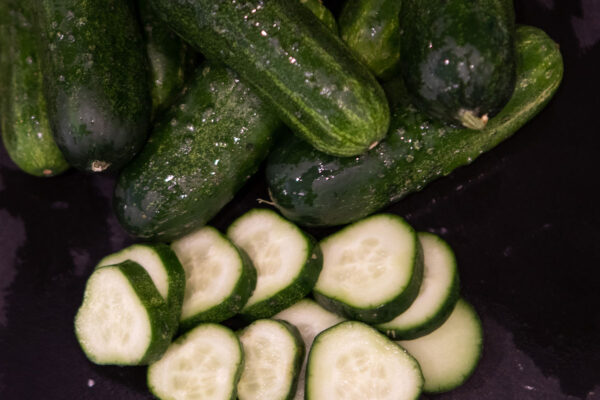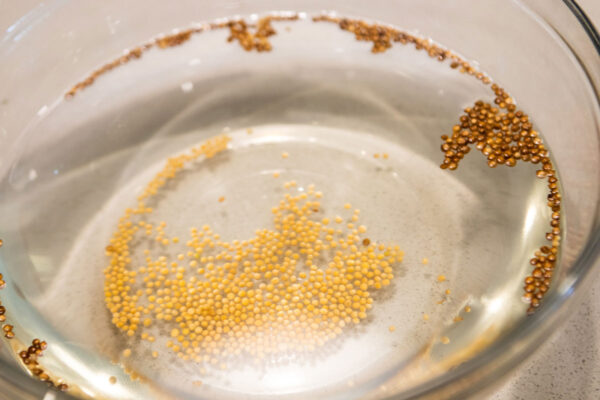 Kirby cucumbers are smaller than a traditional cucumber.  They're short like Persian cukes but a little fatter, with bumpy skin and a dense interior that can hold up up to an assertive brine—big crunch, big flavor.
You begin by making a brine of white vinegar, sugar, salt and mustard, coriander and dill seeds.  Combine that with hot water and stir until the sugar and salt are dissolved.  Then cool the brine completely.
If the brine isn't completely cool, the cucumbers won't have as much crunch as you could get if you waited for the brine to cool.
Toss the cucumber slices with fresh dill and chopped garlic.  Pour the cooled brine over and make sure that all of the cucumber slices are covered.
Place a heavy plate over the top of the cucumbers to weigh them down and submerge them in the brine.
Refrigerate the pickles overnight (or at least 8 hours), stirring once or twice.
Divide the pickles between jars (I got 4 small jars from one batch).  Refrigerate the pickles and serve cold.
The pickles will be good for about 2 weeks.  Serve these with a burger, hot dog or on a relish tray.
Lastly, if you make Easy Dill Pickles, be sure to leave a review down below at the bottom of this page (stars are also appreciated)! Above all, I love to hear from you and always do my best to respond to each and every review. And of course, if you do make this recipe, don't forget to tag me on 
Instagram
! Looking through the photos of recipes you all have made is one of my favorite things to do!
Makes: 1 quart
Prep Time: 20 minutes
Chill Time: 8 hours
Total Time: 8 hours & 20 minutes
Ingredients
1 & 1/2 cups distilled white vinegar

1/4 cup sugar

4 tsp kosher salt

1 tsp mustard seeds

1 tsp coriander seeds

3/4 tsp dill seeds

2 cups hot water

2 pounds kirby cucumbers, sliced 1/4-inch thick

3/4 cup coarsely chopped dill

3 garlic cloves, coarsely chopped
Instructions
In a large, heatproof measuring cup, combine the vinegar, sugar, salt, mustard seeds, coriander seeds, and dill seeds with the hot water and stir until the sugar and salt are dissolved. Let the brine cool.
In a large bowl, toss the cucumbers with the dill and garlic. Pour the brine over the cucumbers and turn to coat. Place a small plate over the cucumbers to keep them submerged, then cover the bowl with plastic wrap. Refrigerate the pickles overnight, stirring once or twice.
Transfer to jars. Serve cold.
Recipe by Bobby Flay