5-Ingredient Cranberry Brie Swirls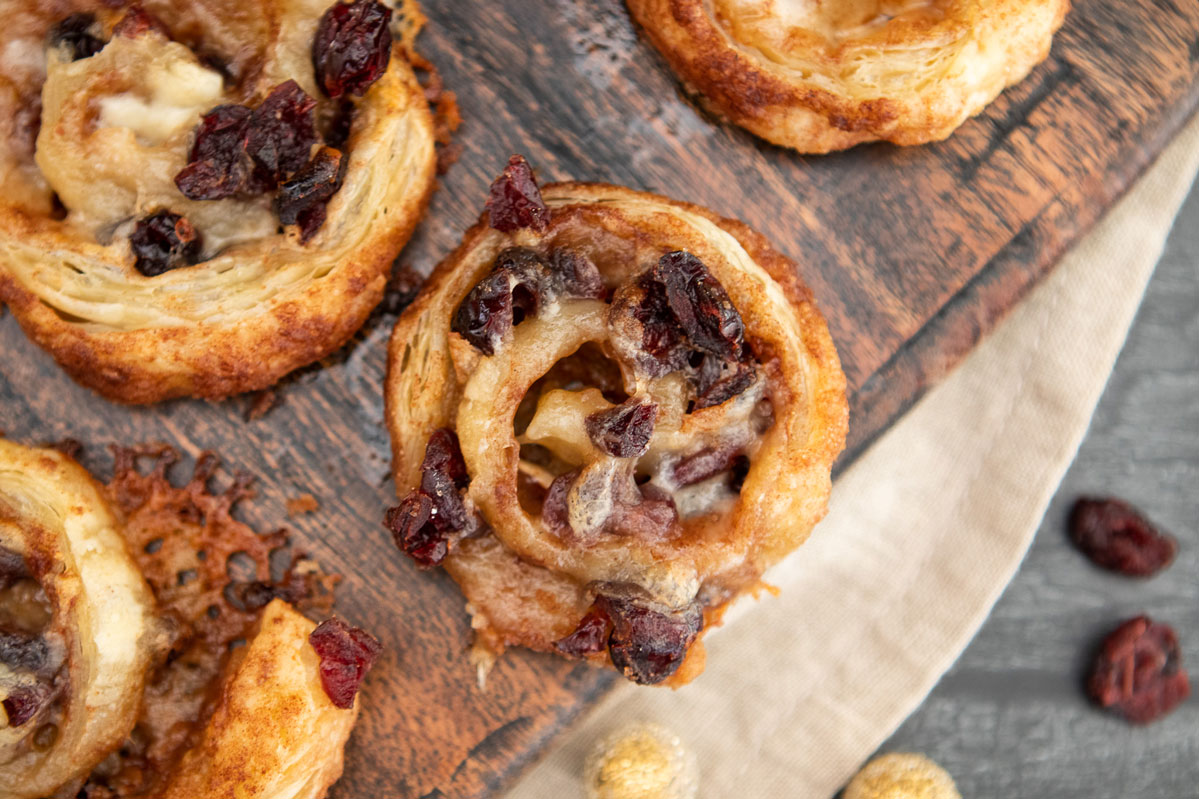 We're still having gatherings and with New Year's Eve quickly approaching, this fast and simple 5-Ingredient Cranberry Brie Swirls recipe is the ideal choice!
It's made with only five ingredients (hence the name!) including puff pastry, dried cranberries, cubed brie, butter and cinnamon sugar.
It's amazing that something this delicious can be achieved with so few ingredients!
Thaw a sheet of frozen puff pastry dough.  Lightly brush on some melted butter.  Sprinkle it with cinnamon sugar and then top with tiny chunks of Brie and cranberries.
Now, roll up the pastry as tight as you can, and then brush the remaining melted butter over the entire roll and sprinkle it with the remaining cinnamon sugar.
Slice the roll into 16 swirls.  They will compress when you cut them.  That's okay…just try to form them back into a circle as best you can.  These do not have to be perfect!
Bake the swirls for 15-25 minutes (I like them on the dark side, so I baked mine for 25 minutes).  Let them sit for a few minutes on the baking sheet to help the cheese to set up.  They can be messy so be sure to let them sit.
Transfer them to a serving platter and enjoy!!  You might want to make a double batch…just saying!
Lastly, if you make 5-Ingredient Cranberry Brie Swirls, be sure to leave a review down below at the bottom of this page (stars are also appreciated)! Above all, I love to hear from you and always do my best to respond to each and every review. And of course, if you do make this recipe, don't forget to tag me on 
Instagram
! Looking through the photos of recipes you all have made is one of my favorite things to do!
5-Ingredient Cranberry Brie Swirls
Makes: 16 swirls
Prep Time: 5 minutes
Bake Time: 25 minutes
Total Time: 30 minutes
Ingredients
1 sheet

frozen puff pastry, thawed

3 tbsp

salted butter, melted

6 ounces Brie cheese, rind mostly removed and finely diced

3/4 cup

dried cranberries

2-4 tbsp cinnamon sugar, using more or less to taste (see Chef's Notes)
Instructions
Preheat oven to 375°F. Line a baking sheet with parchment paper.
Unroll the puff pastry on a clean work surface. Brush the pastry with 1 tablespoon melted butter and then sprinkle with 1-2 tablespoons cinnamon sugar. Sprinkle the diced brie and cranberries evenly over the pastry.
Starting at the long end, roll the pastry up as tightly as possible (like a cinnamon roll). Brush the roll with the remaining melted butter and then sprinkle the roll with cinnamon sugar to coat. Using a sharp knife, cut into 16 swirls.
Place the swirls on the prepared baking sheet and bake 15-25 minutes or until the cheese is bubbly and the pastry golden. Allow to sit on the pan about two minutes and before transferring to a serving plate. Serve warm.
Chef's Notes:
To Make Ahead: Follow above steps and after placing the swirls on a parchment lined baking sheet, cover and keep in the fridge for up to 2 days. When ready to bake, preheat the oven and bake the swirls as directed.
Cinnamon Sugar: mix 1/4 cup sugar with 1 tablespoon ground cinnamon. Store in an airtight container.
5-Ingredient Cranberry Brie Swirls