6-Yolk Pound Cake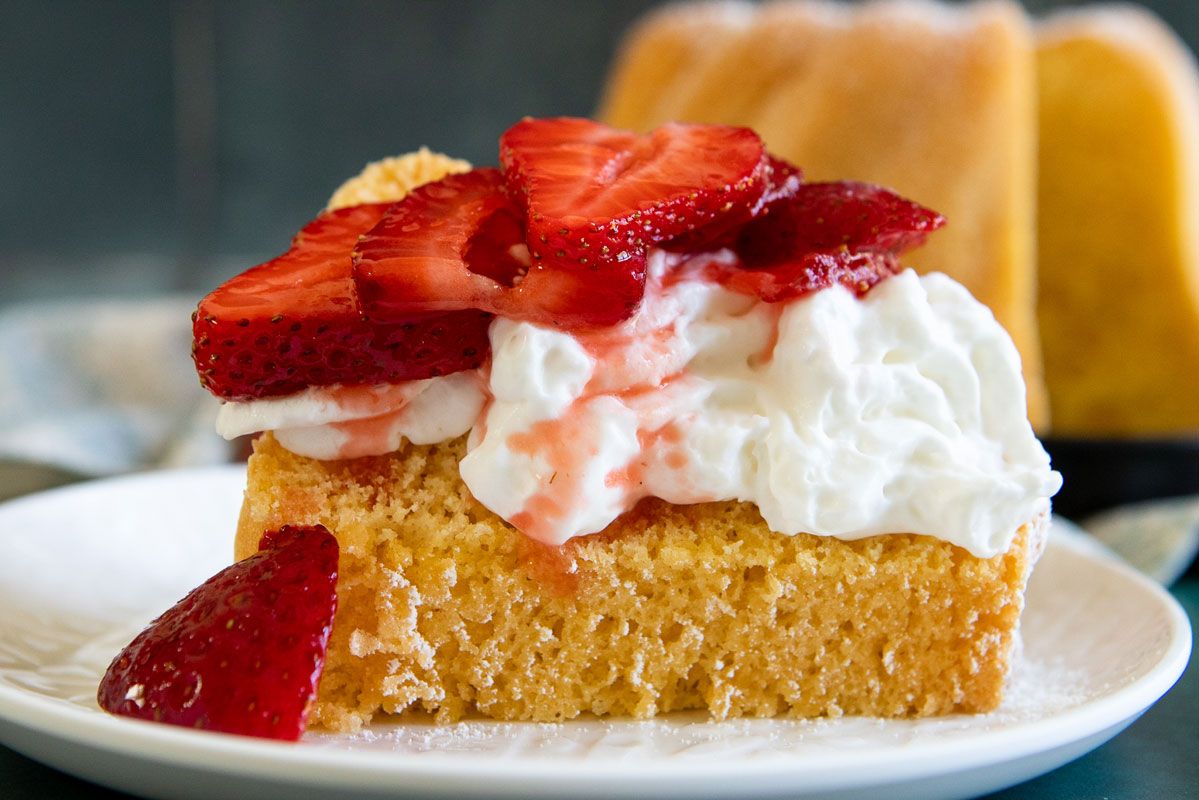 6-Yolk Pound Cake is the perfect answer to what to do with extra egg yolks.  If you like to make meringues or sponge cakes, egg-white omelettes or Swiss buttercream, you know that there are always egg yolks left over.  Yes, you can make lemon curd or raspberry curd.  You can make Caesar salad dressing.  But, when you tire of those, why not try this light and delicious bundt pound cake?
You might think it will be heavy and dense, but it's not.  It has a beautiful crumb to the texture, and the golden color is gorgeous!  It's simple to make and quick (for a cake).  Top it with any seasonal fruit you have, such as sautéed pears or apples in the winter, strawberries or berries in the summer (actually all year 'round now).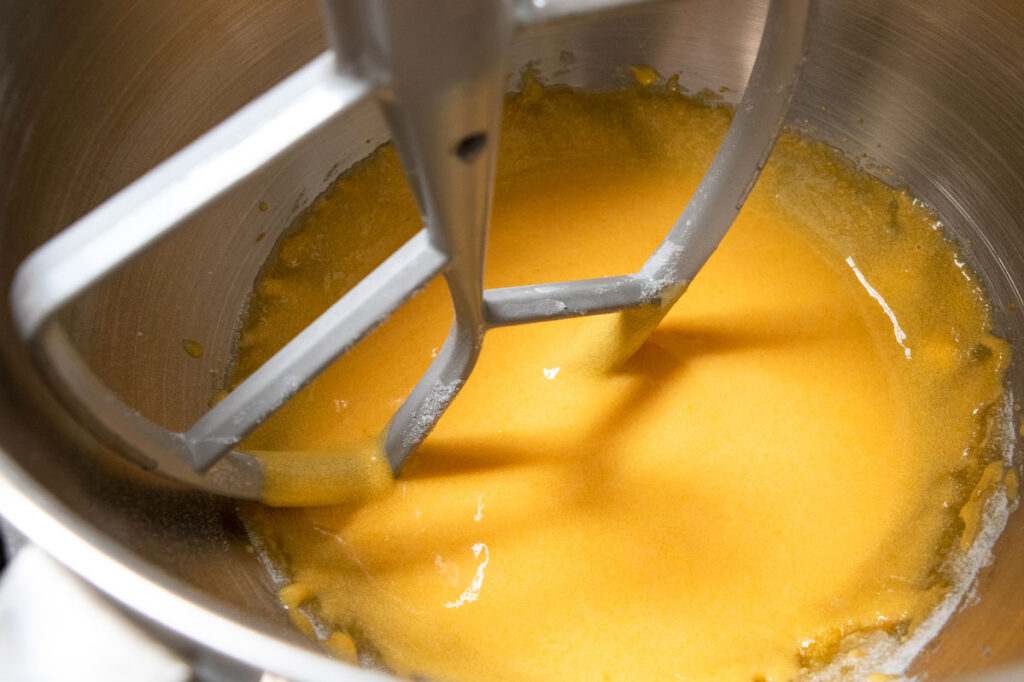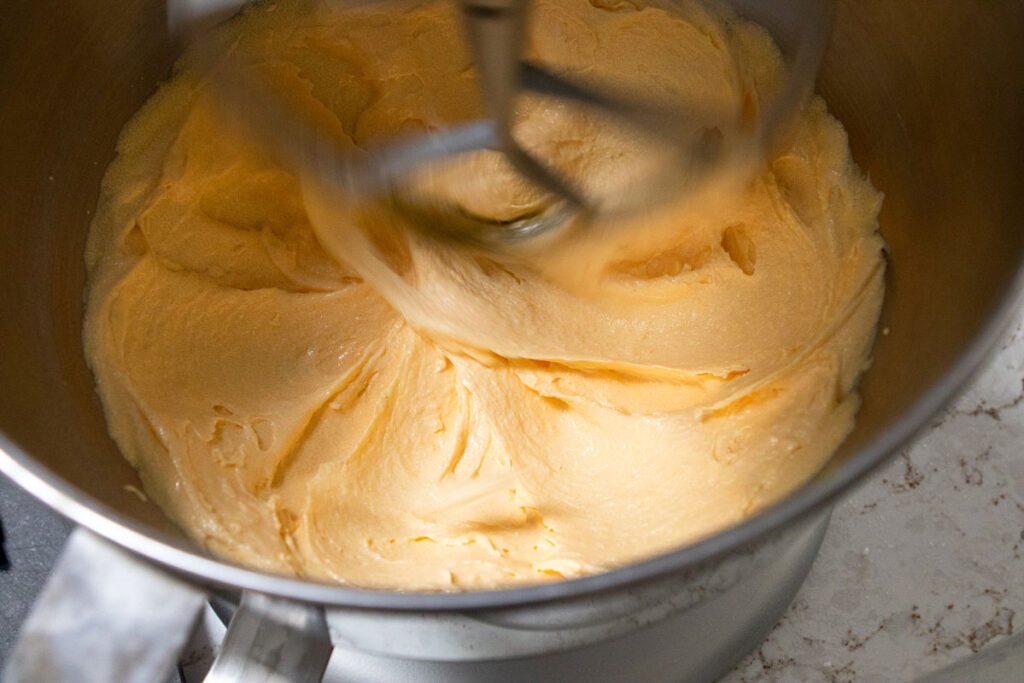 I had 6 yolks that I needed to use, so I decided to make a scaled-down version of a traditional 12-yolk cake recipe.  I also own a small bundt pan, but if you don't, you can easily double the recipe.  Just check out the note at the bottom of the recipe.
Begin by beating the egg yolks until they are fluffy and thick.  Gradually beat in the sugar, vanilla, lemon and cold water.  Gradually add the sifted flour, baking powder and salt into the egg mixture.
Pour the batter into the bundt pan and bake until it's golden brown.
Simple, right?  Delicious, definitely!
Lastly, if you make 6-Yolk Pound Cake, be sure to leave a comment and/or give this recipe a rating! Above all, I love to hear from you and always do my best to respond to each and every comment. And of course, if you do make this recipe, don't forget to tag me on 
Instagram
! Looking through the photos of recipes you all have made is one of my favorite things to do!
Makes: 6-8 servings
Prep Time: 10 minutes
Bake Time: 40 minutes
Total Time: 50 minutes
Ingredients
6 large egg yolks, room temp

1 & 1/2

cups

all-purpose flour

1 & 1/4 tsp

baking powder

1/4 tsp salt

1

cup granulated sugar

1/2 tsp

vanilla

1/2 tsp

lemon extract

1/2 cup cold water
Instructions
Prepare a 6-inch (6 cup) tube pan or 6-cup bundt pan with non-stick spray. (See Chef's Note). Preheat oven to 350°F. Sift flour, baking powder, and salt together.
In a mixing bowl, beat egg yolks until very fluffy and thick, approximately 2 minutes. Gradually beat in sugar and beat 2 minutes on high speed, stopping to scrape the bowl. Reduce speed to low and add vanilla, lemon, and cold water.
Gradually add sifted flour mixture while beating on low, scrape bowl. Beat only long enough to blend, about 1 minute. Pour batter into prepared pan. Bake 30 to 40 minutes or until golden brown or when pick inserted in thickest portion of the cake comes out clean or with dry crumbs.
Cool cake for 15 minutes on wire rack before removing from the pan. Loosen sides of cake from pan with a spatula, then remove from pan. Cool completely on wire rack.
Store in an airtight container 4 days or on countertop or 1 week in the refrigerator.
Chef's Note:
This is an easy recipe to double and uses a traditional-sized bundt pan. Just double all of the ingredients and bake for 50-60 minutes.