Bacon French Onion Dip
Confession: I've never been a lover of onion dip. I think it might be that I don't love sour cream and with most of those store-bought dips, you taste full-on sour cream! But, I was intrigued by this recipe. And, I'm so glad I was because this dip is fantastic!
It is loaded with caramelized onions and shallots, and I mean loaded! Almost 3 pounds worth! But, don't let that frighten you off…every bite of this dip is other-worldly (is that even a word??). Ok, it's out of this world!!!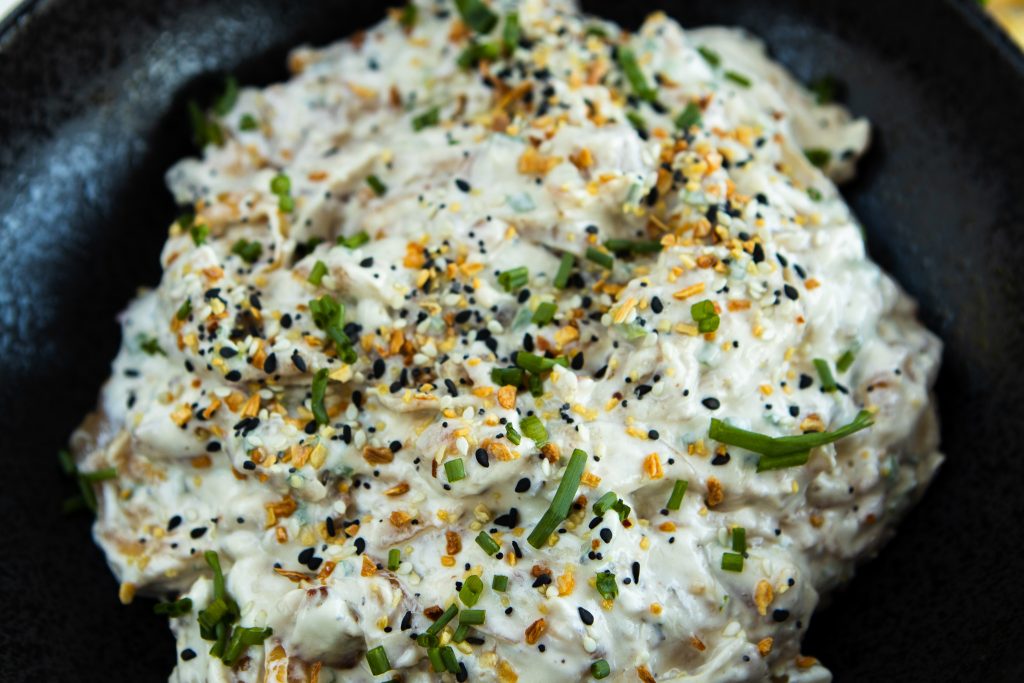 In each bite, in addition to the onions & shallots, you're getting crunchy bacon, chives, and everything-bagel spice. Don't you love that everything-bagel spice with it's toasted garlic, onions, sesame seeds & salt??
And, add a really good potato chip to the entire mouthful, and you can do the happy dance!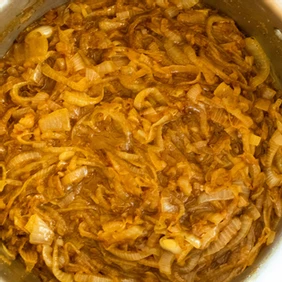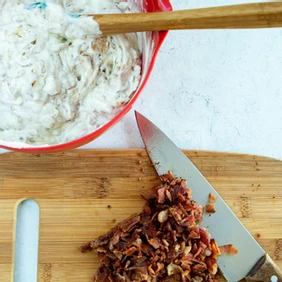 Lastly, if you make Bacon French Onion Dip, be sure to leave a review down below at the bottom of this page (stars are also appreciated)! Above all, I love to hear from you and always do my best to respond to each and every review. And of course, if you do make this recipe, don't forget to tag me on 
Instagram
! Looking through the photos of recipes you all have made is one of my favorite things to do!
Makes: 4-6 servings
Prep Time: 15 minutes
Cook Time: 50 minutes
Total Time: 1 hour & 15 minutes
Ingredients
1/4 cup olive oil

2 pounds large yellow onions, thinly sliced

3 large shallots, thinly sliced

4 sprigs thyme

Kosher salt & freshly ground pepper

1 cup white wine

2 tbsp champagne vinegar

2 cups sour cream

1/2 cup chopped fresh chives, plus 2 tbsps for garnish

4 strips cooked bacon, chopped

1/4 cup plain Greek yogurt

Juice of one lemon

Everything seasoning

Potato chips
Instructions
In a large skillet over medium-high, heat oil. Add onions, shallots and thyme sprigs; season with salt and pepper. Sauté 10–15 minutes or until starting to caramelize. Reduce heat to medium; cook 35 minutes or until golden brown and caramelized. Discard thyme sprigs.
Pour wine and vinegar into pan, scraping up any browned bits stuck to the bottom. Cook, stirring occasionally 15 minutes or until liquid evaporates. Scrape mixture onto a rimmed baking sheet, spreading in even layer. Cool.
Transfer onion mixture to a medium bowl. Stir in sour cream, ½ cup chives, yogurt, bacon and juice. Season with salt and everything seasoning. Garnish with remaining 2 tablespoons chives. Serve with potato chips.
Recipe by Gaby Dalkin
Download PDF