Grilled Shrimp Cocktail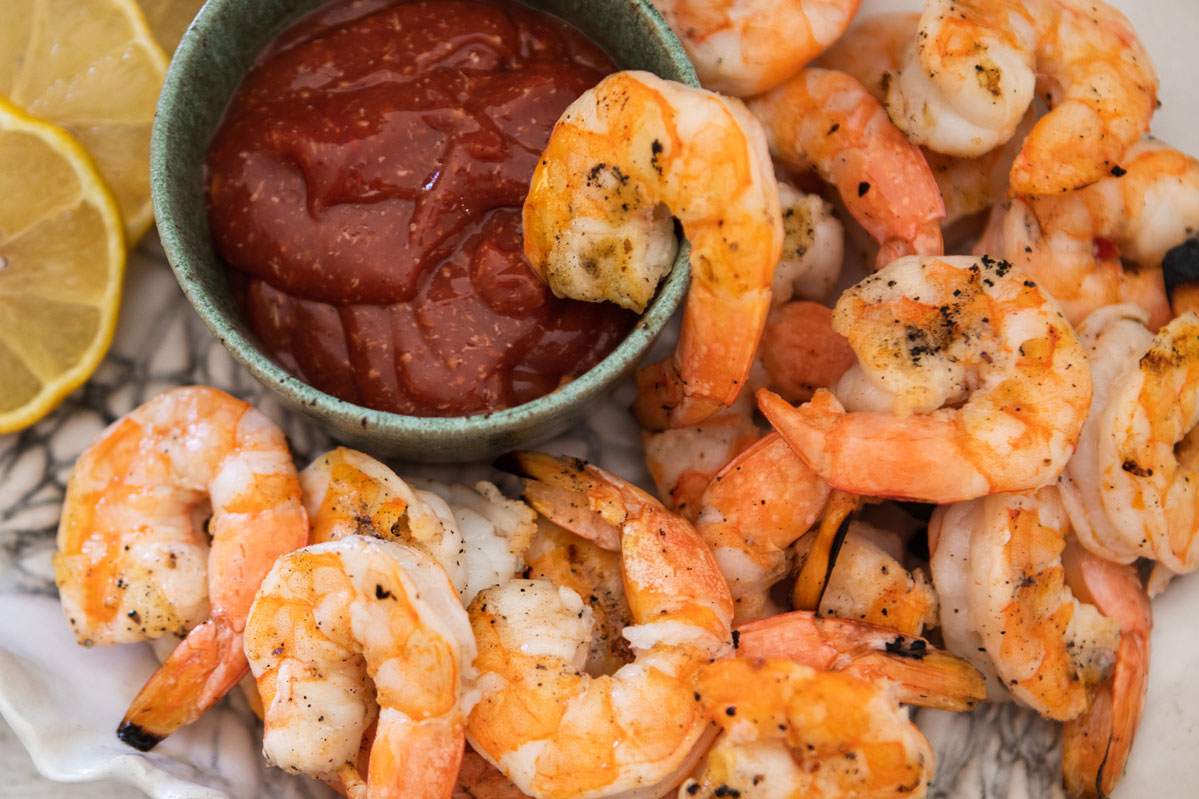 Grilled Shrimp Cocktail is a quick and easy way to serve a crowd, especially on Game Day!  It can all be prepared ahead and only takes minutes to throw together.
It's part of my Easy Peasy category because it's quick, easy and has few ingredients!!!  Woohoo!
The cocktail sauce has a little bite to it due to the horseradish…you are gonna love it!
The cocktail sauce is a combination of ketchup, prepared horseradish some chili and cayenne along with some fresh squeezed lemon juice.  You can make it ahead of time or just prior to serving.
For the shrimp, you can either grill them or poach them (please change the name of this recipe to Poached Shrimp Cocktail) but my preference is to grill them.  Douse them in olive oil and sprinkle a little salt and pepper on the shrimp.  Skewer them and grill them. You'll only need to grill them for a minute or two on each side. 
Serve them warm from the grill or refrigerate and serve with cold cocktail sauce.  Either way, these delicious bites will make your party-goers very happy!
Lastly, if you make Grilled Shrimp Cocktail, be sure to leave a review down below at the bottom of this page (stars are also appreciated)! Above all, I love to hear from you and always do my best to respond to each and every review. And of course, if you do make this recipe, don't forget to tag me on 
Instagram
! Looking through the photos of recipes you all have made is one of my favorite things to do!
Makes: 15 servings
Prep Time: 10 minutes
Cook Time: 5 minutes
Total Time: 15 minutes
Ingredients
1 cup ketchup

1 tbsp prepared horseradish

1/4 tsp salt

1/4 tsp ground black pepper

1 tsp ancho or other mild chili powder

Pinch cayenne pepper

1 tbsp juice from 1 small lemon (we use more)

3 pounds extra-large shrimp
Instructions
Stir all ingredients together in a small bowl; adjust seasonings as necessary. Cocktail sauce keeps for up to two weeks in the fridge.
To Grill Your Shrimp:
Peel and devein shrimp, leaving the tails attached. Toss the shrimp in a large bowl with a generous amount of olive oil, salt and fresh pepper. Grill them for just a minute or two on each side — threading them first on skewers that you've soaked in water makes this even easier — being careful not to overcook them. You can squeeze some lemon juice on when you're done, for an extra hit of flavor. Serve with cocktail sauce.
To Poach Your Shrimp:
Peel and devein shrimp, leaving the tails attached. Bring shrimp stock (you can make this by boiling the shrimp shells for 20 minutes in three cups of water with a tablespoon of salt and straining the liquid) or water to a boil. Additionally, you might add some lemon peels, several glugs of white wine, peppercorns, a bay leaf or tarragon to the boiling liquid for extra flavor. Turn off heat and stir in shrimp; cover and let stand until firm and pink, 8 to 10 minutes. Drain shrimp. Plunge shrimp into ice water to stop cooking, then drain again. Serve shrimp chilled with cocktail sauce.
Recipe by Smitten Kitchen