BBQ Chicken Salad with Jammy Eggs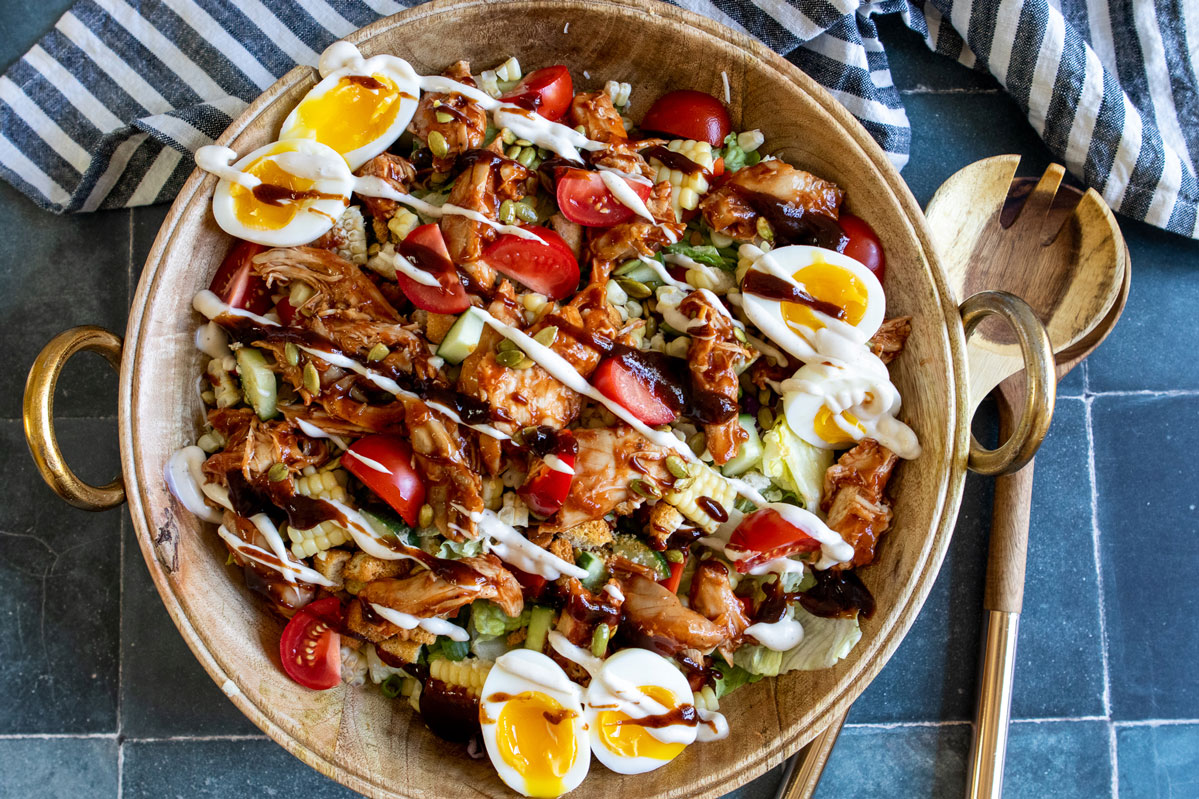 If you're wondering what to make for this Labor Day celebration, why not try BBQ Chicken Salad with Jammy Eggs?  It takes the labor out of the weekend because it comes together in less than 30 minutes.  It will feed a crowd.  It can be prepared ahead.  Need I say more?
This recipe came together when I was standing in front of the fridge wondering what I was going to make for dinner.  I had rotisserie chicken pieces that were doused in BBQ sauce that I had picked up from the grocery store (yes, already prepared), I had a couple ears of fresh corn, I had bacon and I had a variety of lettuces.  Hmmm…the beginnings of a chicken salad were starting to form in my mind.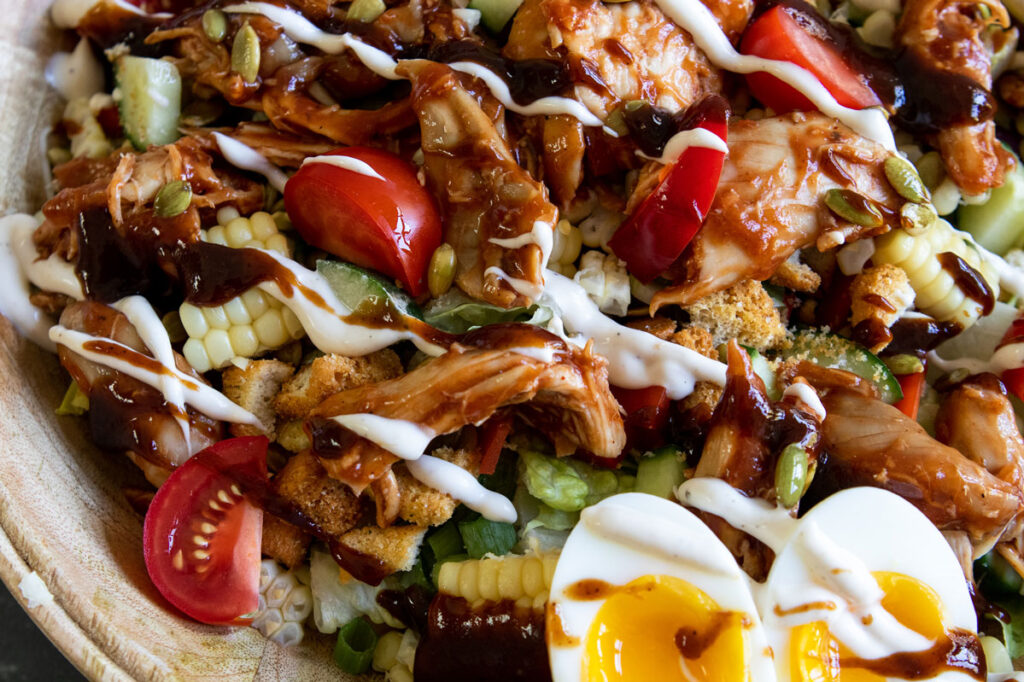 Even though I like to challenge myself with difficult recipes, I really, really love easy and quick, especially when it's a casual meal.  This one was going to be fun!
Begin by making jammy eggs.  What exactly are jammy eggs?  They are a cross between hard- and soft-boiled eggs…the whites are firm, the yolks are a bit runny.  If you more recipes with jammy eggs, try Crispy Potatoes with Jammy Eggs & Bacon!
While the eggs are boiling, toss together the lettuces and cabbage.  Add all the veggies, and then top with bacon, bbq chicken and pepitas.  The eggs get sliced in half and gently placed on the top of the salad.
Finally, drizzle both ranch dressing and extra BBQ sauce over the entire salad.
Voilá!  Dinner is served!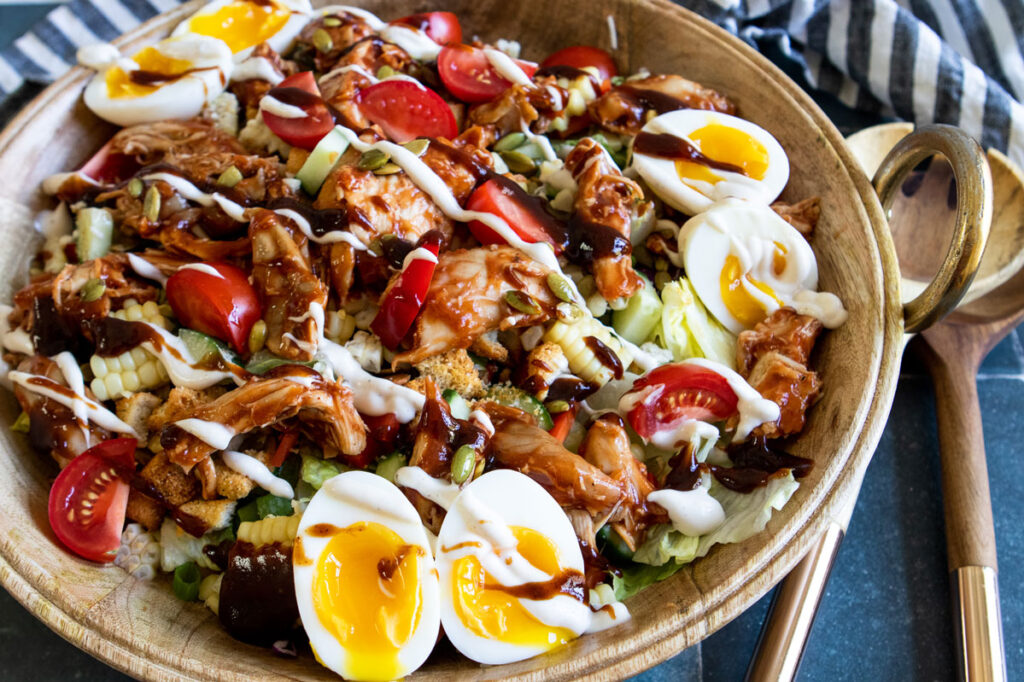 Lastly, if you make BBQ Chicken Salad with Jammy Eggs, be sure to leave a comment and/or give this recipe a rating! Above all, I love to hear from you and always do my best to respond to each and every comment. And of course, if you do make this recipe, don't forget to tag me on 
Instagram
! Looking through the photos of recipes you all have made is one of my favorite things to do!
BBQ Chicken Salad with Jammy Eggs
Makes: 4 servings
Prep Time: 10 minutes
Bake Time: 15 minutes
Total Time: 25 minutes
Ingredients
3 eggs

4 cups romaine lettuce, torn into bite-size pieces

4 cups iceberg lettuce, torn into bite-size pieces

1 cup purple cabbage, shredded

3/4 cup English cucumber, sliced into rounds and quartered

4 scallions, sliced on diagonal

1 cup cherry tomatoes, halved

1/2 red pepper, sliced thinly

1 ear white corn, cooked, kernels removed

4 slices applewood-smoked bacon, cooked, roughly chopped

10 ounces cooked chicken, shredded and tossed with favorite bbq sauce

1/3 cup pepitas

Ranch dressing, for drizzling

BBQ sauce, for drizzling
Instructions
Jammy Eggs:
Bring a small pot of water to a boil. Gently lower eggs, one at a time, into the boiling water. Continue to boil for 7 minutes. Remove pot from heat, place in sink, and slowly pour cold water over the eggs until cooled (this can take 5 minutes or more). Peel eggs.
Toss together romaine and iceberg lettuces with cabbage. Add cucumbers, scallions, cherry tomatoes, red pepper and corn and lightly toss. Top with bacon, chicken and pepitas. Slice eggs and gently place on top of salad.
Drizzle Ranch dressing and BBQ sauce over the salad. Serve with additional Ranch dressing.
Chef's Note:
Feel free to use any greens that you love. This would be equally delicious over arugula.-
BBQ Chicken Salad with Jammy Eggs