Pesto Sauce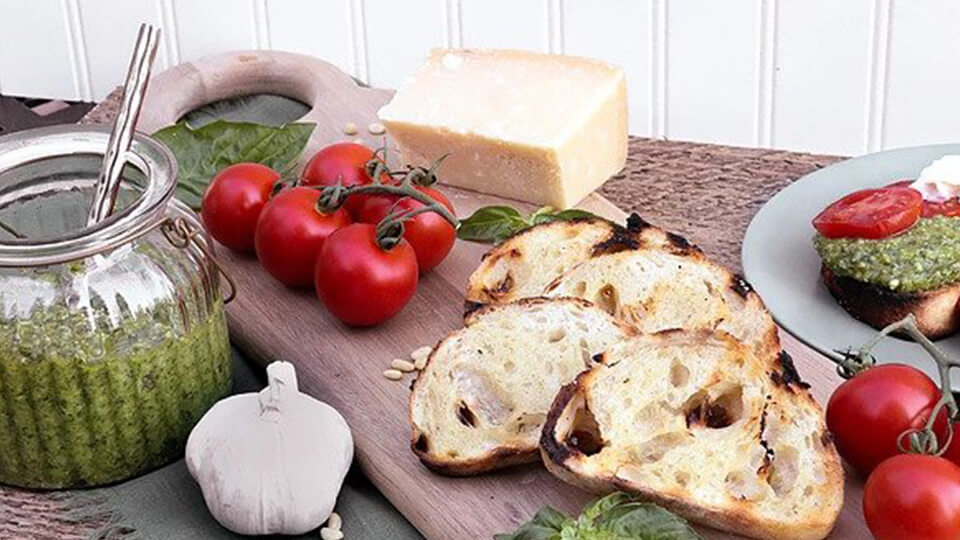 There is something so summery and fresh about homemade pesto. When the garden is bursting with tons of basil or the farmer's market is featuring it at every stall, you know it's time to get out the food processor! With a few simple steps, you will have the most delicious fresh pesto.
This recipe is easy and features the lovely flavor of basil, garlic, parmesan cheese & extra virgin olive oil. There are some variations to this recipe but after making this particular version, I received the highest honor from my biggest fan and critic that this was the BEST pesto sauce he's ever had!! Thank you, Darling!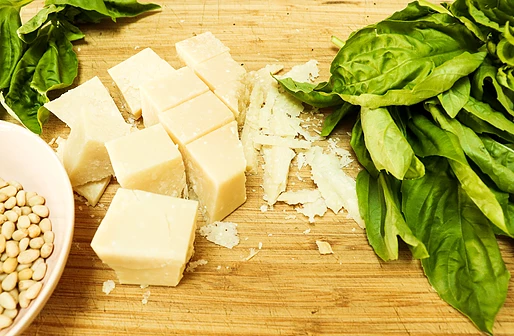 Anyhow, the entire sauce can be made in the food processor. No need to wash extra dishes! One thing to remember is that when the recipe says "pulse", I usually hold the PULSE button down for about 3 seconds. You will see in my photos what the pulsed Parmesan Cheese and garlic should look like when completed, as well as what the entire mixture looks like prior to adding the oil. This should help you if you are unsure about the consistency of the ingredients at different stages of the processing.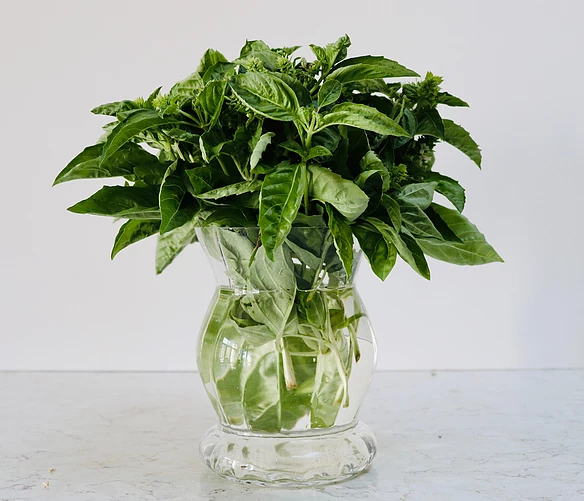 Once you've made the pesto sauce, the question becomes what to use it on. There is nothing more delicious than pesto pasta. Just add a cup of pesto to a pound of cooked pasta. I also love it on toasted country bread slices with fresh tomatoes. Slather a tablespoon or two over a salmon fillet. Try pesto and shrimp pizza…the options are endless!
One final thought about pesto…it stores beautifully in the refrigerator for weeks. Just lightly drizzle some olive oil over the top of it before refrigerating, let it sit out for 30 mins or so before using, and then give it a good stir. The dark color on top is normal, but the oil drizzle will help to prevent that. It also freezes for months (ok, to be honest, I've had some in the freezer for a year and it's been perfect!).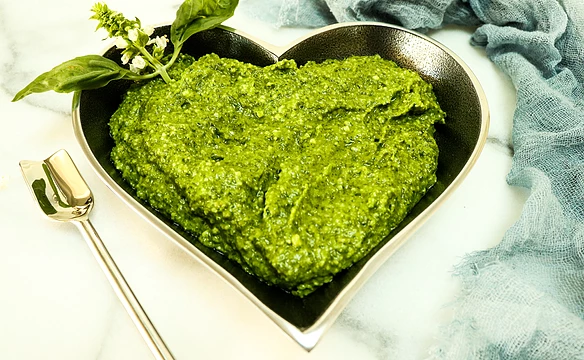 Lastly, if you make Pesto Sauce, be sure to leave a comment and/or give this recipe a rating! Above all, I love to hear from you and always do my best to respond to each and every comment. And of course, if you do make this recipe, don't forget to tag me on 
Instagram
! Looking through the photos of recipes you all have made is one of my favorite things to do!
Makes: 1 cup
Prep Time: 15 minutes
Total Time: 15 minutes
Ingredients
2 large garlic cloves, peeled

3 ounces Parmesan cheese, at room temperature, cut into 1" chunks

2 cups basil leaves, packed

1/2 tsp kosher salt

1/4 cup pine nuts (toasted, if desired. See note)

1/4 cup avocado oil

2 tbsp extra-virgin olive oil
Instructions
With the food-processor running, mince garlic by dropping through the feed tube. Add cheese and chop by pulsing on and off about 8 times (I hold the pulse button down for about 3 secs each time). ​
Add basil leaves, salt and pine nuts. Give it a good stir with a spatula or wooden spoon. Mince by pulsing machine on and off about 8 times (again, for about 3 seconds each pulse). ​
Combine the two oils into a measuring cup. With the machine running, pour the oil slowly through the feed tube and process until well blended. ​
To store, put pesto in airtight container and drizzle olive oil onto the top to just cover the pesto. Store in refrigerator. Freezes very well. ​
Chef's Notes:
I happen to love the flavor imparted by toasting the pine nuts, but it's an extra step that isn't really necessary.  If you'd like to toast them, just put them in a small sauté pan on low heat. Stir every few minutes until they are golden and imparting a toasted fragrance.
Most food processors can hold a double batch of ingredients. I love pesto so much that I usually make a lot at a time (3 or 4 double batches) and freeze it so that I have it all winter long when the fresh basil isn't as available.