Beet-Cured Salmon Gravlax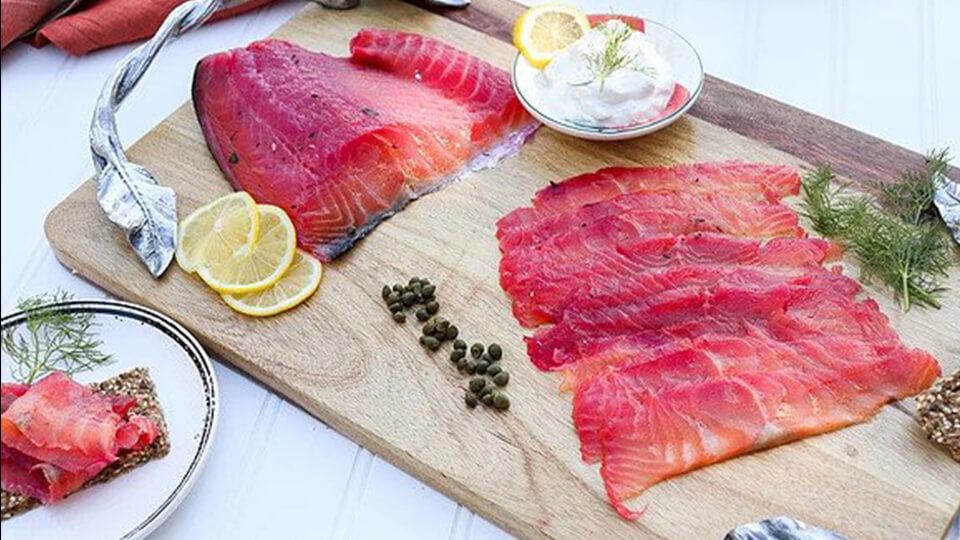 This Beet-Cured Salmon Gravlax is a wonderful addition to any cocktail party or brunch.  While contemplating the menu for an upcoming cocktail party, I got thinking about how much I love serving a large fillet of smoked salmon with all the accoutrements for people to enjoy during the party.  I was perturbed because this company that I had always purchased my smoked salmon from back East had sold the business and I was at a loss to find anything quite so tasty, especially now that my mind was set on serving salmon.  
Prior to thinking about this menu, I had been recipe-grazing and had ear-marked a recipe for Beet-Cured Salmon Gravlax primarily because it was so gorgeous!!  Since it had been cured in a mixture that included beets, the outside of the salmon was a vibrant reddish-fuchsia and the interior was, well, salmon-colored!  I decided that this was the answer to my smoked salmon-party dilemma!  I would make my own!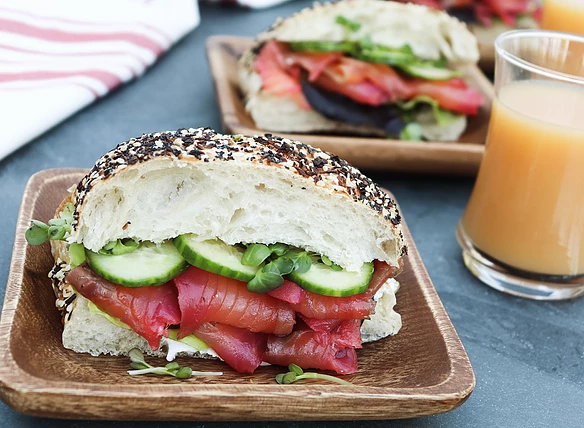 Now, you might be thinking "uh oh, I can't do this", but for those of you who have made Gravlax before, piece of cake!  Simply put, you take beautifully fresh salmon, coat it in a curing rub, wrap it up, and let it sit.  That's it, gang!  Easy-peasy!
My Gravlax was the hit of the party's nibbles and has been on many subsequent party menus.  Then I had a brilliant idea about how to get rid of the dreaded fish course (aka Gefilte Fish) at our Passover Seder and decided to serve some of this stunning salmon on a Kosher-for-Passover potato latke.  Top it with a shaving of lemon zest, and wow!  It's a lovely alternative if you're looking for a change!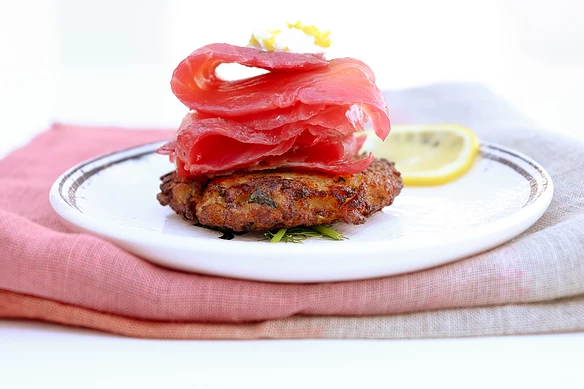 Lastly, if you make Beet-Cured Salmon Gravlax, be sure to leave a comment and/or give this recipe a rating! Above all, I love to hear from you and always do my best to respond to each and every comment. And of course, if you do make this recipe, don't forget to tag me on 
Instagram
! Looking through the photos of recipes you all have made is one of my favorite things to do!
Beet-Cured Salmon Gravlax
Makes: 25 servings on latkes or 8 servings on bagels
Prep Time: 20 minutes
Total Time: 20 minutes plus chill time 24-48 hours
Ingredients
Salmon:
1/4 cup Cointreau

One 2-pound salmon fillet, with skin on

2 cups Kosher salt

2 cups sugar

2 small beets, peeled and grated (about 1 3/4 cups)

1 tbsp toasted fennel seeds, crushed with a mortar and pestle or a spice grinder

1 tbsp chopped fresh tarragon leaves

1 tsp freshly grated orange zest

1 tsp freshly ground black pepper
Cheesecloth, for wrapping, one piece about 3 feet long
Toasted bagels and cream cheese (optional)
Potato latkes (optional)
Lemon Crème Fraiche:
2/3 cup crème fraiche

1 tbsp lemon juice

1 tsp lemon zest

1/2 tsp Kosher salt 
Instructions
Salmon:
Place salmon on a baking sheet and rub the Cointreau over the salmon flesh.  
Combine the salt, sugar, beets, fennel seeds, tarragon, orange zest, and pepper in a medium bowl.  
Unfold the cheesecloth and lay it in a shallow pan large enough to hold the salmon, centering it so the edges are free to wrap over the fish.  Spoon half the salt mixture into the pan, smoothing over the cheesecloth.  Place the fish skin side down on top.  Spoon the remaining salt mixture evenly over the fish, covering as much as possible.
Fold the cheesecloth edges up and over the fish.  Pour the excess Cointreau from the salmon over the wrapped fish.  Place a heavy plate on top of the wrapped fish and refrigerate for 24-48 hours, turning fish over every 12 hours or so.
Remove the pan from the refrigerator.  Unwrap the fish, brush aside the salt mixture, and lift the fish from the pan.  Wash the fish under cold water to remove the remaining salt.  Dry well with paper towels.  Slice very thin, avoiding cutting through the skin.  When the knife reaches the skin, gently tilt the knife along the skin and then remove the slice.
Serve with toasted bagels and cream cheese, or horseradish cream and latkes.
Lemon Crème Fraiche:
Mix all ingredients in a small bowl.  Let sit 10 minutes prior to serving to meld the flavors.
Download PDF
Beet-Cured Salmon Gravlax