Grilled Panzanella Salad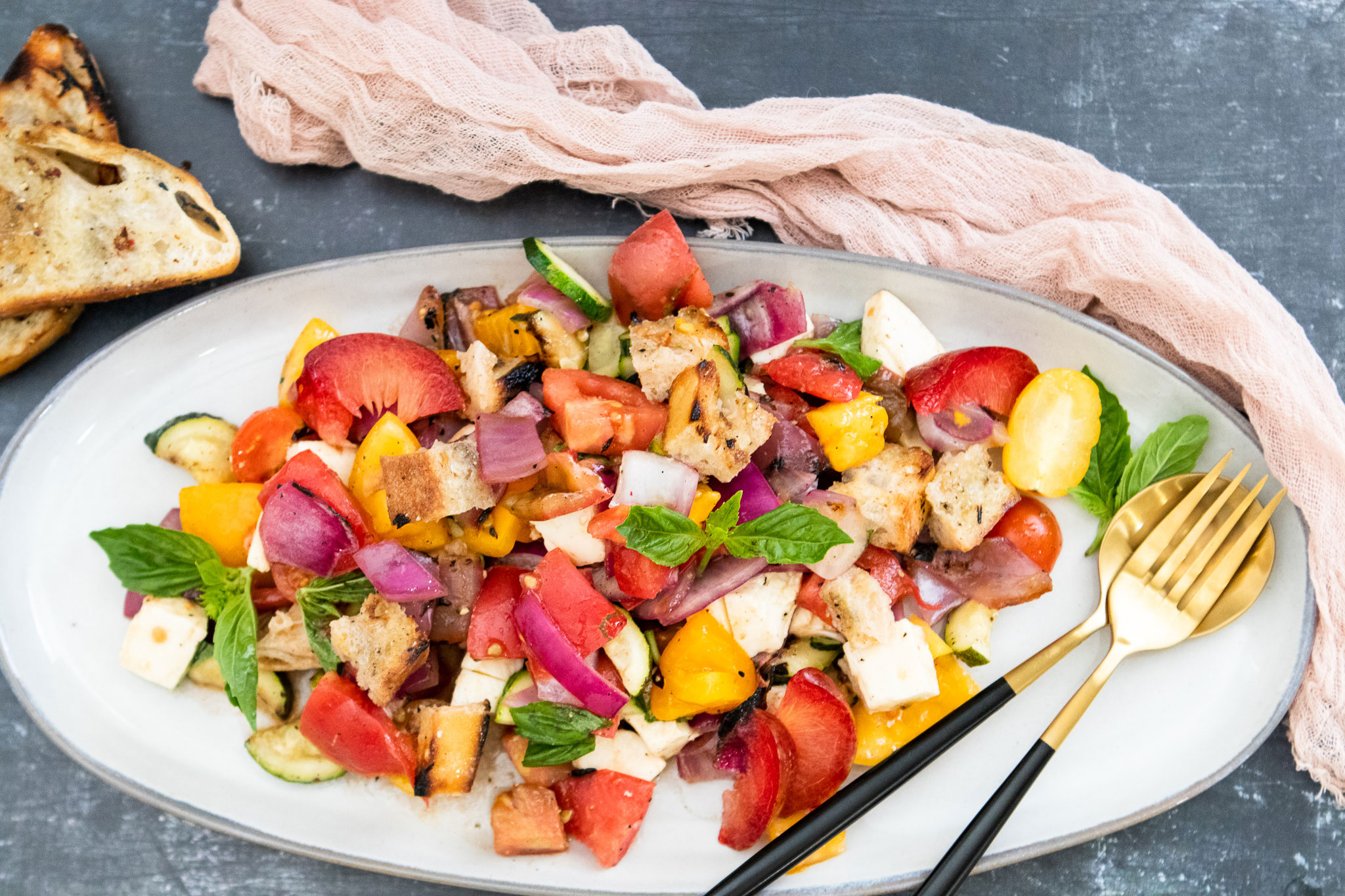 Like all great things in life, this Grilled Panzanella Salad begins with the grill.  The grill is my most-used appliance in my kitchen.  Okay, it might not be directly in my kitchen but I honestly couldn't live without my grill.  I grill everything all year long. 
I even have a story (true) where I smuggled a small grill onto the outdoor terrace of my 10th story condo in Coronado, CA, totally against the rules.  I had to convince the folks above me not to mind the smoke and not to rat me out.  Well, needless to say, they chose not to play along.  It was a horrible summer, without my grill.
So, if you are lucky enough to have access to a grill, fire it up because you are going to need it for this fab salad!  A "Panzanella" is a rustic summer salad that incorporates stale bread, vinegar, tomatoes, cukes and a bunch of other bright market vegetables to create a flavorful dish that's been celebrated for centuries. It has roots in the Tuscan countryside and is a mash-up of the Italian words for bread and soup bowl (pane and zanella).  Now that you know what it is, let's get going!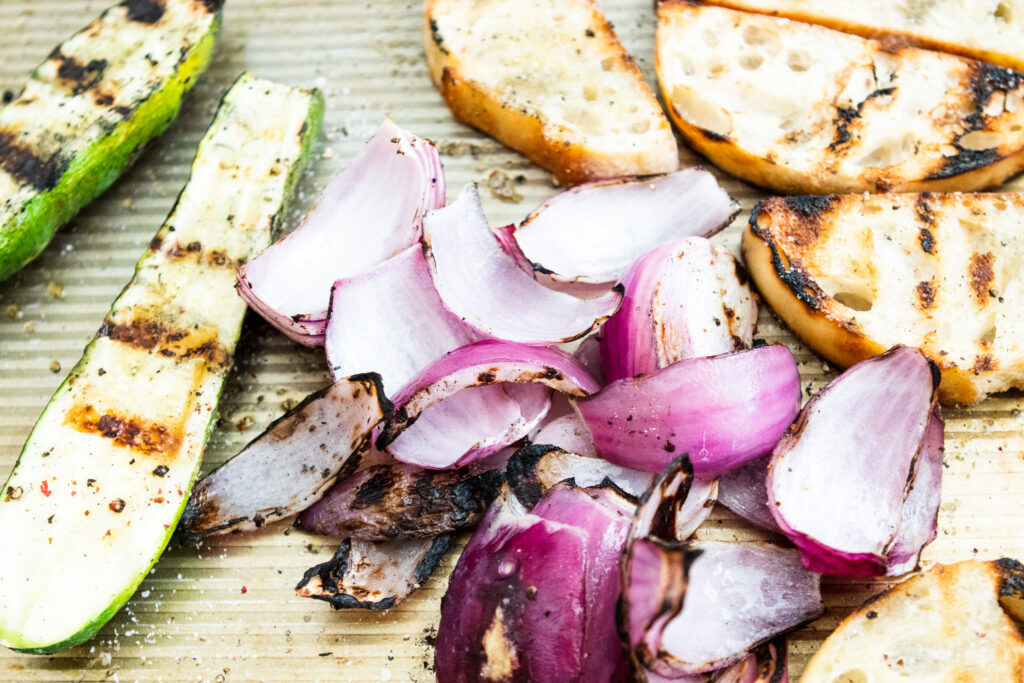 Begin by brushing olive oil on country bread, summer squash and red onions.  Grill them until lightly charred and veggies are tender.  Rub the bread with some garlic and cut the bread into cubes and set aside.  Thinly slice the zucchini and chop the onions.
Make the salad dressing by combining olive oil, red wine vinegar, salt and pepper.  Add to the dressing all the veggies, tomatoes, mozzarella, peach or pear slices and basil.  Toss it gently.  Finally, add the bread chunks and drizzle with balsamic glaze to complete this colorful summer salad.
Lastly, if you make Grilled Panzanella Salad, be sure to leave a comment and/or give this recipe a rating! Above all, I love to hear from you and always do my best to respond to each and every comment. And of course, if you do make this recipe, don't forget to tag me on 
Instagram
! Looking through the photos of recipes you all have made is one of my favorite things to do!
Makes: 4-6 servings
Prep Time: 15 minutes
Grill Time: 6 minutes
Total Time: 25 minutes
Ingredients
1/4 cup extra-virgin olive oil, plus more for brushing

2 3/4″-thick slices country bread

1 medium zucchini or summer squash, halved

1/2 large red onion, cut into 4 wedges

Kosher salt

Freshly ground black pepper

1 clove garlic, minced

2 tbsp red wine vinegar

4 cups diced mixed tomatoes (such as heirloom, vine-ripened, cherry, and grape)

1 cup cubed fresh mozzarella

1 small peach or plum, cut into wedges

1/2 cup packed fresh basil leaves, torn into bite-size pieces

Balsamic glaze, for drizzling, optional
Instructions
Heat grill to medium-high and oil the grates. Brush bread, zucchini, and onion all over with oil and season with salt and pepper.
Grill bread and veggies until bread is lightly charred and toasted, 30 seconds to 1 minute per side, and zucchini and onion are lightly charred and crisp-tender, 3 minutes per side.
Transfer grilled bread, zucchini, and onion to a work surface. Rub garlic on both cut sides of the bread, then let everything cool slightly.
Cut bread into bite-size cubes, thinly slice zucchini crosswise, and chop onion.
In a large bowl, whisk together oil and the vinegar, then season with salt and pepper. Add bread cubes, zucchini, onion, tomatoes, mozzarella, peach slices, and basil. Toss to combine and drizzle with balsamic glaze before serving, if desired.
Recipe by Delish