Cheddar Chive Scones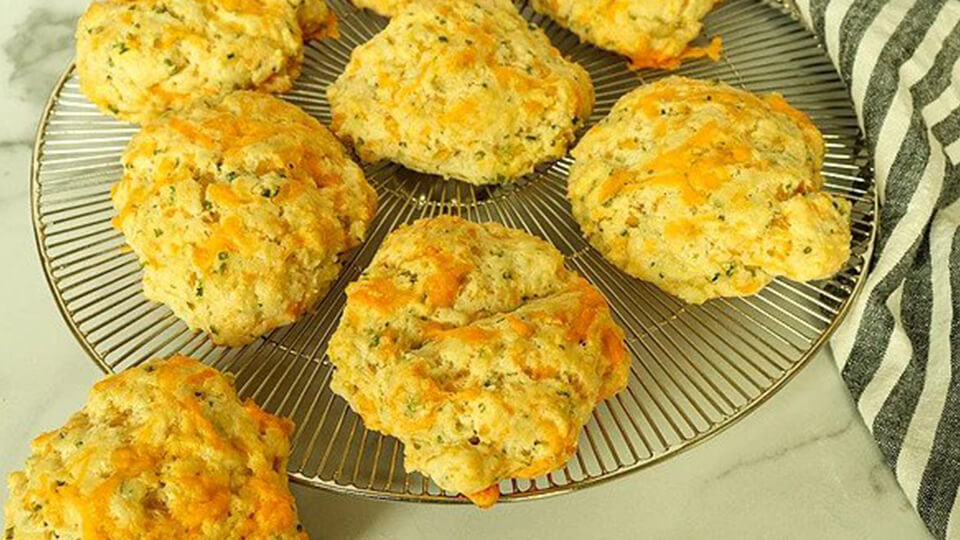 I woke up one morning recently and thought "I need something baked" like Cheddar Chive Scones!  This is rare for me as I don't typically eat breakfast breads.  I'm pretty much a creature of habit:  I love an egg over-easy (not too runny and DEFINITELY not hard), accompanied with a plate of veggies like arugula, tomatoes (the ripest, of course), peppers and cukes…kinda like a Jerusalem Salad.  But this particular morning, I really wanted carbs (the bad-carb type) but not sweet.  Hmmm…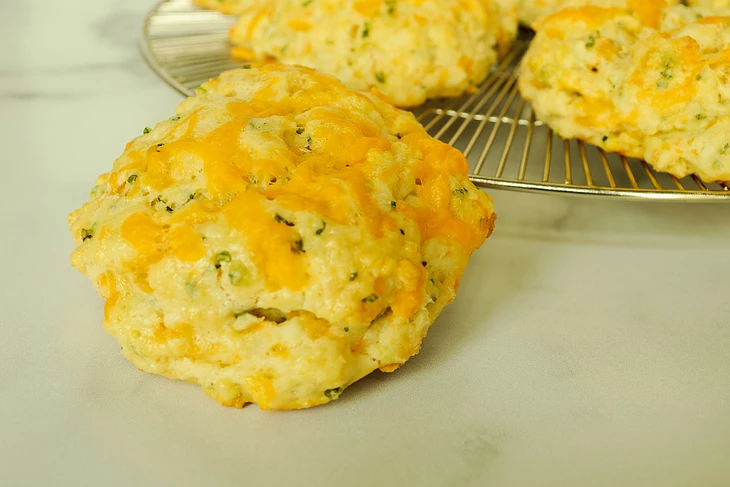 A wonderful thing about scones is their versatility.  Sweet scones are amazing, as are these savory ones.  While it's an easy, one-bowl recipe, scone batter needs to be handled delicately.  It doesn't enjoy being over-mixed.  So take care not knead the ingredients.  Just use a pastry cutter or your hands to mix the butter in.  And don't worry about chunks of butter not blended in completely.  They will lovingly melt into the scones as they are being baked!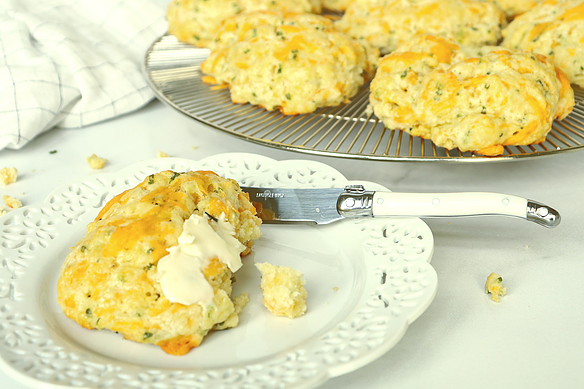 Lastly, if you make Cheddar Chive Scones, be sure to leave a comment and/or give this recipe a rating! Above all, I love to hear from you and always do my best to respond to each and every comment. And of course, if you do make this recipe, don't forget to tag me on 
Instagram
! Looking through the photos of recipes you all have made is one of my favorite things to do!
Makes: 8 scones
Prep Time: 10 minutes
Bake Time: 30 minutes
Total Time: 40 minutes minutes
Ingredients
3 cups all-purpose flour

1 tbsp granulated sugar

1 tbsp baking powder

1 tsp salt

7-8 ounces coarsely grated extra-sharp Cheddar cheese (you'll need 1 & 1/2 cups for the scones, and a little 

more for garnishing the top)

1/2 cup finely chopped chives

2 & 1/4 cups heavy cream
Egg Wash:
Instructions
Preheat the oven to 350°F.  Line a baking sheet with parchment paper.
In a large bowl, whisk together the flour, sugar, baking powder and salt.  Add the cheese and chives and stir to combine.  Add the cream, mixing with a fork just until a sticky dough forms.  Use your hands to bring the dough together, mixing only to the point that the dough forms a ball.
Separate the dough into 8 even pieces, gently shape each piece into a round clump of dough and arrange on the lined baking sheet.
In a small bowl, beat together the egg and water with a fork, then brush the tops of the scones with the egg wash.  Sprinkle with a bit more of the grated Cheddar.
Bake for 30 minutes or until the tops are a light golden color.  For even baking, rotate the baking sheet front to back halfway through.  Transfer the scones to a wire rack to cool completely.  The scones can be stored in an airtight container for up to 3 days.
These are amazing with butter slathered all over them (then again, what wouldn't be amazing with butter slathered all over it??!!).
Recipe from Bobbette & Belle
Download PDF