Cherry Tomato Tartes Tatin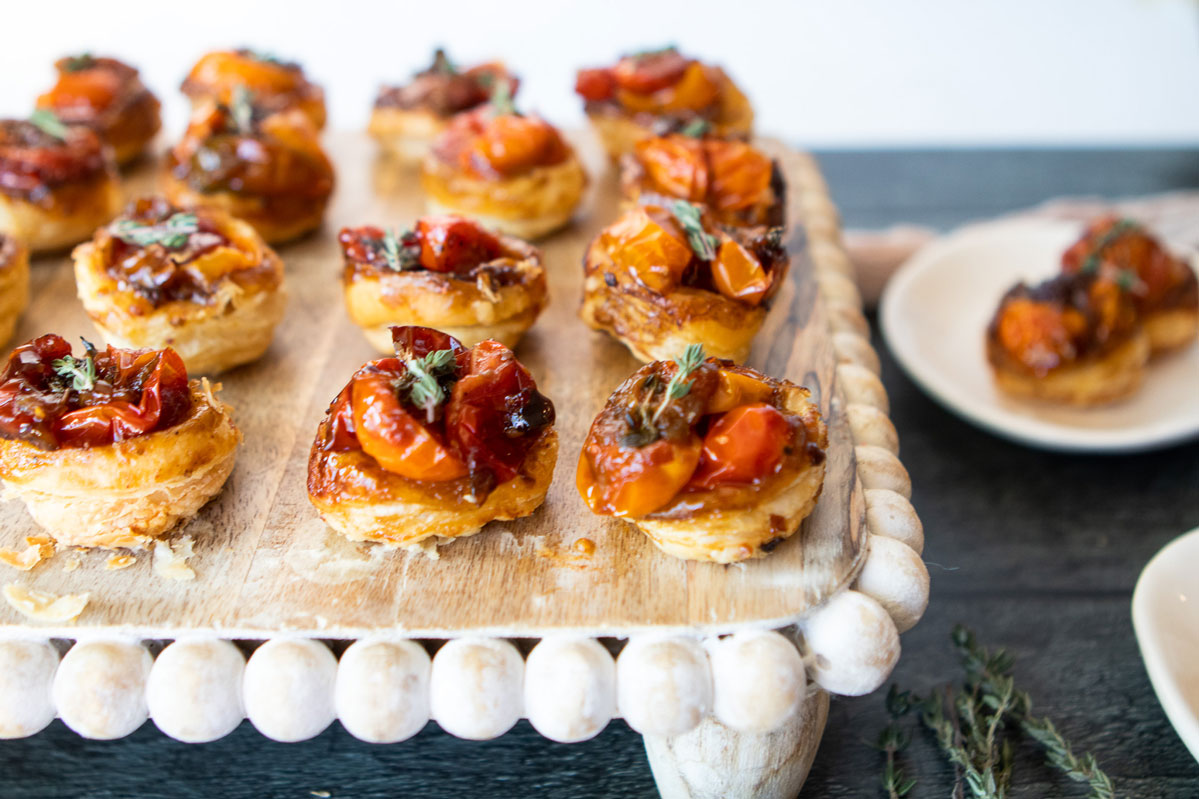 One of my new favorite appetizers is Cherry Tomato Tartes Tatin.  It's easy to make and is so very tasty, especially with ripe cherry tomatoes!
A tarte tatin is basically and upside down tart.  Typically you will see apple tartes tatin where the apples are covered with puff pastry, baked and then flipped over to reveal a lovely apple design.  In this case, cherry tomatoes are sautéed along with shallots, balsamic vinegar and brown sugar.  They are placed in mini muffin tins and covered with puff pastry, baked and then turned over so that the tomatoes sit atop a beautifully browned puff pastry round.
This impressive appetizer is one you will make over and over again!
Begin by sautéing finely chopped shallots in butter, balsamic vinegar and brown sugar.  Once the shallots are tender, add the cherry tomato halves and cook until they start to collapse and caramelize.
Place a tiny sprig on thyme in each cup of a mini-muffin pan and then and some of the tomato mixture.
From the rolled out puff pastry, cut out 24 rounds with a cookie cutter and press the rounds into the muffin cups on top of the tomatoes.
Bake the appetizers for 15-20 minutes or until they are brown.  Cool them slightly and scoop them out of the pan, one by one, using a fork and spoon to assist you.
If some of the tomatoes stick to the pan, gently remove them and place them on top of the puff pastry.
If some of the pastry rounds rise unevenly, after you remove them from the pan, gently press them down so that they sit flat on a platter and don't tip over.
You can top them off with another tiny sprig of thyme, if you like.
This is an easy recipe to double and can be made ahead, except for the baking part.  If you make them ahead, cover them with plastic wrap and leave in the fridge until ready to bake.  I would do this no more than 4-5 hours ahead of baking.
Wait until you taste the flavors that so beautifully come together!  You will be thrilled that you made these!
Lastly, if you make Cherry Tomato Tartes Tatin, be sure to leave a review down below at the bottom of this page (stars are also appreciated)! Above all, I love to hear from you and always do my best to respond to each and every review. And of course, if you do make this recipe, don't forget to tag me on 
Instagram
! Looking through the photos of recipes you all have made is one of my favorite things to do!
Cherry Tomato Tartes Tatin
Makes: 24 tarts
Prep Time: 15 minutes
Cook Time: 40 minutes
Total Time: 55 minutes
Ingredients
1/3 cup unsalted butter

2 shallots, finely chopped (about 1/4 cup)

3 tbsp balsamic vinegar

2 tbsp light brown sugar

3 cups cherry tomatoes (about 1 pound), halved

Kosher salt & freshly ground pepper

24 sprigs fresh thyme

1/2 pound puff pastry (1 sheet), thawed
Instructions
Melt the butter in a large skillet set over medium heat. Add the shallots, balsamic vinegar, and sugar. Cook for a few minutes, or until the shallots are tender, then add the tomatoes. Season to taste with salt and pepper. Cook until the tomatoes are caramelized and starting to collapse, about 5-8 minutes.
Butter or spray a 24-cup mini-muffin pan. Preheat the oven to 400°F.
Place a sprig of thyme in each muffin cup. Add 2 or 3 tomato halves and some of the juices. Let the tomatoes cool in the pan to room temperature.
Roll out the puff pastry on a lightly floured work surface to a thickness of 1/8-inch. Using a 2 & 1/4-inch round pastry cutter, cut out 24 rounds. Gently press the rounds into the muffin cups on top of the tomatoes.
Bake for 15-20 minutes, or until browned. Cool for 5 minutes on a wire rack. Scoop and turn the tartes tatin out of the muffin pan one at a time using a fork and spoon, so that the tomatoes are on top. Serve warm or at room temperature.
Chef's Note:
If the pastry puffs up irregularly, when you turn it over onto your serving plate, you can push the tarte down so that it evens out on the plate and doesn't tip over.
Recipe by Bonnie Stern
Cherry Tomato Tartes Tatin