Mexican Shrimp Cocktail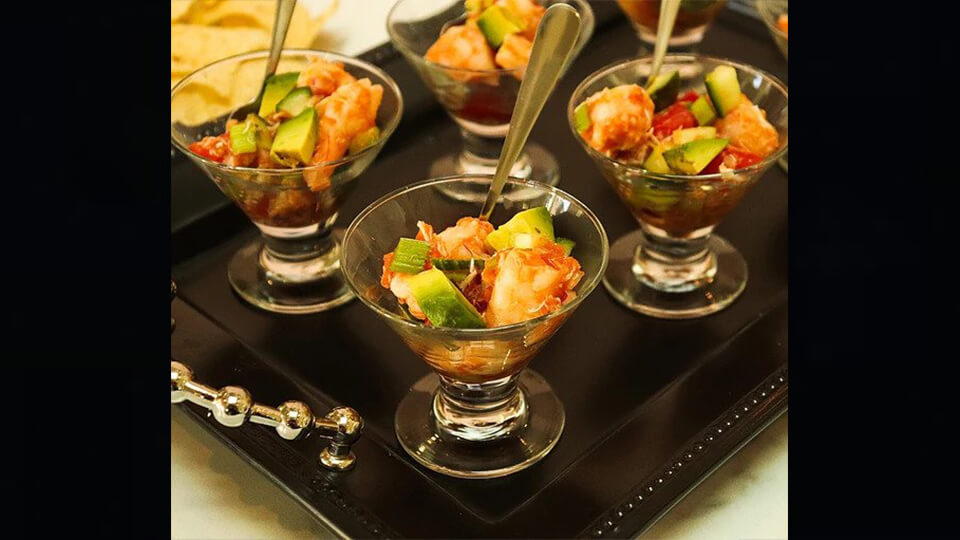 Mexican Shrimp Cocktail or Coctel de Camarones, is one of my favorite appetizers.  It works well for warm-weather menus as well as any other time as it's light, healthy and yet filling. I love the flavors of  the shrimp mixed with a tomato-based sauce.  It's citrusy and a little spicy (you can add more jalapeño and hot sauce if you like it spicier), but most of all it tastes so fresh! I love it as a starter to any meal.  I also love it as a light lunch.  I especially love it by the spoonful right out of the fridge!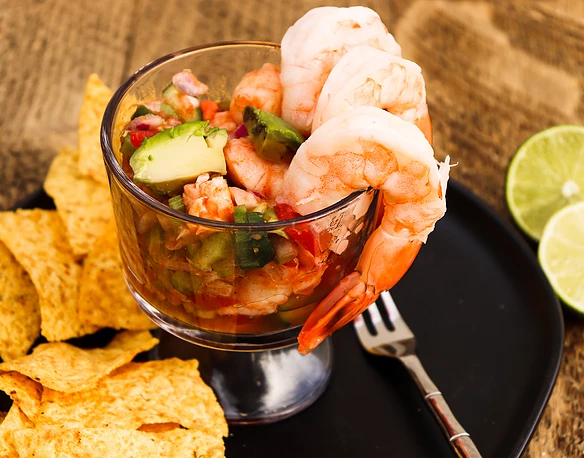 Lastly, if you make Mexican Shrimp Cocktail, be sure to leave a comment and/or give this recipe a rating! Above all, I love to hear from you and always do my best to respond to each and every comment. And of course, if you do make this recipe, don't forget to tag me on 
Instagram
! Looking through the photos of recipes you all have made is one of my favorite things to do!
Makes: 4-6 servings
Prep Time: 10 minutes
Total Time: 45 minutes
Ingredients
1 pound medium-large cooked peeled and deveined shrimp

1/2 cup ketchup 

2 cloves of garlic, minced

1/4 cup fresh lime juice

1 tbsp fresh orange juice

1 tsp salt

1 tsp hot sauce (Valentina, Cholula, or Crystal)

1/2 cup celery, finely diced

1 cup red onion, finely diced

1 cup cucumber, peeled and diced

1 large and ripe tomato, diced (with the juices)

1/2 jalapeno, seeded and finely diced

1/4 cup cilantro, chopped

8 oz jar of clam juice, optional (See Chef's Note)

1 large hass avocado, cubed

Freshly ground pepper
Instructions
In a bowl, combine Ketchup, lime juice, orange juice, hot sauce, minced garlic, 1 tsp salt.  Whisk to combine and set aside. ​ Chop about 3/4ths of your pre-cooked shrimp (discard tails) and place the rest of the shrimp in the fridge and reserve for later.  Place chopped shrimp in a large bowl with the celery, red onion, cucumber, tomato, jalapeno, and cilantro. Toss gently to combine.
Add in the ketchup mixture and clam juice and stir gently to combine.  Add in some fresh black pepper and toss once more to combine.  Cover and refrigerate for at least 30 minutes to chill (it keeps well overnight, too!) . When about ready to serve, cube the avocado and add it to the mix.  Taste and add salt and pepper if needed. ​ Serve in a small glass dishes, dip whole shrimps in the sauce then dangle them on the sides of the glass for looks.  Garnish with extra cilantro leaf and serve with tortilla chips or crackers. 
Chef's Note:
If you are going to use the clam juice, be sure to let the mixture sit overnight to mellow the flavor.