Chipotle Cheddar Corn Chowder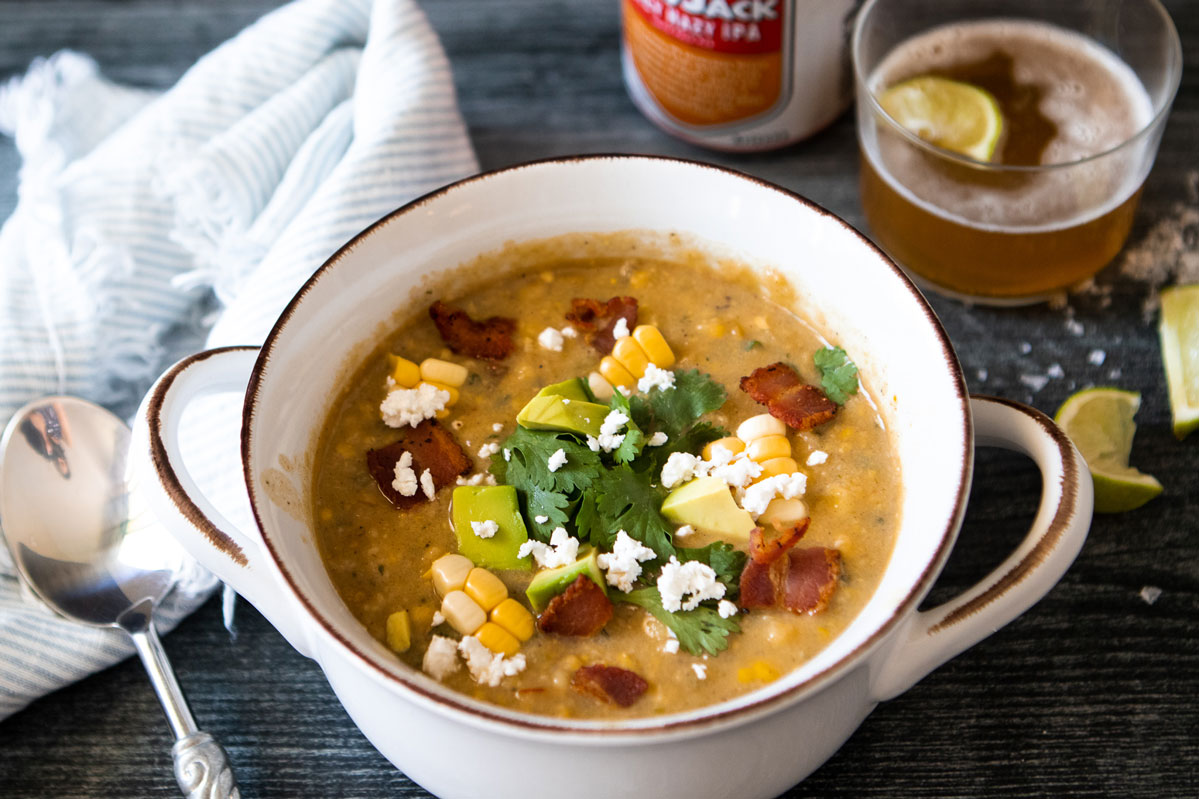 Chipotle Cheddar Corn Chowder is delicious and hearty.  Especially when corn is at its peak, you must consider making this!
I've been thinking about Mexican food since Cinco de Mayo is only a few days away and soups came to mind.  I love a great tortilla soup (check this one out) and am always up for posole.  But right now, I'm thinking of corn chowder and how to spice it up.  
If that's what you're in the mood for, then check out this recipe with its poblano peppers, chipotle peppers in adobo and pepper Jack cheese to add some zing.  It's a great way to turn this into a Mexican corn chowder worthy of a wonderful holiday!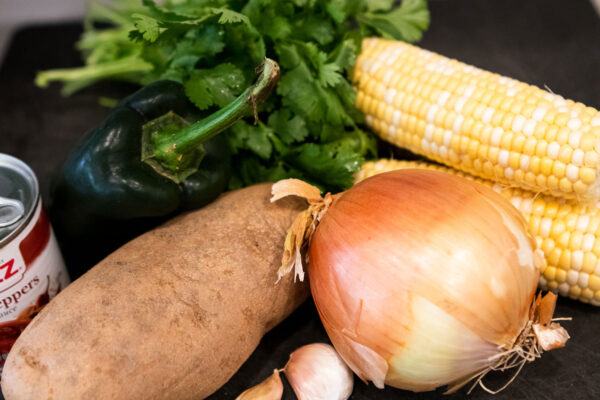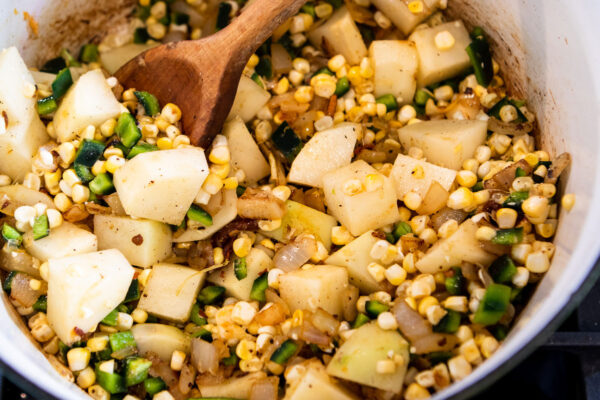 Begin by crisping up bacon chunks.  Using the bacon fat, sauté onions until they are soft.  Add in the corn, potatoes, poblano peppers, chipotles and garlic.
A word about the chipotle chiles in adobo sauce, or basically the heat of the chowder.  I don't love a lot of heat, so I used only a minimal amount of the chipotle chiles.  If you like it hot, add more, but I wouldn't go higher than using two whole chiles.  The smokiness will overpower the chowder.
Add chicken broth to the vegetables and simmer for 10 to 15 minutes, just until the potatoes soften.
Now, purée half of the chowder in a blender or by using an immersion blender directly in the pot.  I like a chunky chowder and this will thicken it but also leave chunks of corn and potato in the soup.  Pour that half back into the pot and add milk and cheeses. 
There's really not much more to it.  Top with crisped bacon, diced avocado, cotija cheese and cilantro and have yourself a very filling and healthy Cinco de Mayo!
Lastly, if you make Chipotle Cheddar Corn Chowder, be sure to leave a comment and/or give this recipe a rating! Above all, I love to hear from you and always do my best to respond to each and every comment. And of course, if you do make this recipe, don't forget to tag me on 
Instagram
! Looking through the photos of recipes you all have made is one of my favorite things to do!
Chipotle Cheddar Corn Chowder
Makes: 4 servings
Prep Time: 10 minutes
Cook Time: 25 minutes
Total Time: 35 minutes
Ingredients
4 slices thick-cut bacon, chopped

1 medium yellow onion, chopped

4 cups fresh or frozen corn kernels (from about 4 ears)

1 russet potato, peeled and cut into 1-inch cubes

1 poblano pepper, seeded and chopped

1/2 canned chipotle peppers in adobo, chopped (for spicier, add up to 2 peppers total)

2 garlic cloves, finely chopped or grated

Fine sea salt and freshly ground black pepper

4 cups low-sodium chicken broth

1 cup milk of your choice

1 cup shredded sharp cheddar cheese

1/2 cup shredded pepper Jack cheese

1/3 cup fresh cilantro, chopped
For Serving:
Diced avocado

Plain Greek yogurt (optional)

Crumbled cotija or feta cheese

Chopped fresh cilantro
Instructions
Place the bacon in a large Dutch oven. Cook, stirring, over medium-high heat until the bacon is crispy and the fat has rendered, about 5 minutes. Using a slotted spoon, transfer the bacon to a paper towel-lined plate. Drain off all but 1 tablespoon of bacon fat (or if there isn't enough, add olive oil to make 1 tablespoon total).
Add the onion to the pot and cook, stirring, until soft, about 5 minutes. Add the corn, potato, poblano, chipotles, and garlic. Season with salt and pepper and stir to combine. Pour in the broth. Bring to a boil, then reduce the heat to medium-low and simmer until the potato is soft, 10 to 15 minutes.
Transfer half of the chowder to a blender and pulse a few times; you want to keep it a bit chunky rather than purée it. Return chowder to the pot. (Alternatively, use an immersion blender to blend lightly directly in the pot.) Stir in the milk, cheddar and pepper Jack. Cook, stirring, until the cheeses have melted and the chowder thickens slightly, about 5 minutes. Stir in the cilantro and remove the pot from the heat.
Ladle the chowder into bowls. Top with the reserved bacon, avocado, yogurt (if using), cotija, and cilantro. Serve immediately.
Recipe from Half Baked Harvest
Chipotle Cheddar Corn Chowder