Sticky Balsamic Ribs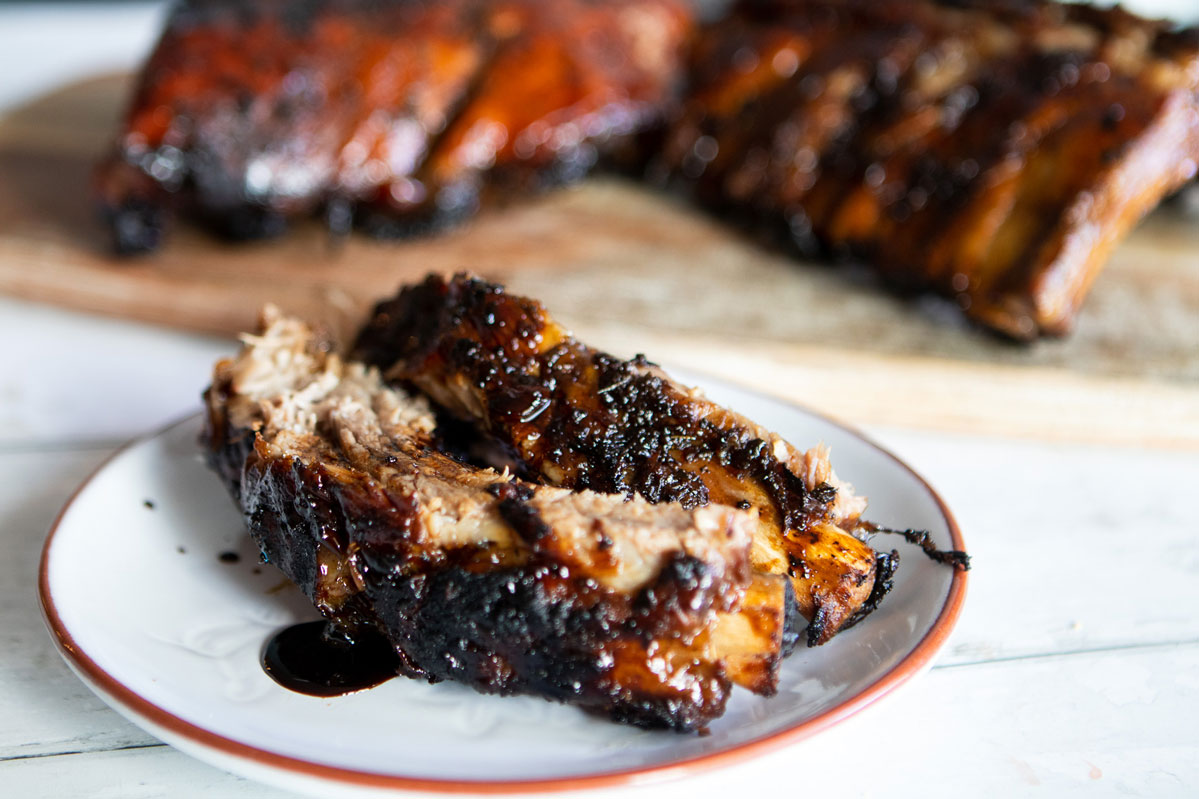 If you are looking for an easy, delicious rib recipe, look no further than Sticky Balsamic Ribs.
There's an ongoing debate in my family about the best way to prepare ribs.  We were spoiled as kids when our mom used to make Sticky Bones, a deliciously sticky method of making baby back ribs.  We still debate how exactly she made them and how to improve upon the method.  The texts look something like this:
While we are always comparing notes on sticky bones, we also love to share great recipes that are a little different.
This one is for my family…pretty sure you're gonna love these!
This is a simple recipe to make but it does take time.  Plan on starting them the day prior or early in the morning on the day you want to eat them as they need time to marinate in the rub.  The rub is a combination of garlic (lots of it), rosemary, brown sugar, balsamic vinegar and cayenne.  Rub this all over the ribs and chill them in a roasting pan or ziplock bag for 8-24 hours (see what I mean about planning ahead?).
To cook the ribs, there's no debate here!  Pour a bit of water into each roasting pan and roast at 425°F until the meat is very tender, about 1 & 3/4 hour.
Deglaze the pans with hot water and transfer the liquid to a skillet.  Add balsamic vinegar and brown sugar and bring it to a boil until it's thick and syrupy.
Brush some of the glaze over the ribs and grill until the ribs are hot and grill marks appear.
Serve the ribs with additional glaze on the side.  Ok, sibs, tell me what you think??
Lastly, if you make Sticky Balsamic Ribs, be sure to leave a review down below at the bottom of this page (stars are also appreciated)! Above all, I love to hear from you and always do my best to respond to each and every review. And of course, if you do make this recipe, don't forget to tag me on 
Instagram
! Looking through the photos of recipes you all have made is one of my favorite things to do!
Makes: 8 servings
Prep Time: 10 minutes
Cook Time: 2 hours & 5 minutes
Total Time: 2 hours & 15 minutes plus marinate time 8 hours minimum
Ingredients
For the Ribs:
8 large garlic cloves

1 tbsp + 1 tsp kosher salt (divided)

2 tbsp finely chopped rosemary

2 tbsp packed dark brown sugar

2 tbsp balsamic vinegar

1 tsp cayenne

1 tsp freshly ground black pepper

8 pounds baby back pork ribs

1 cup water
For the Glaze:
2 cups hot water

1 cup balsamic vinegar

1/2 cup packed dark brown sugar
Instructions
Mince and mash garlic to a paste with 1 teaspoon salt. Stir together with rosemary, brown sugar, vinegar, cayenne, remaining tablespoon salt, and pepper. Rub evenly all over ribs and transfer to roasting pans, meaty side up. Marinate, chilled, 8 to 24 hours. Alternately, marinate in a zippered bag or bowl covered with plastic wrap.
Preheat oven to 425°F with racks in upper and lower thirds.
Pour 1/2 cup water into each roasting pan and tightly cover pans with foil. Roast ribs, switching position of pans halfway through, until meat is very tender, about 1 & 3/4 hours. Remove pans from oven and transfer ribs to a platter.
Add 1 cup hot water to each roasting pan and scrape up brown bits. Skim off and discard fat, then transfer liquid to a 10-inch skillet. Add vinegar and brown sugar and bring to a boil, stirring occasionally. Boil until thick and syrupy and reduced to about 1 cup, about 15 minutes.
Prepare grill for direct-heat cooking over medium-hot charcoal (medium heat for gas).
Brush some of glaze onto both sides of racks of ribs. Grill, turning occasionally, until ribs are hot and grill marks appear, about 6 minutes.
Brush ribs with more glaze and serve remaining glaze on the side.
Recipe from Food52