Classic Beef Chili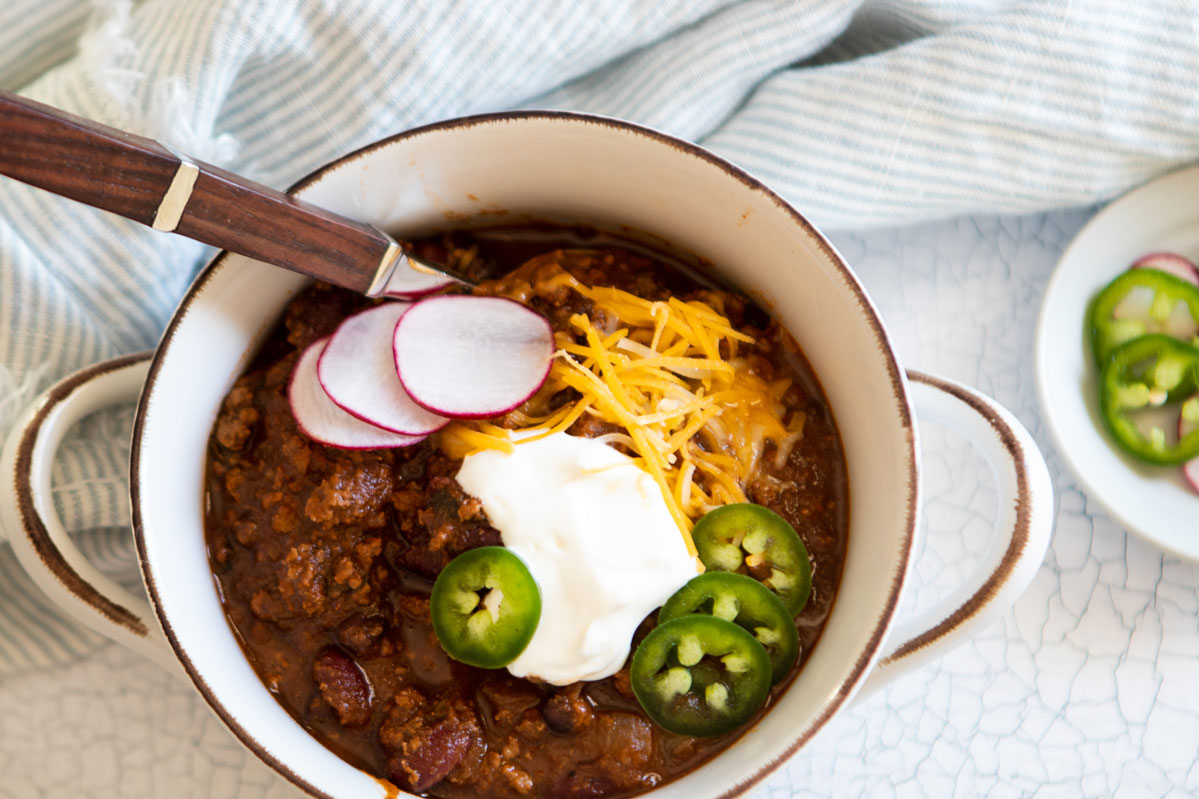 Classic Beef Chili is a classic for Superbowl Sunday festivities or any time you're looking for a hearty, easy beef chili.  Made with fresh poblanos, ancho chile powder and beer, the best flavors come out in this delicious bowl of goodness!
I hesitate to add it to the Easy Peasy category as the number of ingredients might scare you away, but there are only a few steps to creating this excellent chili.  Let me know if I should add it to the Easy Peasy category!
Prepare all of your ingredients ahead of time (it's called "mise en place" and means everything in its place).  That way, everything is chopped and measured so that all you have to do is follow along with the instructions.
Heat the onions, poblanos and garlic in a dutch oven and sauté until softened, about 5 minutes.  Add the ground chuck to the pot and combine all of the ingredients.
Cook the beef until it is crumbly and no longer pink.  To the drained beef mixture, add the tomato paste, and spices and cook, until nicely toasted, about 2 minutes.
Stir in the beans, tomatoes, chicken broth and beer and bring to a boil.  Lower the heat and simmer for about 30 minutes.
Let's talk beer…it's best to use an amber or Pilsner beer vs an IPA or Stout.  The flavors of those are too strong.  If  you prefer not to use the beer, just substitute an equal amount of chicken or beef broth.
Serve the chili with the toppings of your choice…shredded cheddar cheese, sliced jalapeños, radishes, sour cream, and chopped scallions.  If desired, serve alongside cornbread or tortilla chips.
Lastly, if you make Classic Beef Chili, be sure to leave a review down below at the bottom of this page (stars are also appreciated)! Above all, I love to hear from you and always do my best to respond to each and every review. And of course, if you do make this recipe, don't forget to tag me on 
Instagram
! Looking through the photos of recipes you all have made is one of my favorite things to do!
Makes: 6-8 servings
Prep Time: 15 minutes
Cook Time: 50 minutes
Total Time: 1 hour & 5 minutes
Ingredients
2 tbsp olive oil

2 cups chopped yellow onion (from 1 large onion)

1 cup chopped poblano chile (from 1 chile)

8 garlic cloves, minced

3 pounds lean ground chuck (90/10)

1 (6-ounce) can tomato paste

1/3 cup ancho chile powder (or less for a milder flavor)

2 tbsp ground cumin

1 tbsp kosher salt

1 tsp black pepper

1 tsp fresh thyme leaves

1 tsp chopped fresh oregano

2 (15-ounce) cans dark red kidney beans, drained and rinsed

1 (15-ounce) can black beans, drained and rinsed

1 (28-ounce) can crushed tomatoes

2 cups lower-sodium chicken broth

1 (12-ounce) bottle of beer (Pilsner or amber

Shredded cheddar cheese, sliced jalapeño chiles, sliced radishes, and sour cream, for serving
Instructions
Heat oil in a large Dutch oven over medium-high. Add onion, poblano, and garlic, and cook, stirring often, until tender, about 5 minutes. Add ground chuck, and cook, stirring occasionally, until beef crumbles and is no longer pink, 8 to 10 minutes. Drain beef mixture well, and return to Dutch oven over medium-high.
Add tomato paste, ancho chile powder, cumin, salt, pepper, thyme, and oregano, and cook, stirring often, 2 minutes.
Increase heat to high. Stir in beans, tomatoes, chicken broth, and beer, and bring to a boil. Reduce heat to medium-low, and simmer, stirring occasionally, until heated through, about 30 minutes. Serve chili with desired toppings.
Recipe from Food & Wine