Crispy Cheesy Potato Stacks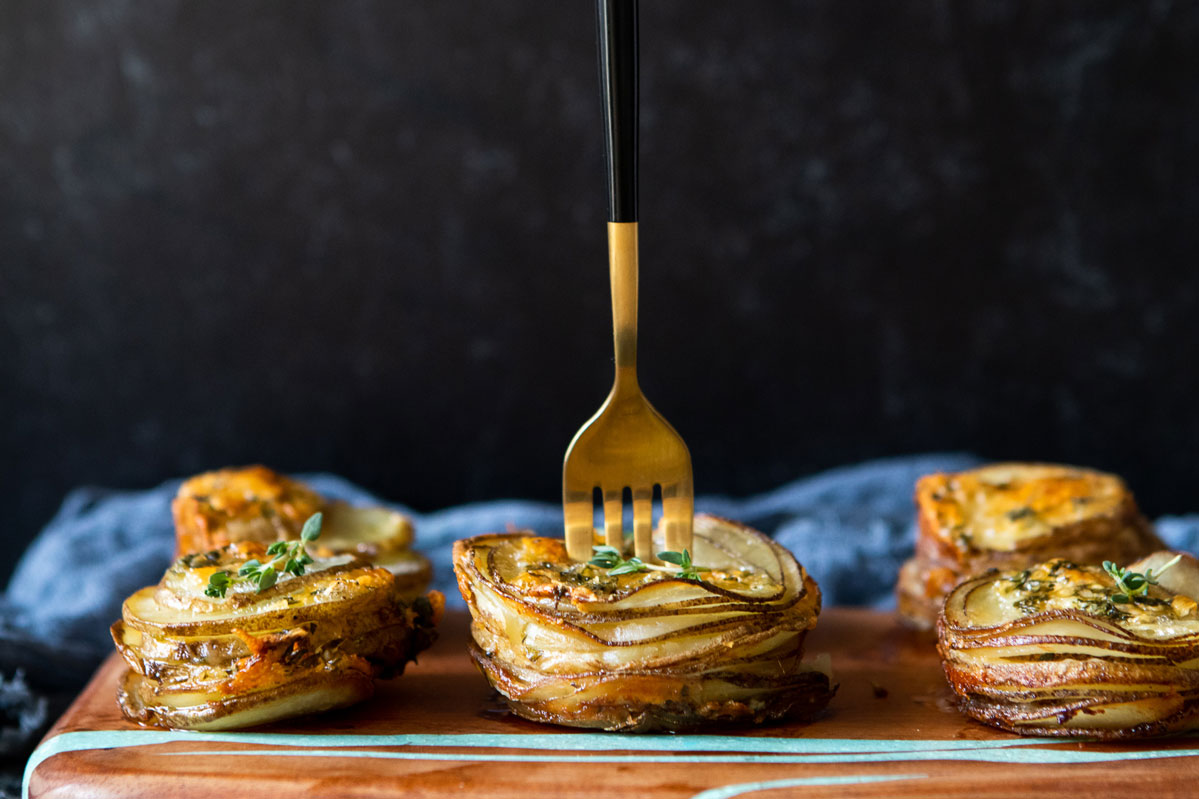 Next time you are looking for a potato side dish, try Crispy Cheesy Potato Stacks.  They have a cheesy, herby flavor to them which makes them  wonderful as a side dish for any main.
To get the most out of this recipe, slice the potatoes as thin as you can.  Thin potato slices will create crispy edges.  I used a mandoline to make quick time of it.  A food processor with a slicing attachment or a very sharp knife will work just as well, if you don't have a mandoline.
Once the potatoes are nice and thin, mix the melted butter with the herbs, cheeses, garlic and salt & pepper.  Add the potatoes to the mix and try to coat each slice with a bit of the mixture.  that will ensure that cheese and herbs run through each potato stack.
Arrange layers of potatoes in muffin cups, piling them a bit higher than the cup as they will shrink down.
Bake the stacks for about 20  minutes until the potatoes are tender and golden.  Immediately run a knife around the outside of each cup and release the stacks onto a serving platter.  Sprinkle with flaky salt and serve!
Lastly, if you make Crispy Cheesy Potato Stacks, be sure to leave a comment and/or give this recipe a rating! Above all, I love to hear from you and always do my best to respond to each and every comment. And of course, if you do make this recipe, don't forget to tag me on 
Instagram
! Looking through the photos of recipes you all have made is one of my favorite things to do!
Crispy Cheesy Potato Stacks
Makes: 6 servings
Prep Time: 20 minutes
Bake Time: 50 minutes
Total Time: 1 hour & 10 minutes
Ingredients
4-6 medium Russet or Idaho potatoes

1 stick (1/2 cup) salted butter, melted

1/4 cup chopped fresh oregano

2 tbsp chopped fresh thyme

1-2 cloves garlic, grated

1/2 cup grated parmesan cheese

1/2 cup shredded sharp cheddar or gruyere cheese
Instructions
Preheat the oven 400° F. Lightly grease a 12-cup muffin tin.
Cut the potatoes using a Mandoline or very sharp knife into 1/16 inch thin slices.
In a large bowl, stir together the butter, oregano, thyme, garlic, both cheeses, and a large pinch of both salt and pepper. Add the potatoes and toss well to coat. Layer the potatoes evenly among the prepared muffin tin, stacking the layers all the way to the top. The potatoes will shrink down as they cook.
Cover with foil and place on a baking sheet. Transfer to the oven and roast for 30 minutes. Remove the foil and continue cooking another 20-25 minutes or until the potatoes are tender and golden. Run a butter knife around the edges of each stack to release them. Serve immediately, sprinkled with a little sea salt.
Recipe from Half Baked Harvest
Crispy Cheesy Potato Stacks