Farinata with Charred Broccoli, Lemon and Capers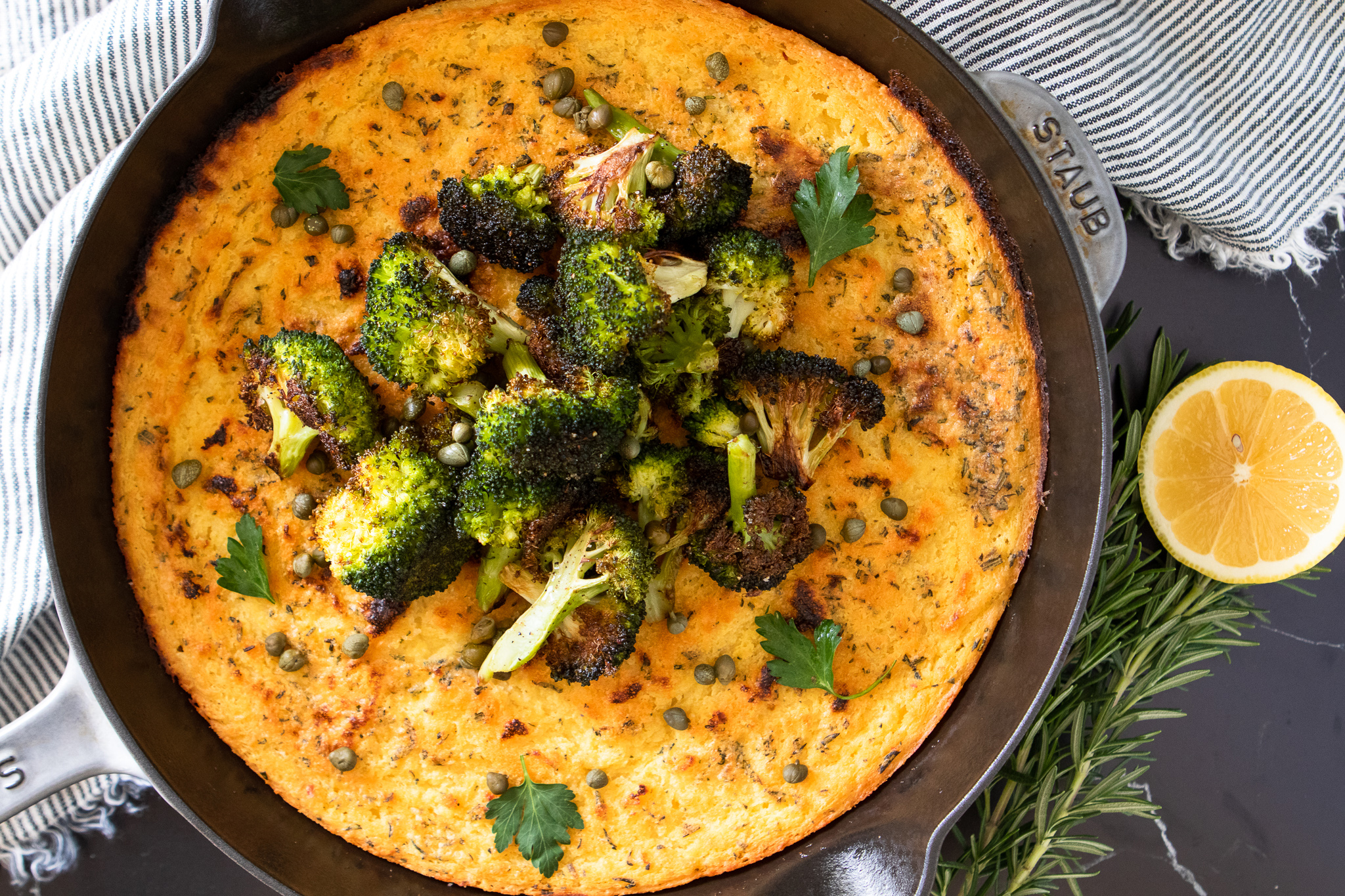 While trying to figure out what to do with some extra chickpea flour I had, I came across this wonderful recipe for Farinata with Charred Broccoli, Lemons and Capers.  So happy I did!  This is a wonderful vegan recipe that can be served as a main course, side dish or snack.
So, what exactly is farinata?  This is an Italian specialty, also known as socca.  It originated in Genoa and has since become wildly popular around Italy and Europe.  It is an unleavened flatbread of sorts.  It reminds me of a frittata in its consistency and versatility. It's vegan and gluten-free…this checks a lot of boxes!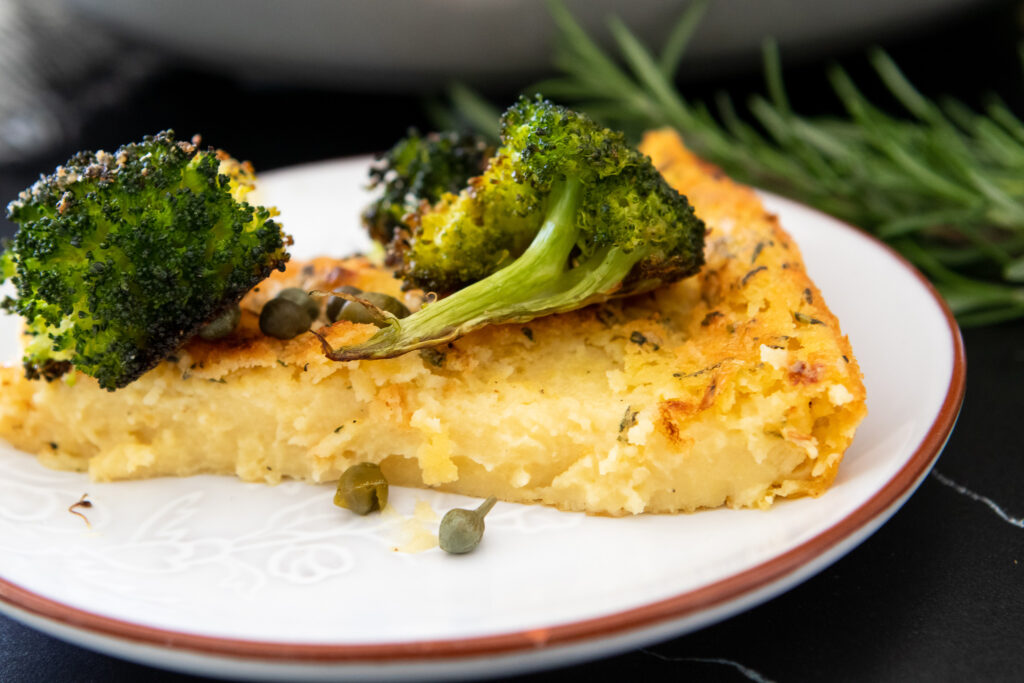 In this version, I've topped the farinata with charred broccoli, lemons & capers. There is nothing like roasted, charred broccoli.  It brings out a nutty flavor that I adore! Add capers and parsley and a nice squeeze of lemon to the top of this crispy farinata, and you've got a lovely vegan main course, side dish or brunch treat!
You do need a bit of time to make this dish.  The batter has to sit for about 2 hours so that the chickpea flour can fully hydrate (this is important, so don't skip it!).
Begin by making the batter.  Once it has rested for the two hours, go ahead and char the broccoli.
While the broccoli is roasting, start your farinata by heating a skillet over a high heat.  I like using a cast-iron pan to ensure a very crispy base but any heavy skillet will work.  I also like to use coconut oil for the high heat point but olive oil will work as well.
Pour the batter into the skillet and then move it to the oven with the broccoli.  This cooks for about 10 minutes until it's beautifully golden.
Pile the broccoli on top of the farinata, add the capers and parsley and squeeze some lemon over the top.  You are now ready to eat!  Enjoy!
Lastly, if you make Farinata with Charred Broccoli, Lemon and Capers, be sure to leave a comment and/or give this recipe a rating! Above all, I love to hear from you and always do my best to respond to each and every comment. And of course, if you do make this recipe, don't forget to tag me on 
Instagram
! Looking through the photos of recipes you all have made is one of my favorite things to do!
Farinata with Charred Broccoli, Lemon and Capers
Makes: 4-6 servings
Prep Time: 5 minutes
Bake Time: 25 minutes
Total Time: 30 minutes  plus 2 hours for batter
Ingredients
For the Broccoli:
1 head broccoli

1 tbsp coconut oil, (or olive oil)
For the Farinata:
2 cups chickpea flour

3 cups water

1 tsp salt

1 sprig rosemary, finely chopped (about 1 1/2 tbsp)

1/2 tsp chili flakes, (optional)

Freshly ground black pepper

Zest of one lemon, (about 1 tsp)

3 tbsp coconut oil, (or olive oil)
To Serve:
1 tbsp capers

Small handful fresh parsley, finely chopped

Fresh lemons, for squeezing
Instructions
Make the Farinata batter:
Whisk chickpea flour, water, salt, rosemary, lemon zest, chili flakes and a good grind of black pepper together until smooth, then set aside, covered, for a minimum of two hours. Preheat oven to 475°F, with a shelf towards the top of the oven (either the top shelf, or next one down) and a shelf in the middle.
Wash broccoli and trim off any tough or knobby bits from the stalk. Chop florets and stems into even sized pieces. Put them in a bowl, pour over coconut oil and toss gently to coat. Tip out onto a baking tray, season well with salt and pepper, then put in the oven on the middle shelf. 
When the broccoli has been cooking for 10 minutes, heat your frypan (skillet) to a very high heat. Add 3 tbsp coconut oil, and when it reaches smoking point, quickly pour in the farinata batter. The oil will swirl around and through the batter, leaving some on the surface. Carefully transfer the hot pan to a high shelf in the oven, and switch the oven to broil. Toss the broccoli on the sheet pan. Let the farinata cook for 10-12 minutes, or until deeply golden and pulling away from the edges of the pan. It shouldn't jiggle. Don't be concerned if it puffs up while cooking, it will flatten again when removed from the oven. 
Remove farinata and broccoli from the oven. Pile charred broccoli on top, sprinkle with capers and parsley, a good grind of black pepper, and squeeze fresh lemon juice over everything. Slice into wedges and serve immediately, while everything is hot.
Recipe from Quite Good Food
Farinata with Charred Broccoli, Lemon and Capers