Shrimp Fried Rice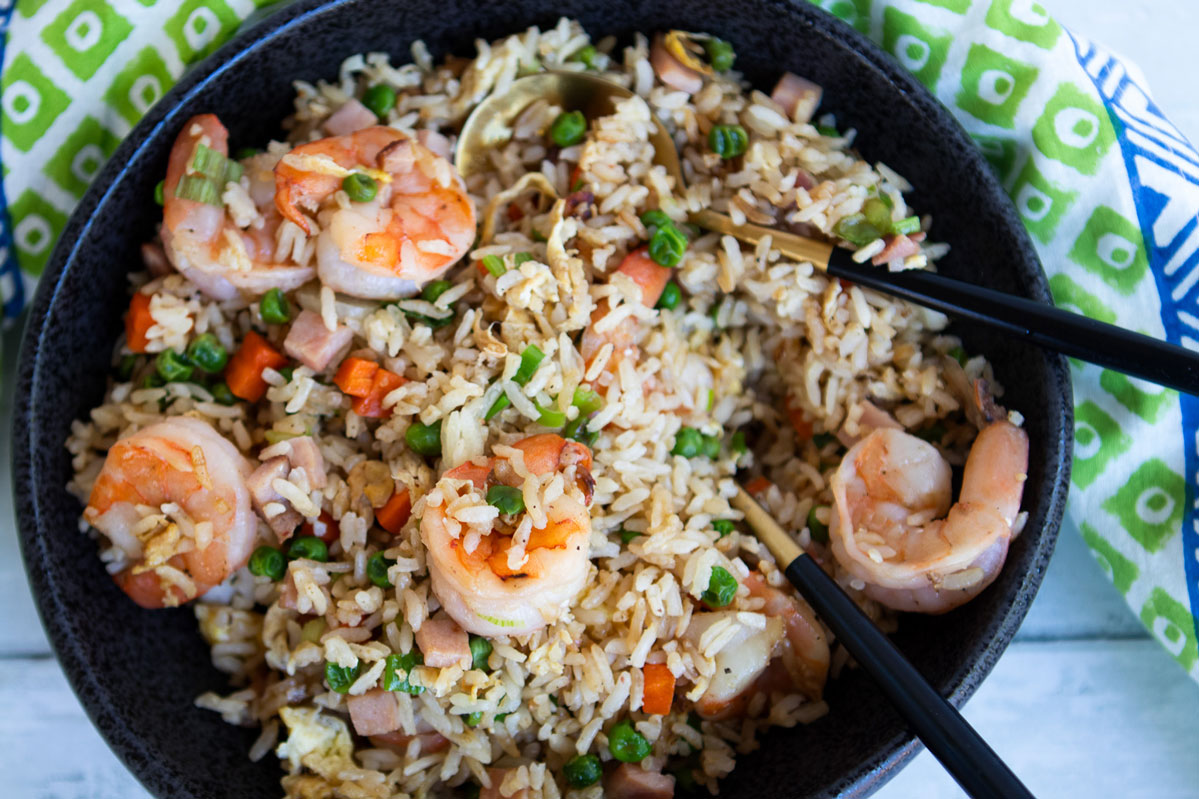 Shrimp Fried Rice is one of the easiest, tastiest rice recipes that I've found!  Combining cooked rice with seared shrimp and ham, peas, carrots and scrambled eggs, and finishing it off with a splash of soy sauce makes this the perfect light dinner or side dish.
I'm always looking for something to do with all of that rice they give you when you order Chinese food.  I hardly eat any of it with the food and it seems like a waste to toss it.  Now you have the perfect recipe to make use of it!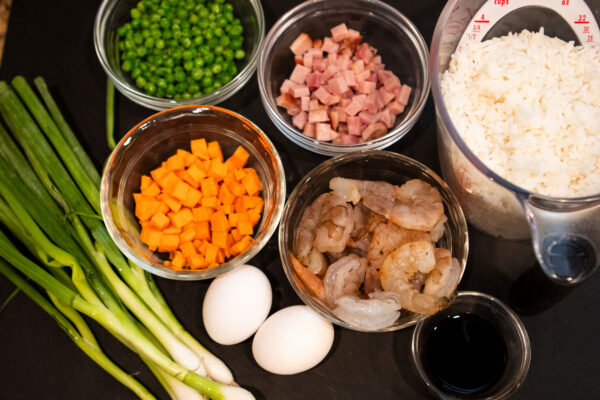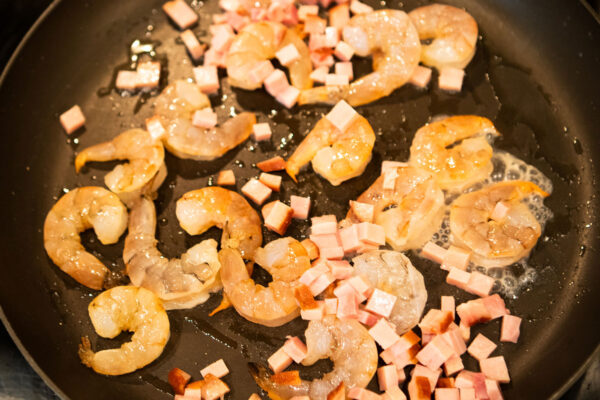 Since this is a very quick-cooking dish, you will want to have all of your ingredients ready to work with (this is called "mise-en-place", everything in its place).  Then, you won't have to start chopping when you should be throwing it into the skillet!
Add the ham and shrimp to a hot skillet that has a touch of oil in it.  Cook for 30 seconds and then stir it and continue cooking until the shrimp turn white.  This takes 2-3 minutes tops!
Remove the shrimp from the pan and add a bit more oil.  Add the carrots and green peas and cook until they soften, about 5 minutes.  Transfer the peas and carrots to the plate with the shrimp and ham.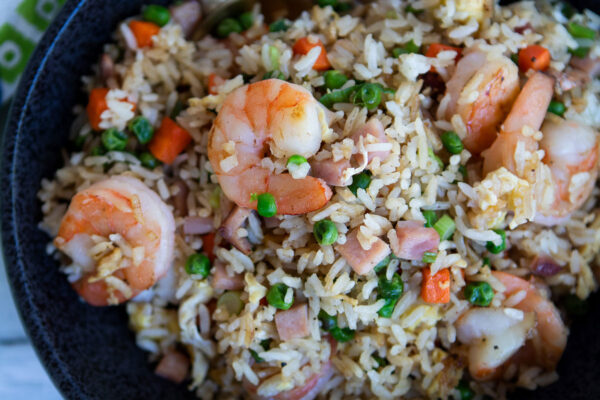 Add a tablespoon of oil to the hot pan and then add the beaten eggs and stir until lightly cooked.  Add the rice to the egg and stir it, separating the rice and creating small chunks of egg.
Add the cooked shrimp, ham and vegetables back into the skillet and swirl with salt, pepper and soy sauce.  Stir it to mix everything together well.  Add the green onions and continue cooking for another minute or two until the rice is heated through and the grains are separated.
Transfer to plates and serve warm! 
Lastly, if you make Shrimp Fried Rice, be sure to leave a review down below at the bottom of this page (stars are also appreciated)! Above all, I love to hear from you and always do my best to respond to each and every review. And of course, if you do make this recipe, don't forget to tag me on 
Instagram
! Looking through the photos of recipes you all have made is one of my favorite things to do!
Makes: 2 servings
Prep Time: 10 minutes
Cook Time: 15 minutes
Total Time: 25 minutes
Ingredients
2 tbsp peanut oil (or vegetable oil), divided

3 ounces ham, diced

6 ounces shrimp, peeled & deveined

1/2 cup green peas

1/2 cup diced carrots

1/2 tsp sea salt (or to taste)

2 large egg, beaten

4 cups leftover white rice

1/4 tsp ground white pepper (or black pepper)

1 tbsp light soy sauce (or tamari for gluten-free)

4 green onions, sliced
Instructions
Prepare all the ingredients and a large empty plate. Place them near the stove.
Heat 2 teaspoons of oil in a wok or a nonstick skillet over medium high heat until hot. Swirl to coat the bottom of the pan with oil. Add ham and shrimp. Cook for 30 seconds without disturbing. Stir and cook until the shrimp turn white. Immediately transfer the ham and shrimp to a separate plate. The shrimp should be just cooked through, or slightly raw in the center.
Add 1 teaspoon of oil. Add carrots, green peas, and a pinch of salt. Cook and stir until they start to turn soft. Transfer to the plate with the shrimp.
If the pan starts to get too hot, turn to medium heat. You should hear vibrant sizzling throughout the cooking, but the pan shouldn't be so hot as to burn the ingredients.
Add the remaining 1 tablespoon of oil. Add egg and quickly stir a few times. Add rice. Cook and chop to separate rice.
Return the cooked shrimp, ham, and vegetables to the wok. Sprinkle salt and white pepper, and swirl in light soy sauce. Immediately stir to mix well. Add green onion. Cook until the rice is heated through and the grains separated. Turn to low heat, carefully taste the rice and adjust seasoning if necessary.
Transfer to plates and serve warm.
Recipe by Omnivore's Cookbook