Crispy Chicken Thighs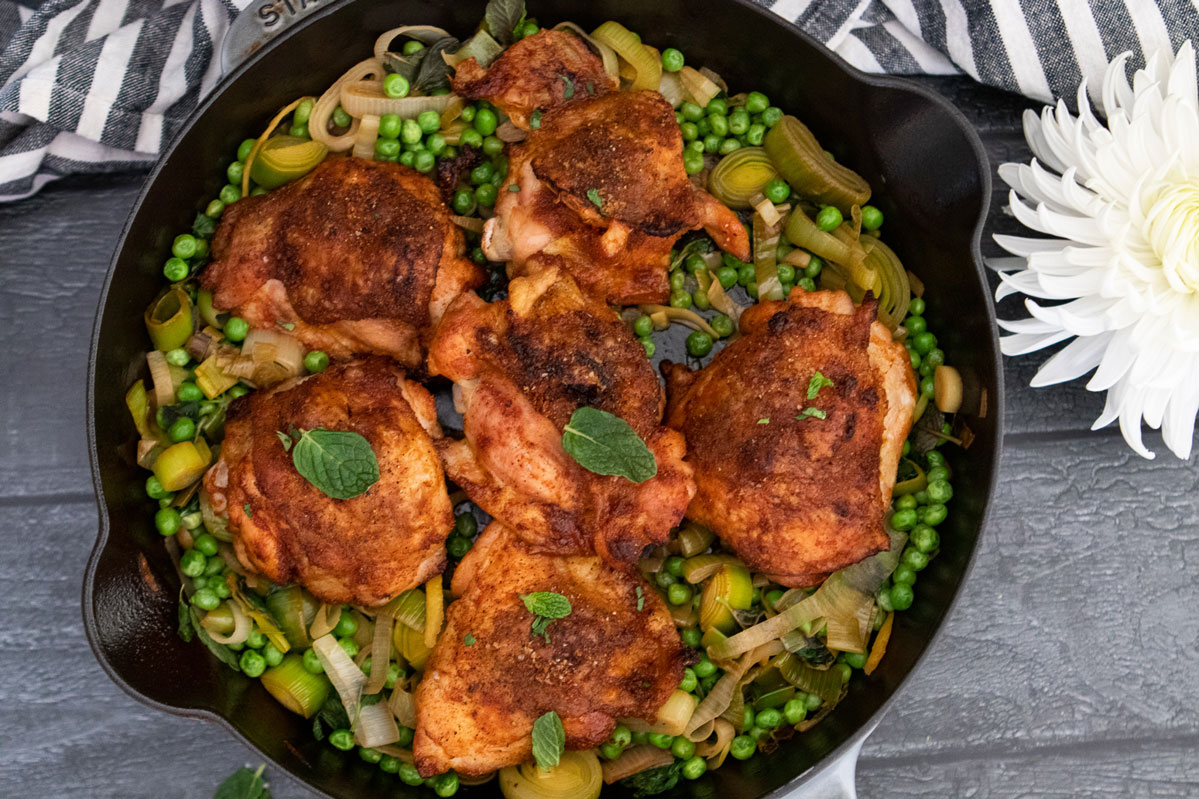 There is something so nostalgic about Crispy Chicken Thighs.  I don't know what it is because I don't ever remember Mom making them for us, but whenever I see them on a menu, I have to order it.  It just takes me home, for some strange reason!
I love chicken thighs, to begin with.  I know that they aren't quite as healthy as breasts, but what can I say?  Who cares?  Honestly, I just love them, and when the skin is crisped up, I'm in heaven.  What?  Skin left on?  YES!!!  You have to leave the skin on to get the most flavor.  Now, you don't have to eat the skin (but it would be a travesty if you didn't at least taste it) if you're going for healthy.  But, it truly flavors this chicken so leave it on!
Finally, that crispy factor…I never wanted to try it at home because I knew that it meant searing it in a cast-iron pan, using oil, having it splatter all over my cooktop, yada yada yada.  too much of a hassle.  Until now!
These crispy chicken thighs are cooked completely in the oven!  Woo hoo!!!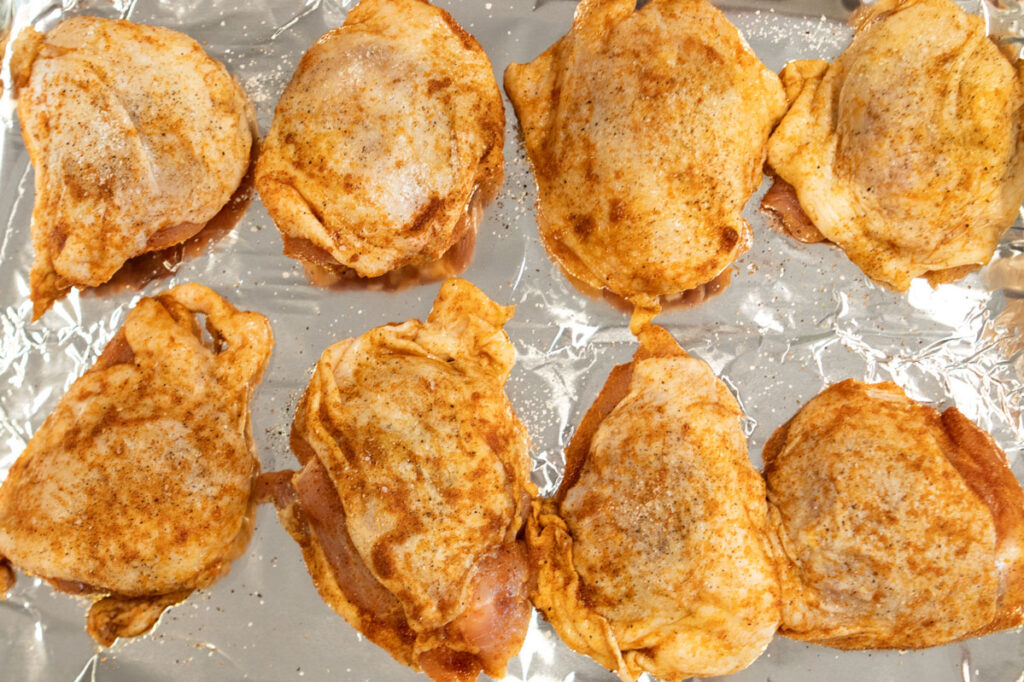 This recipe is so easy…Make a rub out of yummy spices, coat the thighs, and let it sit for a while.  Place the thighs in a very hot oven and let them bake!  Seriously, that's it.
The flavor of these thighs is amazing!  The rub is a combination of garlic, sweet paprika, smoked paprika and cayenne.  Rubbed under the skin and then coated in the rub, these thighs become so flavorful!
You can serve them plain or make the pea/leek mixture to accompany them.  I love it because it is fresh like springtime, and we can all use a bit of springtime right now!  Leeks and garlic soften in a skillet.  Add lemon zest, bay leaves, wine and chicken broth and simmer for a bit.  Finally, add the peas and mint.
It's a lovely dish to serve to company, with it's vibrant green offset with the bright chicken thighs!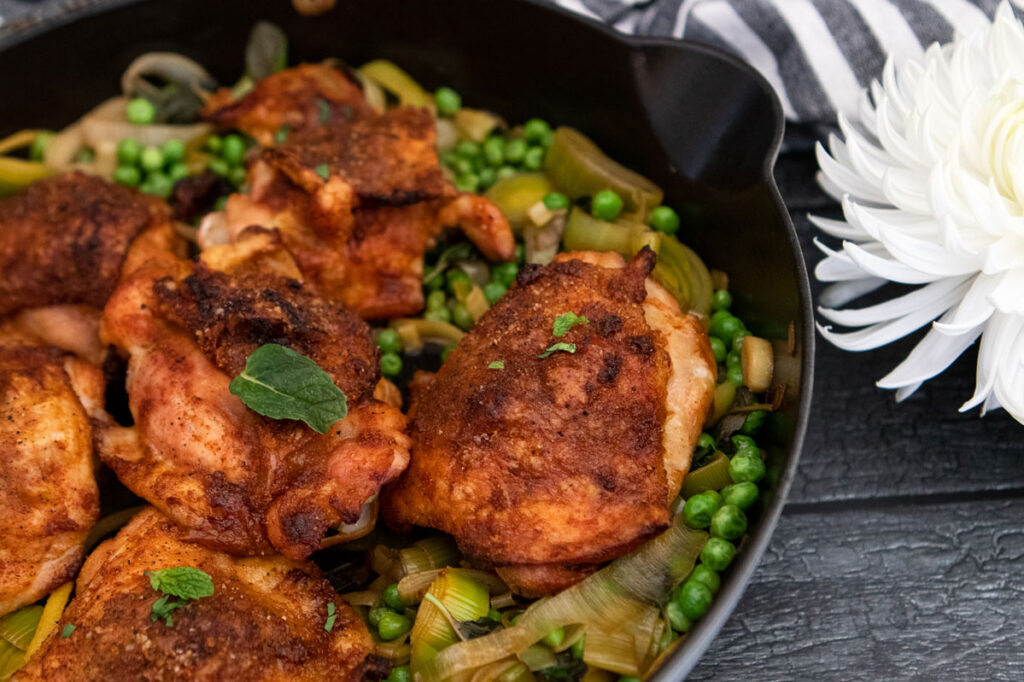 Lastly, if you make Crispy Chicken Thighs, be sure to leave a comment and/or give this recipe a rating! Above all, I love to hear from you and always do my best to respond to each and every comment. And of course, if you do make this recipe, don't forget to tag me on 
Instagram
! Looking through the photos of recipes you all have made is one of my favorite things to do!
Makes: 3-4 servings
Prep Time: 25 minutes
Bake Time: 30-35 minutes
Total Time: 1 hour
Ingredients
Chicken:
1 tbsp granulated garlic

2 tsp sweet paprika

1/2 tsp smoked paprika

1/8 tsp cayenne

Kosher salt

1/4 cup vegetable oil

2 lb. skin-on, bone-in chicken thighs

Freshly ground black pepper
Peas & Leeks:
2 tbsp extra-virgin olive oil

3 large leeks, white and pale green parts only, sliced 1/4-inch thick

4 garlic cloves, thinly sliced

5 2-inch long strips of lemon zest

2 bay leaves 1/3 cup dry white wine

1 cup low-sodium chicken broth

1 cup fresh (or frozen, thawed) peas

1/2 cup mint leaves, torn if large
Instructions
In a medium bowl, combine the garlic, paprikas, cayenne, and 1-1/2 teaspoon salt. Rub one tablespoon of the spice mixture under the skin of the thighs, making sure to leave the skin attached.
In a large bowl, combine the oil with the remaining spice mixture. Add the thighs and turn to coat. Let sit at room temperature for 40 to 45 minutes, or cover and refrigerate for up to a day, turning the thighs occasionally.
Position a rack in the center of the oven and heat to 450°F. Pat the thighs dry with a paper towel, season with 1/2 teaspoon salt and 1/4 teaspoon pepper, and place on a foil-lined rimmed baking sheet. Roast until the chicken is cooked through and the skin is crackly and crisp, 40 to 45 minutes.
In the meantime, about 15 minutes prior to the end of roasting the chicken, heat olive oil in a large skillet over medium heat. Add leeks and garlic and cook, stirring occasionally, until slightly softened, about 3 minutes. Add lemon zest and bay leaves and cook, stirring, until fragrant, about 20 seconds. Pour in wine, scraping up any brown bits stuck to bottom of pan with a wooden spoon. Cook until wine is almost completely evaporated, about 3 minutes. Add broth and bring to a simmer. Reduce heat and maintain a slow simmer for 10 minutes. Add peas to skillet (if using fresh peas, heat for 3 minutes; if using thawed peas, cook until warmed through, about 1 minutes. Toss in mint; season with more salt if needed. Remove bay leaves.
Arrange vegetables on a platter and top with chicken thighs. Serve immediately.