Singapore Noodles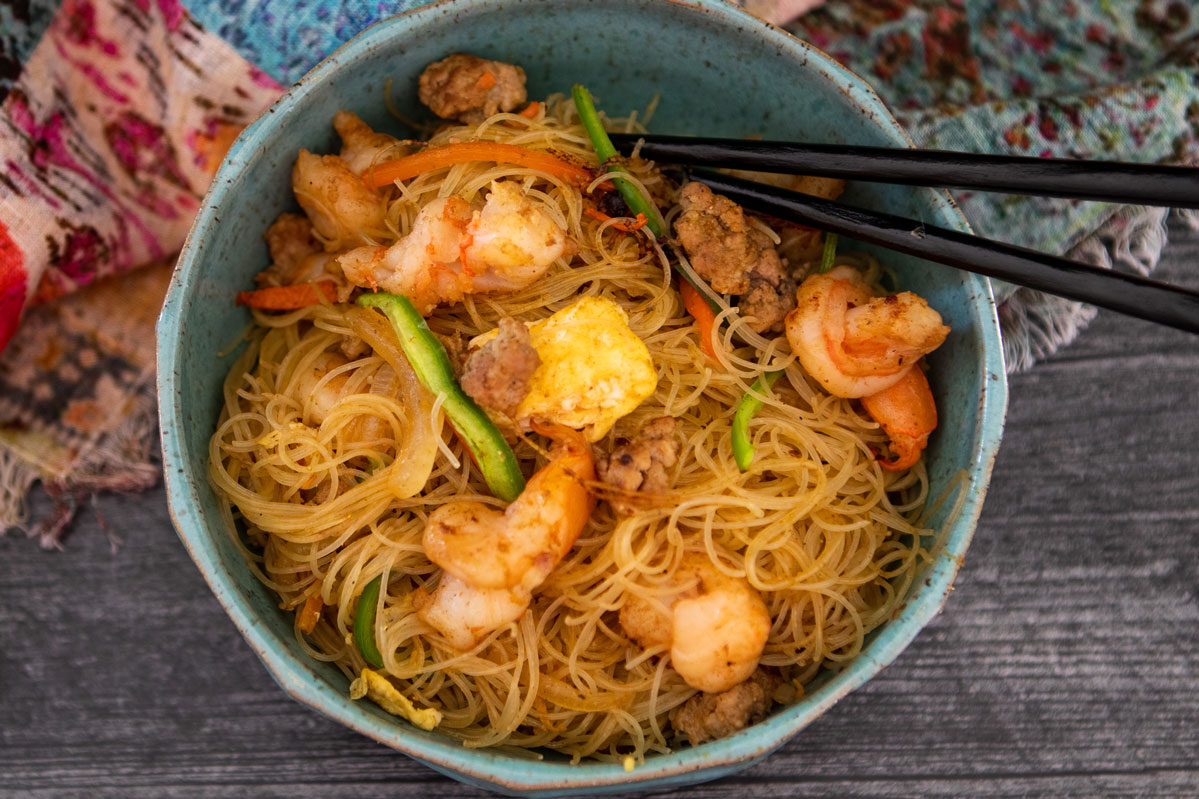 Singapore Noodles is a wonderfully easy and delicious one-pan dish that is perfect for weeknight dining and excellent to serve for special occasions.  While it may look like an involved recipe, it really isn't…make the sauce, fry the eggs, sauté the onions and then add the rest of the ingredients and stir fry until it's done.
These noodles remind me of a dish that our baby sitter from the Philippines used to make for us.  I couldn't wait for Wilma to make these yummy noodles.  When I found this recipe, I was instantly transported to my childhood!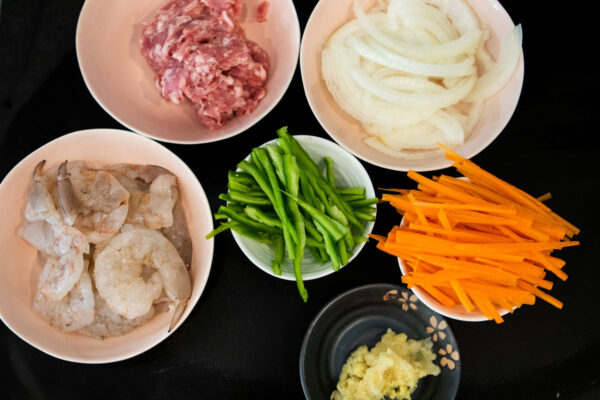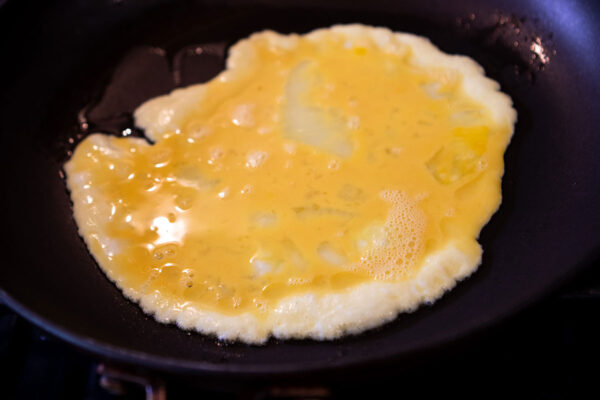 In order to have this recipe come together smoothly, it's important to have all of your ingredients ready to go.  This is called "mise en place" and it's important with stirfries because the last thing you want to do, when you're cooking with high heat, is stop to slice some carrots.  Have all the ingredients measured out ahead of time and set into small bowls.
Start by softening up the rice vermicelli.  Simply pour boiling water over the noodles and let them sit for a few minutes.  Drain them and set them aside.
Combine all of the sauce ingredients and set them aside.
Scramble the eggs and set them aside.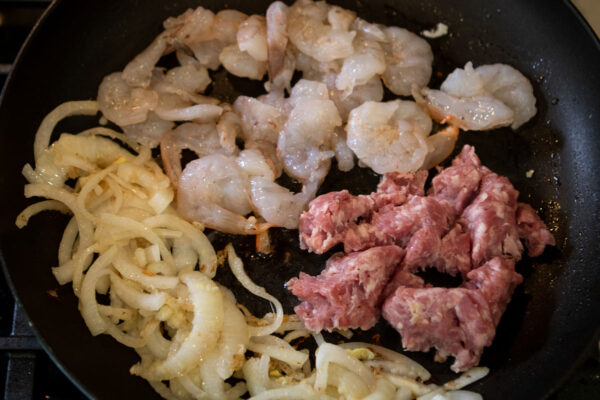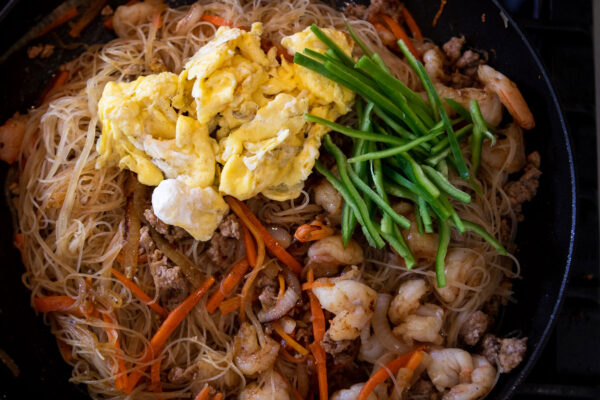 In the same skillet, stir fry the onions, garlic and ginger for a minute and then push them aside.  Add the pork and shrimp to the other side and cook until the shrimp are just cooked through.
Add the carrots to the skillet and cook briefly.  Now add the sauce and noodles and toss with tongs until it's evenly mixed.  Finally, add the scrambled egg and the peppers and mix well until all the ingredients are heated through.
Serve this dish and enjoy!
Lastly, if you make Singapore Noodles, be sure to leave a review down below at the bottom of this page (stars are also appreciated)! Above all, I love to hear from you and always do my best to respond to each and every review. And of course, if you do make this recipe, don't forget to tag me on 
Instagram
! Looking through the photos of recipes you all have made is one of my favorite things to do!
Makes: 4 servings
Prep Time: 20 minutes
Cook Time: 10 minutes
Total Time: 30 minutes
Ingredients
7 oz (200 g)

dried rice vermicelli noodles
Sauce:
1 tbsp

Shaoxing wine

(or dry sherry)

1 tbsp

light soy sauce

(or regular soy sauce)

1 tbsp

oyster sauce

(or soy sauce)

1 tbsp

curry powder

1/2 tsp

sesame oil

1/2 tsp salt

1/2 tsp sugar

1/8 tsp white pepper
Stir Fry:
2 tbsp peanut oil (or vegetable oil)

2 large eggs , beaten

4 ounces ground pork (or Chinese Char Siu pork) (see Chef's Note)

2 cloves garlic , minced

2 tsp ginger , minced

1/2 onion , sliced (or shallot)

8 ounces shrimp , peeled and deveined

1 carrot , julienned

2 anaheim peppers, thinly sliced (or 1 bell pepper)
Instructions
Cook or soak vermicelli noodles in boiling water according to package instructions until al dente. I like to cook the noodles 1 minute less than the package indicates. Once done, drain and set aside.
Combine the sauce ingredients in a small bowl. Stir to mix well.
Heat 1/2 tablespoon oil in a large nonstick skillet and heat over medium-high heat. Add the eggs. Cook and scramble the eggs until just cooked through. Transfer to a plate.
In the same skillet, add the ground pork;  cook and break into small pieces.  Once cooked through, remove from skillet and set aside. Drain skillet if necessary.
Add 1 tablespoon of oil and the garlic, ginger and onion. Stir and cook for 1 minute. Move everything to one side of the pan.
Pour in the remaining 1/2 tablespoon oil and the shrimp to the other side of the pan. Cook, stirring occasionally, until the shrimp are just cooked through, 2 minutes or so.
Add the carrot. Cook and stir for 1 minute, until the carrot just starts to turn soft.
Add the noodles and sauce mixture. Toss with a pair of tongs until the sauce is mixed evenly.
Return the cooked egg and pork to the pan and add the pepper. Mix everything well, for 1 minute or so. Transfer everything to serving plates and serve hot as a main.
Chef's Note:
If you are using char siu pork instead of ground pork, cut it into small pieces and add to the skillet when you add the shrimp.
Recipe from Omnivore's Cookbook