Crispy Rice Tuna Stack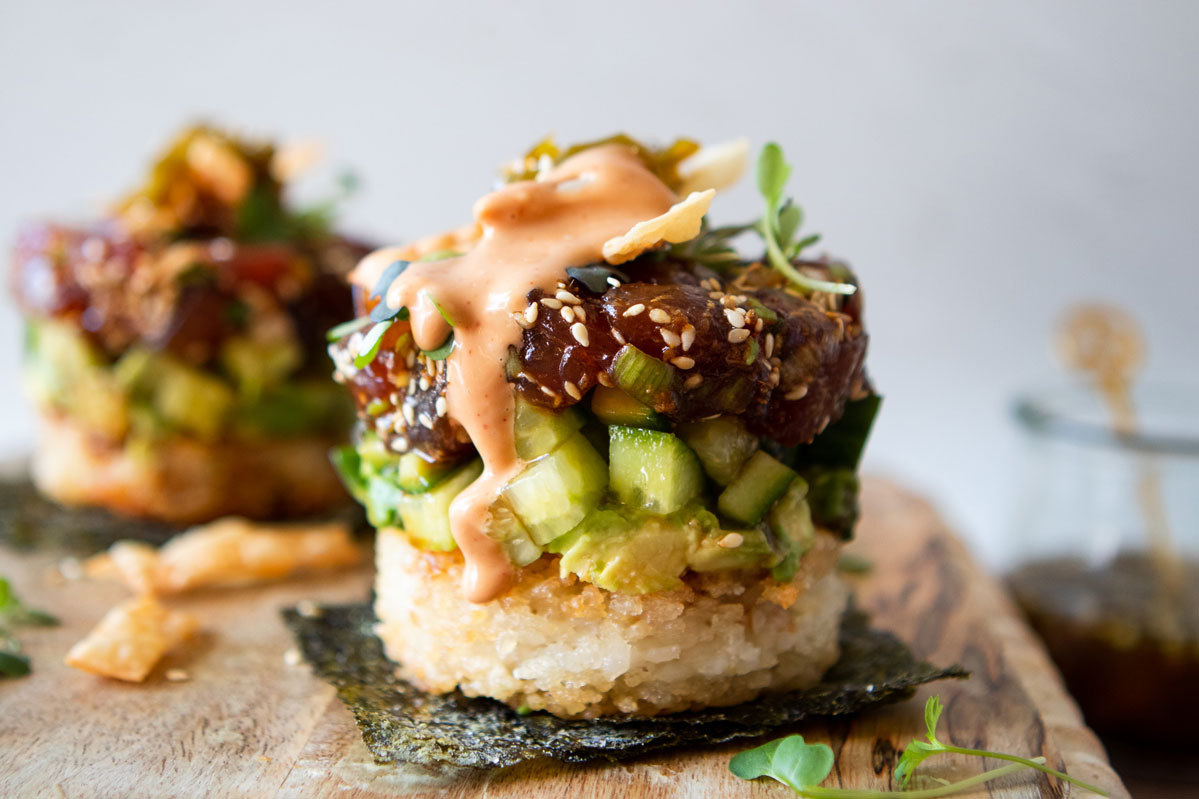 Crispy Rice Tuna Stack is a delicious combination of crispy rice layered with avocados, Persian cucumbers, brightly flavored tuna tartar and a spicy mayo.  Add some homemade candied pickled jalapeños and crispy wonton strips and enjoy a flavor and texture explosion in each mouthful!
I have been noticing a lot of crispy rice recipes lately and why not?  Taking cooked sushi rice, stirring in some rice vinegar and sugar and then frying squares or rounds in avocado oil create such a wonderful base for anything you want to top it with.  In this case, I've taken a traditional tuna stack and spiced it up with a flavorful spicy mayonnaise.  The homemade candied pickled jalapeños add a sweet spicy vibe.  Sandwich the stack between a sheet of nori and crunchy wonton strips and you have one heck of a first course, main course or very substantial appetizer.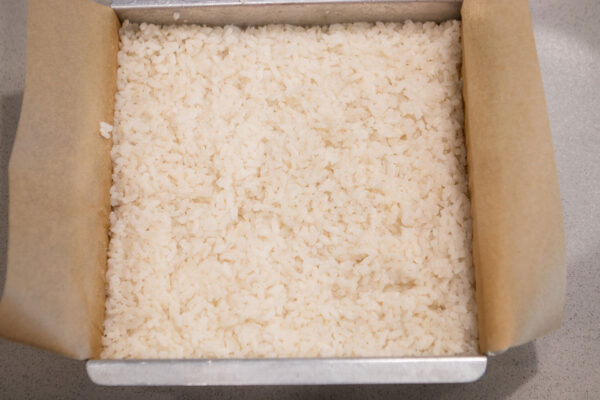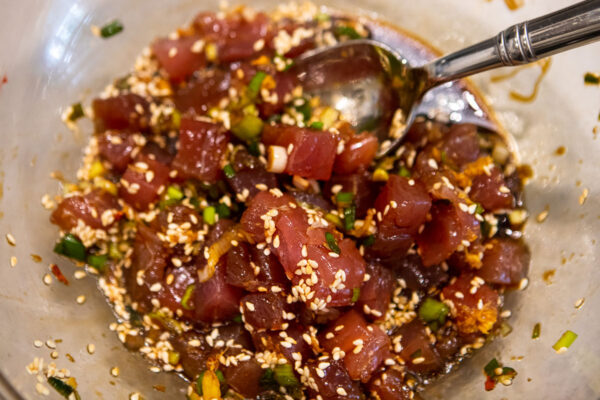 To begin, cook the rice and then mix it with rice vinegar and sugar.  Pack the rice into a square pan, chill until it's cold and then slice as desired.  I used a 3-inch round cookie cutter that matched my 1-cup measuring cup.  You could cut these in squares or smaller rounds.  It just depends on what your use is.  I wanted a substantial first course which is why I chose the larger size.
For the tuna, combine the tuna with the soy sauce, sesame oil, ginger, red pepper flakes, green onion and sesame seeds and toss it all together.  Let it sit to marinate while you are preparing the rest of the dish.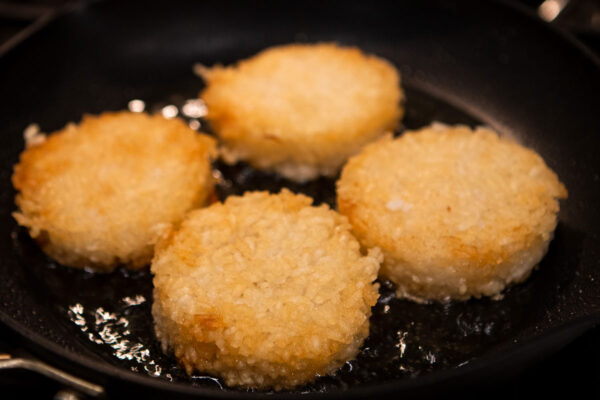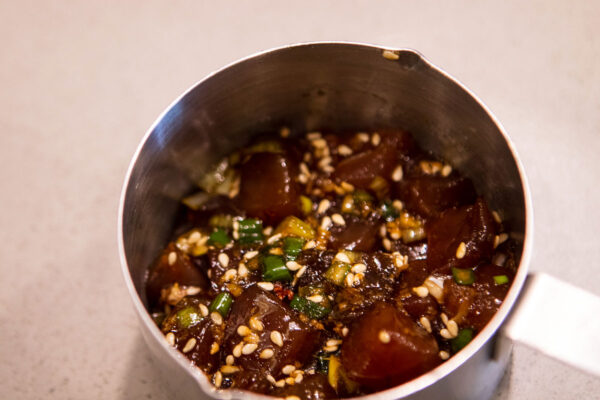 Mix all of the mayonnaise ingredients together and set aside.
To make the crispy rice, heat avocado oil and add the rice cakes.  Fry them until they are golden and then flip them.  This should take about 8-10 minutes total.  Remove them from the skillet, drain them and sprinkle lightly with salt.
Using a 1-cup measure, pack in 1/4 cup of tuna, a layer of cucumbers and a layer of avocado.  Invert that over the rice cake and carefully remove the measuring cup.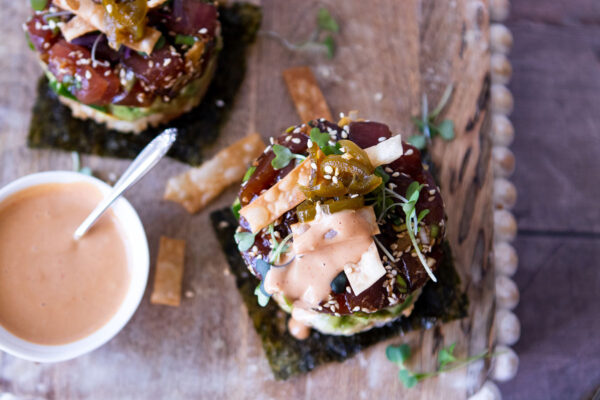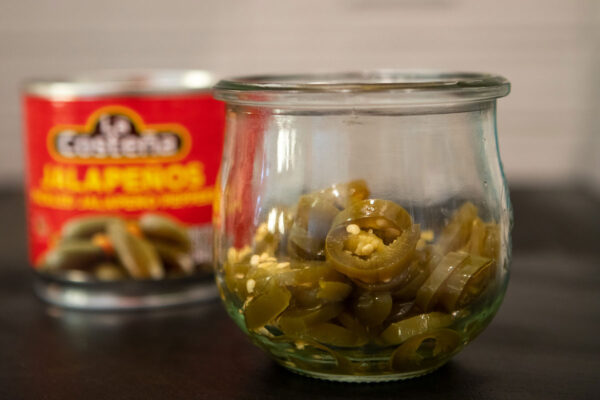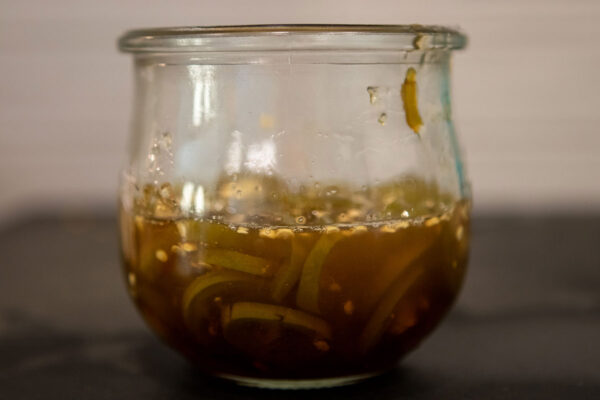 The candied jalapeños are a nice touch to the top of the tuna stacks and are very easy to make!  Simply simmer honey for a few minutes and pour over sliced pickled jalapeños.  Add a little apple cider vinegar and let cool.  They can be stored for weeks in the fridge.  I like to make these ahead of time so that they have time to chill and then I don't have to worry about making them when I'm working on the stacks!
To arrange the stacks, place a sheet of nori on a serving plate and then place the stack on top of that.  Top it with micro greens, candied pickled jalapeños, wonton crisps and sesame seeds.  Drizzle with the spicy mayo and pass extra with the stacks.
This is a wonderful starter for a dinner party or to serve as a light lunch or dinner.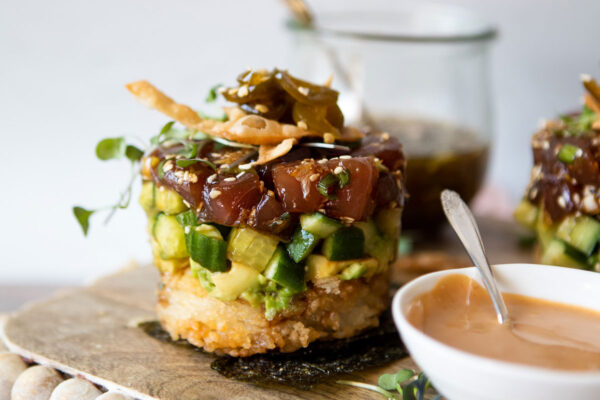 Lastly, if you make Crispy Rice Tuna Stack, be sure to leave a review down below at the bottom of this page (stars are also appreciated)! Above all, I love to hear from you and always do my best to respond to each and every review. And of course, if you do make this recipe, don't forget to tag me on 
Instagram
! Looking through the photos of recipes you all have made is one of my favorite things to do!
Makes: 4 servings
Prep Time: 10 minutes
Cook Time: 50 minutes
Total Time: 1 hour
Ingredients
Sticky Rice:
2 cups

sushi rice

1/4 cup

rice vinegar

2 tsp

granulated sugar
avocado oil, for frying
Tuna Stacks:
2 (4 ounce) sushi grade tuna steaks, cubed

1/4 cup

soy sauce or tamari

1 tbsp

sesame chili oil or regular sesame oil

2 tsp

grated ginger

1 to 2 tsp

crushed red pepper flakes

1/4 cup

chopped green onions

1 tbsp

toasted sesame seeds

1 cup cubed Persian cucumbers

1 cup

cubed avocado
nori, wonton crips and

candied

pickled jalapeños, for serving

(see recipe below)
Spicy Mayo:
1/3 cup

olive oil or regular mayonnaise

1 to 2 tbsp

Gochujang chili paste

or sriracha

2 tsp

soy sauce or tamari

1 tsp

honey
Candied Jalapeños:
1/3 cup honey

2-3 pickled jalapeños, thinly spiced

2 tbsp apple cider vinegar

pinch of salt
Instructions
Sticky Rice:
Bring 3 cups water to a boil. Add the rice and a pinch salt. Stir to combine, cover, then turn the heat down to the lowest setting possible. Allow the rice to cook 10 minutes on low, then turn the heat off completely and let the rice sit, covered, for another 15 minutes. Fluff the rice with a fork.
Mix the rice vinegar and granulated sugar. Microwave for 30 seconds to dissolve the sugar. Pour over the fluffed rice and mix until the rice becomes super sticky. Line a square pan with parchment paper, then pat the rice into the pan, packing it in tightly. Cover and freeze 30 minutes, until cold, and can easily be sliced. After the rice is chilled, cut into squares or use a biscuit cookie cutter to make 4 circles (you can also cut smaller for appetizer-sized servings).
Tuna:
In a bowl, combine the tuna, soy sauce (or tamari), sesame chili oil, ginger, red pepper flakes, green onion, and sesame seeds. Toss to mix.
Spicy Mayo:
In a bowl, stir together the mayo, sriracha, honey, and soy sauce (or tamari)
.To Assemble:
Heat the avocado oil in a large skillet to medium high. Add the rice cakes and fry until golden, about 5 minutes, then flip, and cook until golden all over, about 3-5 minutes. Drain. Season with salt.
In a dry 1-cup measure, layer 1/4 cup of the tuna, the cucumber, then the avocado. Run a knife around the edge of the cup to loosen, then invert the cup onto the fried rice, carefully remove the cup. Repeat with the remaining ingredients to create 4 stacks total.
Place each stack on a nori sheet. Top each with micro greens, wonton crisps (if desired), candied jalapeños, and sesame seeds. Serve with the spicy mayo.
Candied Jalapeños:
Bring honey to a gentle boil in a small saucepan. Simmer over low heat for 3-5 minutes.
Meanwhile, arrange jalapeños in a glass jar. Pour the honey over the jalapeños. Add apple cider vinegar and a pinch of salt. Let cool. Keep stored in the fridge for up to 2 weeks.
Recipe by Half Baked Harvest