Tuna Poke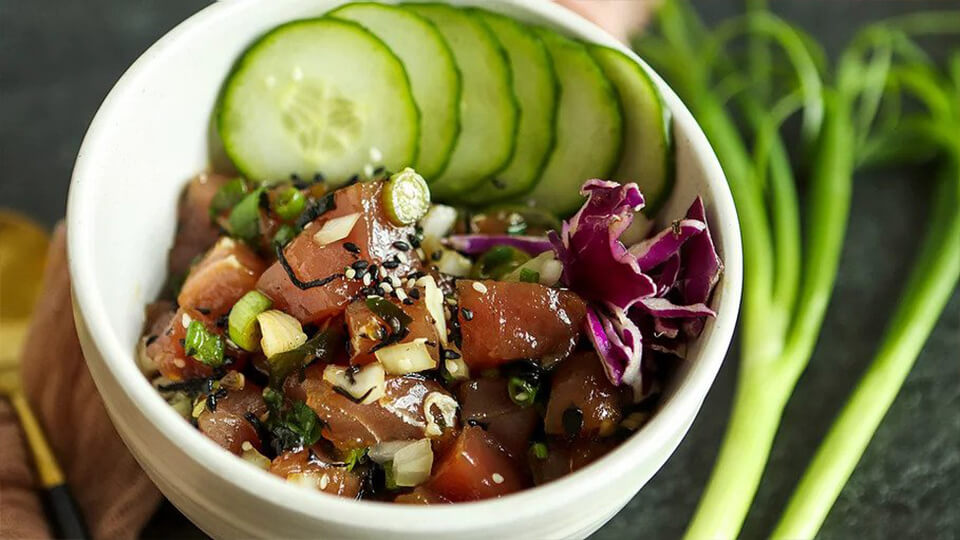 With so many poke shops opening up in our area, you would think that it would be so much easier to just go and pick some up, rather than figure out how to make your own.  But, I'm here to tell you that if you want truly authentic, sushi-grade tuna poke, you must try this recipe!
​There is much discussion about what makes poke authentic, and folks from Hawaii are very militant about it!  The simpler, the better.  Toppings?  Are you kidding?  But, my suggestion is that it's your taste buds…do what makes them happy.  And, this recipe makes my taste buds sing!!  (Can that be?)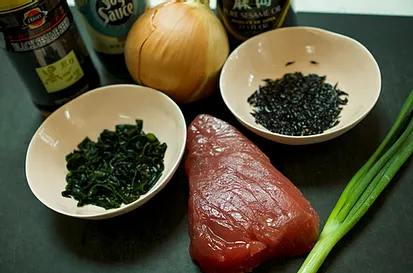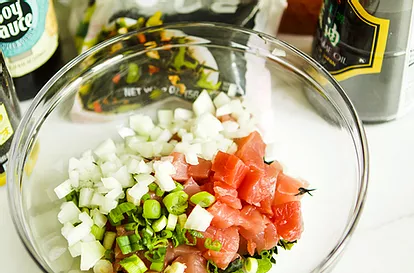 There are a couple of ingredients that make this simple recipe really stand out:  two different types of dried seaweed (both of which can easily be ordered through the Featured Products section below).  You don't need much of either of these, but I highly recommend that you pick them up.  They really make this poke special!
​The most important ingredient is the freshest sushi-grade tuna.  We're lucky in Phoenix that we have a wonderful fishmonger.  Nelson's Meat and Fish has the most stunning array of fresh fish, seafood and meats you could imagine.  And the team there is friendly and service-oriented.  So, when I see fresh tuna, I'm buying!  And, I'm making poke!
​Once you try this recipe and see just how simple it is and taste how incredibly good it is, you will never bother with a poke shop again!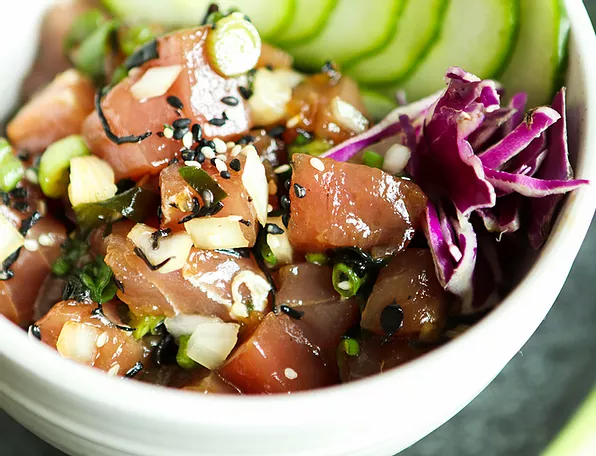 Lastly, if you make Tuna Poke, be sure to leave a comment and/or give this recipe a rating! Above all, I love to hear from you and always do my best to respond to each and every comment. And of course, if you do make this recipe, don't forget to tag me on 
Instagram
! Looking through the photos of recipes you all have made is one of my favorite things to do!
Makes: 4 servings as a starter; 2 as a main course
Prep Time: 10 minutes
Total Time: 15 minutes
Ingredients
2 tsp dried

wakame

 
1 tsp dried hijiki 
12 ounces raw sashimi-grade tuna, cut into 1/2-inch cubes
3 ounces sweet onion, such a Maui or Vidalia, cut into 1/4-inch dice
1 scallion, thinly sliced
1 tsp white or black sesame seeds, or a mix
1 tbsp soy sauce
2 tsp toasted sesame oil
1 tsp honey
Crushed red pepper, to taste (optional)
Kosher salt
Steamed Rice (if serving as a main course)
Instructions
Place wakame and hijiki in separate small bowls.  Cover with boiling water and let rest until rehydrated and tender, about 5 minutes.  Drain and press with paper towels.  Roughly chop wakame.  Add wakame and hijiki to a large bowl.
Add tuna, onion, scallion, sesame seeds, soy sauce, sesame oil, honey and crushed red pepper (if desired) to bowl.  Season with a small pinch of Kosher salt and gently fold to combine.  Taste and adjust with more soy sauce, sesame oil, honey, or crushed red pepper as desired.  Let sit 5 minutes at room temperature, then serve on its own or on top of steamed rice.