Easy Apple Coleslaw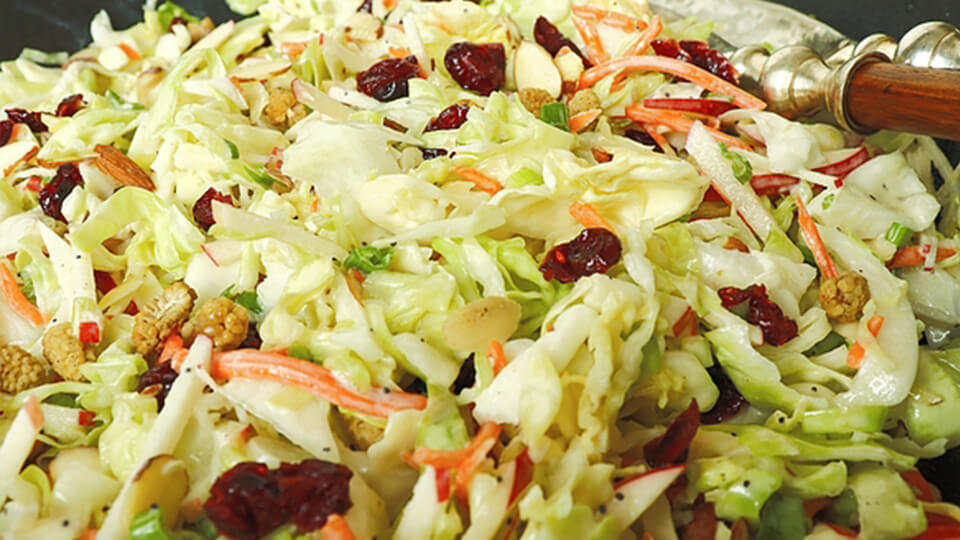 I have a confession to make:  I don't love traditional coleslaw but I do love Easy Apple Coleslaw!  Sorry.  I'm just not a fan of the traditional one.  Probably because I'm not a huge mayo fan and that has to be the dressing's base.  I realize that there are coleslaw recipes that have a vinaigrette-type dressing, but I have never really gotten past the traditional mayo-coleslaw concept.  Until now…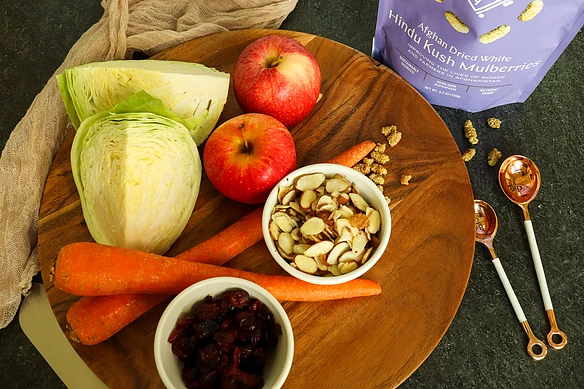 Ellen, (you all remember my cousin, the one in the "ABOUT" page who helps me find recipes) sent me a text with the words "YOU'VE GOTTA TRY THIS"!  She rarely fails me so I figured I BETTER TRY THIS!  And, I'm so glad she insisted.  This is now a beloved recipe of ours and is my go-to recipe when we are casually entertaining a crowd!  You can prep it a day ahead, throw everything together that afternoon, and dress it right before serving.   ​
This recipe, from Culinary Hill, has so many delicious tastes in it.  Cabbage, of course, Gala apples, shredded carrots, cranberries, almonds…and I added something that just made this recipe insanely good and will have everyone asking about this ingredient:  dried mulberries!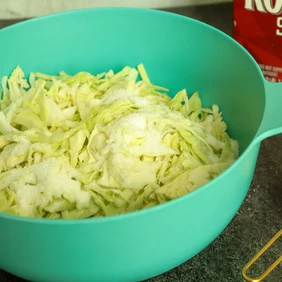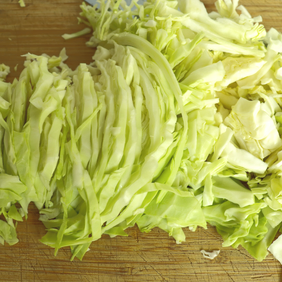 I hadn't heard of dried mulberries prior to having a salad at True Foods in Phoenix.  That salad incorporated dried mulberries and I was hooked.  I went online and found a company that distributed them for the small farmers of Afghanistan.  Not only are these a delicious addition to any salad, they are sustainably sourced, an heirloom superfood, dense in nutrients, and Ziba Foods is "improving the lives of women and farmers in Afghanistan" (to read more, click on this link). ​ I am an affiliate for Amazon so I make a very small amount if you were to purchase these, but I would never recommend a product if I didn't stand fully behind this.  Fast forward to the first time I made this salad when my sweetie said that the slaw was the "best ever and btw, what are these crunchy little morsels?  They're sooooo good!"  (OK, maybe he didn't say "morsels".)  Need I say more??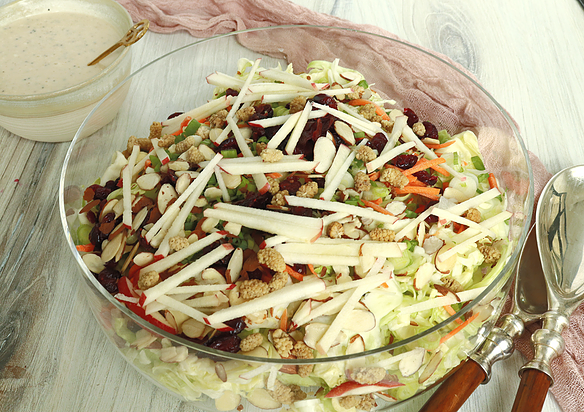 Lastly, if you make Easy Apple Coleslaw, be sure to leave a comment and/or give this recipe a rating! Above all, I love to hear from you and always do my best to respond to each and every comment. And of course, if you do make this recipe, don't forget to tag me on 
Instagram
! Looking through the photos of recipes you all have made is one of my favorite things to do!
Makes: 8 servings
Prep Time: 30 minutes
Total Time: 30 minutes
Ingredients
Dressing:
1/2 cup mayonnaise

1/4 cup sour cream

1/4 cup apple cider vinegar

2 tbsp sugar

2 tbsp honey

1/2 tsp dried mustard

1/2 tsp poppyseeds

1/2 tsp freshly ground black pepper
Slaw:
1 head cabbage, shredded

1/4 cup Kosher salt

2 Opal or Gala apples

2 carrots (see Chef's Note)

4 scallions

1/2 cup dried cranberries

1/2 cup sliced almonds

1/2 cup dried mulberries (see Chef's Note)
Instructions
To make the dressing, whisk mayonnaise, sour cream, vinegar, sugar, honey, dried mustard, poppyseeds and pepper in a bowl.  Cover and refrigerate at least 30 minutes or up to 3 days in advance.
Toss the cabbage with the kosher salt and set in a colander over a bowl for at least 30 minutes, tossing occasionally, to draw out some of the moisture from the cabbage.  rinse well and pat dry.
While the cabbage is draining, core the apples and cut them into 1/8"-thick slices.  Then, stack the slices and cut them into 1/8"-thick matchsticks.  Grate the carrots on the large holes of a box grater.  Slice the scallions thinly.
In a large bowl, combine the drained cabbage, apples, carrots, cranberries, almonds, and mulberries.  Whisk dressing to recombine and pour over slaw.  Toss until evenly coated.
Chef's Notes: 
To save time, you can purchase shredded carrots and use 1/2 cup.
Dried mulberries are a wonderful addition to this slaw.  Not only are they delicious, but they are highly nutritious!
I am asked regularly what brand of Kosher salt I like, and I have to say that after testing many, I love DIAMOND Kosher Salt.  The crystals are large, the weight of them works well for any recipe and it is also great for sprinkling on cookies, if you don't have flaked sea salt.
Adapted from Culinary Hill