Fall Chicken & Fig Sandwich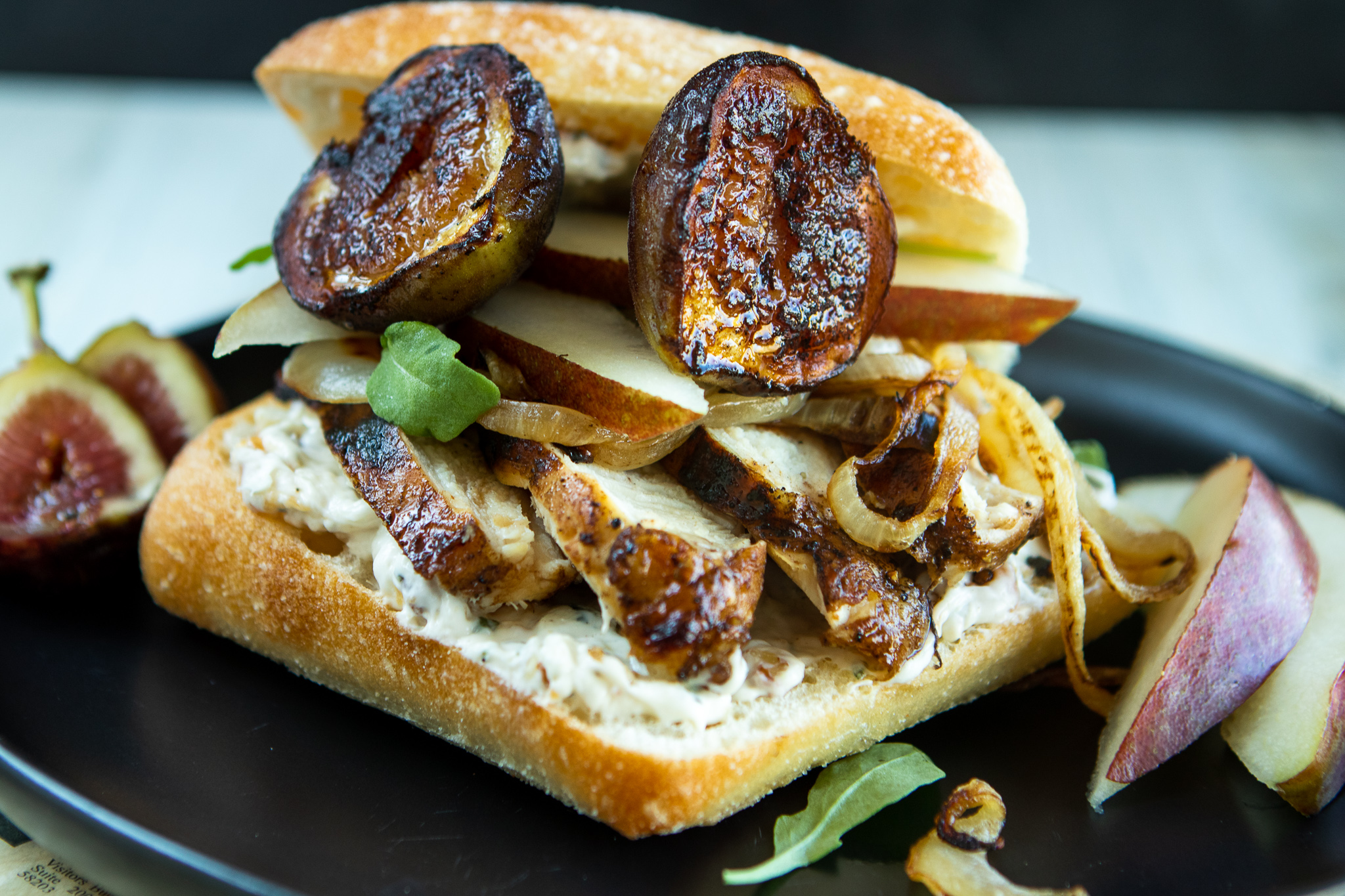 Sandwiches are such a perfect meal. You can get everything you need in one bite: carbs, protein, veggies, fruit and dairy! Haha I can't believe I'm really saying that, but it's true! Separate it all out and you've got chewy ciabatta bread (carbs), a nutty sweet blue cheese spread (dairy & fat), balsamic grilled chicken (protein), caramelized onions (vegetable), caramelized figs & fresh pears (fruit). See? All in one bite!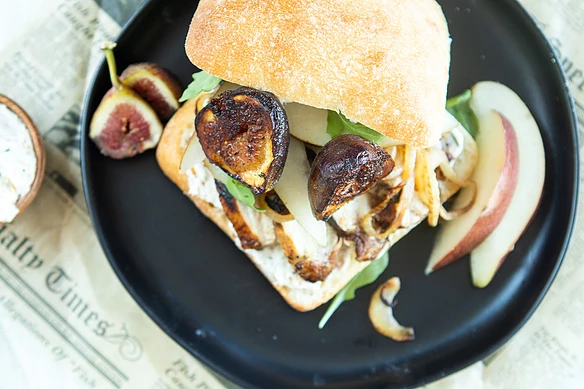 This is the perfect combination! Eat it for lunch or as a light entrée with a side salad!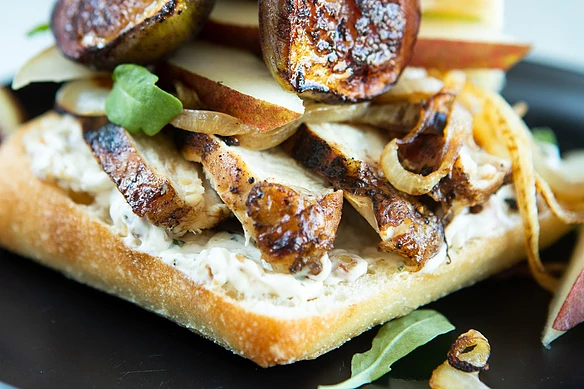 Lastly, if you make Fall Chicken & Fig Sandwich, be sure to leave a review down below at the bottom of this page (stars are also appreciated)! Above all, I love to hear from you and always do my best to respond to each and every review. And of course, if you do make this recipe, don't forget to tag me on 
Instagram
! Looking through the photos of recipes you all have made is one of my favorite things to do!
Fall Chicken & Fig Sandwich
Makes: 2-4 sandwiches
Prep Time: 10 minutes
Cook Time: 35 minutes
Total Time: 45 minutes
Ingredients
2 chicken breasts

2 tsp Worcestershire sauce

1 tbsp balsamic vinegar

1/2 tbsp extra virgin olive oil

1 yellow onion, sliced in rings

Kosher salt & pepper

1 tsp extra-virgin olive oil

1 tbsp unsalted butter

1/2 cup whipped cream cheese

2 tbsp chopped walnuts or pecans

1 tbsp peach or apricot jam

1 tbsp crumbled blue cheese

1/2 teaspoon rosemary

6-8 figs, stemmed and halved

1 ciabatta loaf (or 2-4 rolls)

Spring greens salad mix

1 crisp pear, thinly sliced
Instructions
For Chicken:
Mix together Worcestershire sauce, balsamic vinegar, 1/2 tablespoon extra virgin olive oil, salt, and pepper. Marinate chicken in mixture for up to an hour. Grill chicken on medium-high grill until cooked. Slice thin.
For Caramelized Onions:
Heat 1 teaspoon extra virgin olive oil with 1 tablespoon butter. Add onions and cook over medium heat until golden and delicious, about 15 minutes. Remove onions from pan but leave remaining oil/butter on medium heat for figs.
For Figs:
Add figs face down to hot oil/butter mixture. Sauté until golden and chewy (1-2 minutes).
For Spread:
Stir together cream cheese, blue cheese, nuts, jam, rosemary and fresh ground black pepper to taste.
Assembly:
Heavily spread the cream cheese mixture over both sides of bread. Pile high with chicken, pears, onions, and figs. Serve with spring salad on side. ENJOY!
Recipe from Food 52
Fall Chicken & Fig Sandwich