Smoked Slow-Cooker BBQ Brisket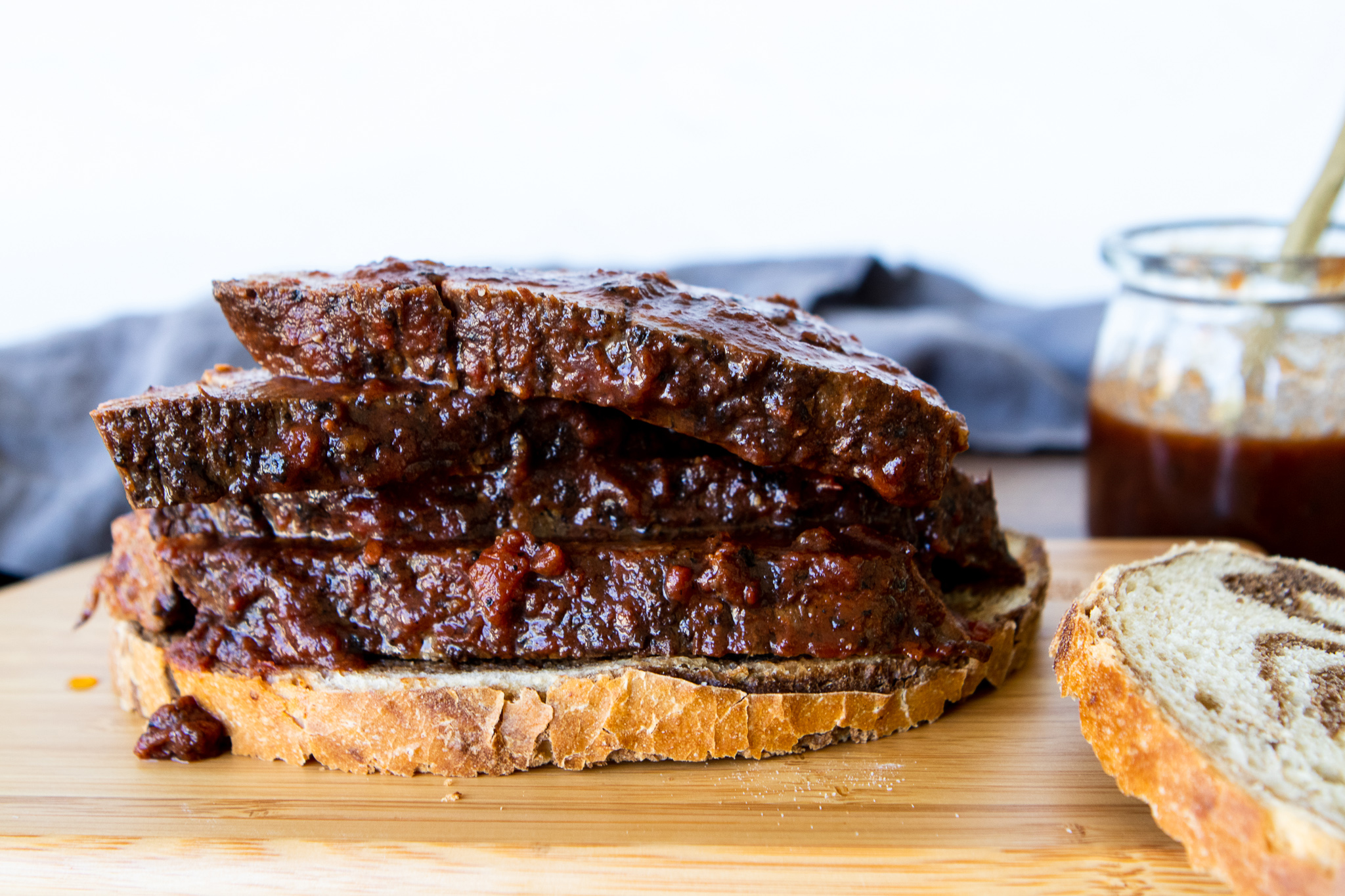 How is it that some of the most delicious foods are the easiest to prepare, like this Smoked Slow-Cooker BBQ Brisket?  I'm not saying it's quick, but it sure is easy!
I guess the "slow-cooker" in the title was a give-away, so yeah, it needs a lot of hours, but those can be the hours that you're at work, on the golf course, or checking on the kiddos.  Either way, sear up your brisket, place it and a few ingredients in the slow-cooker, turn it on and don't give it another thought!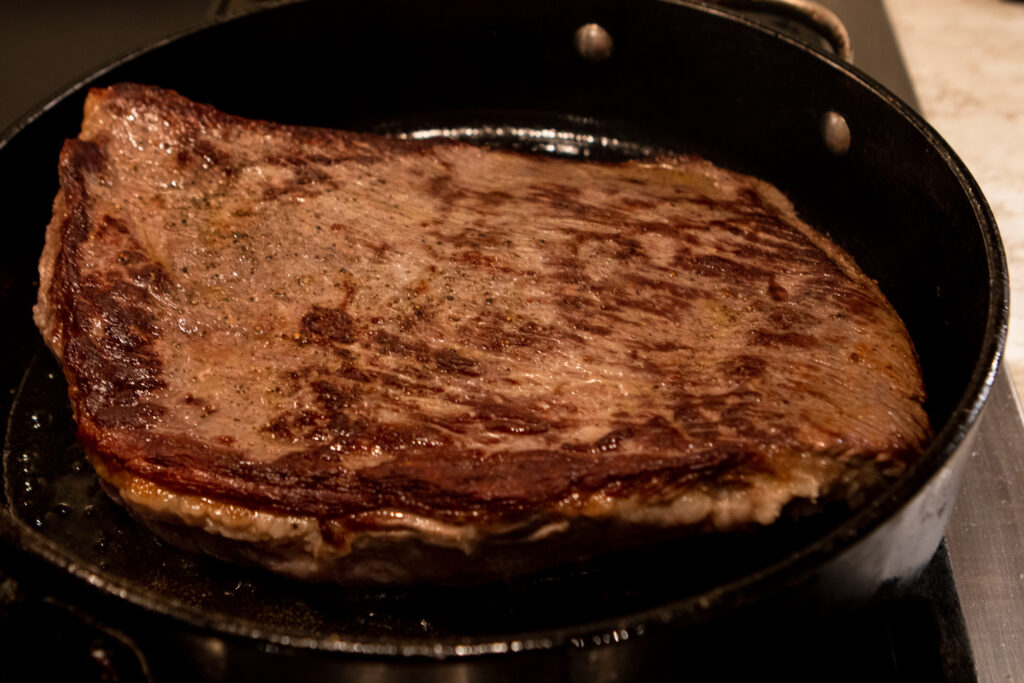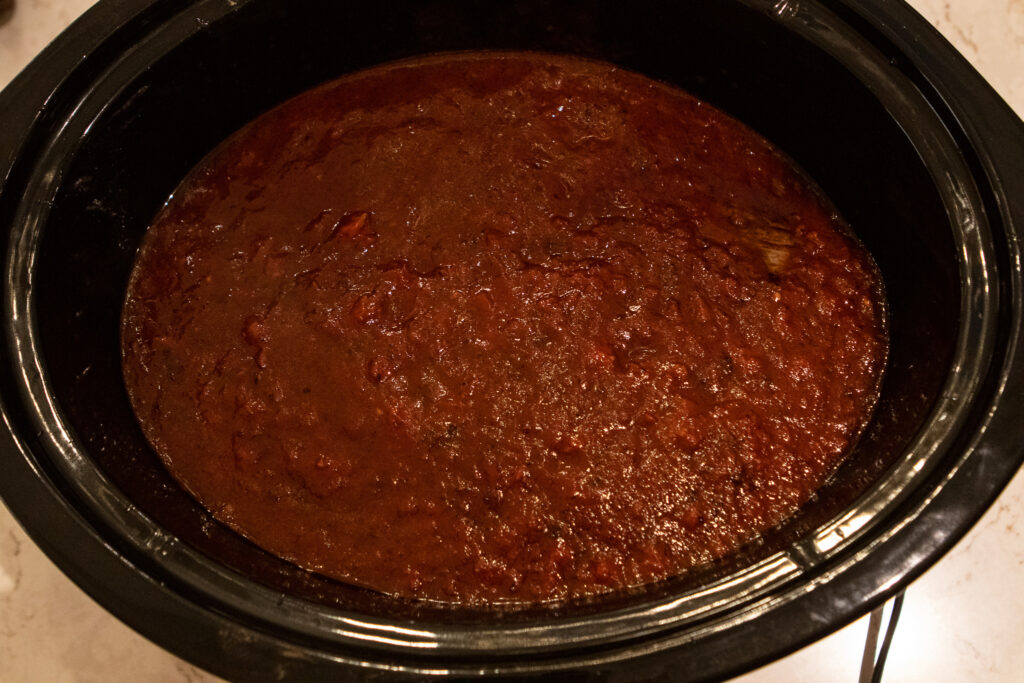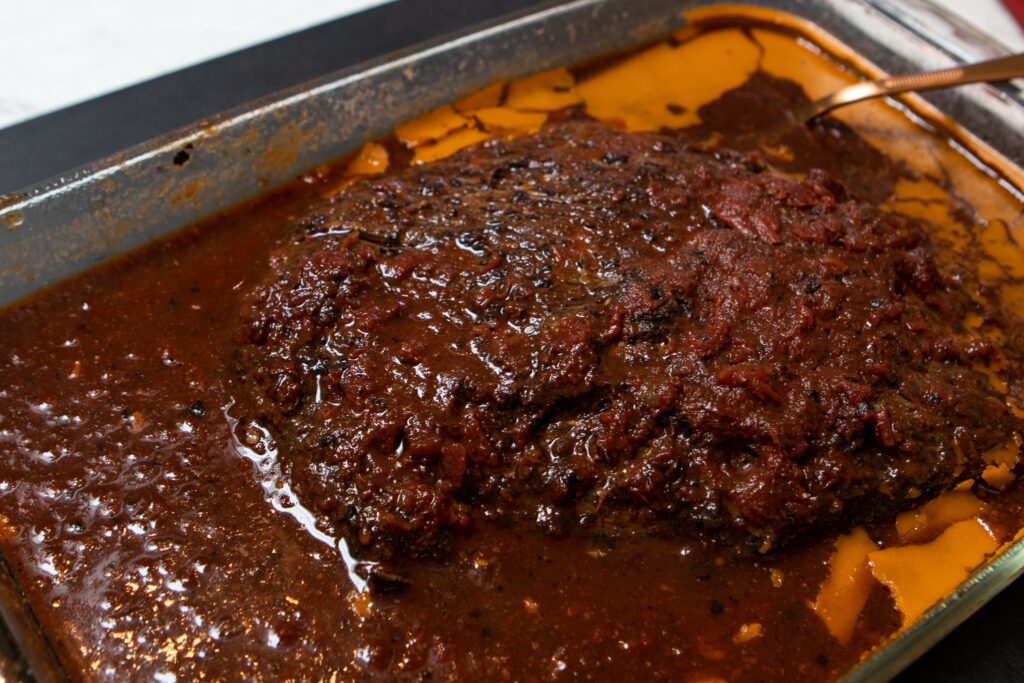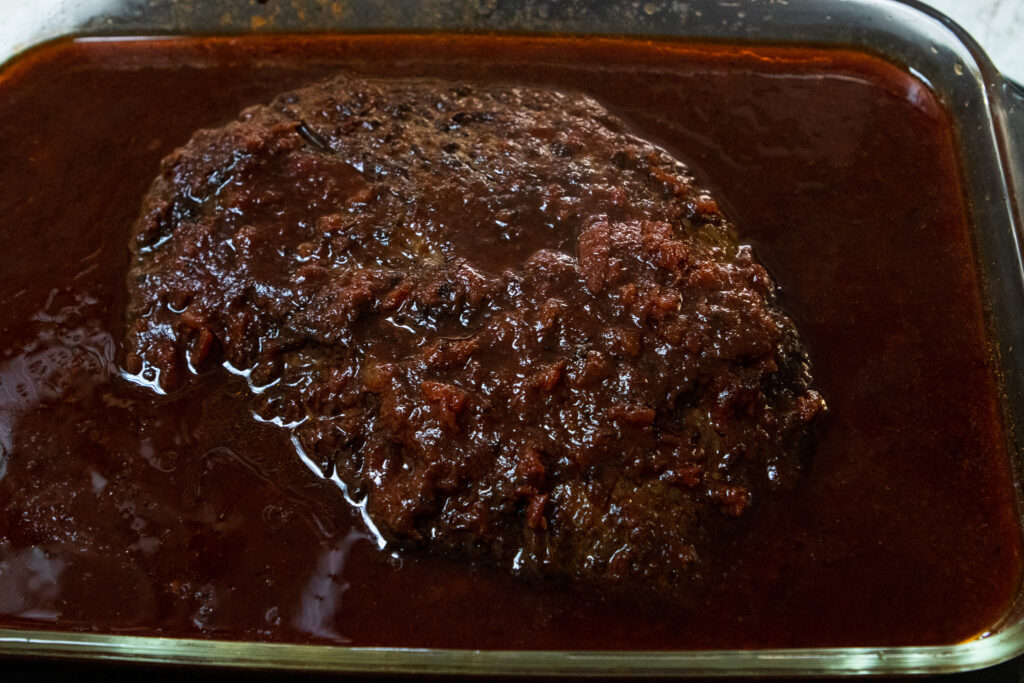 Brisket is a dish that is very familiar.  It's served at almost every Jewish holiday dinner and everyone claims their recipe to be the best!  There are so many different ways to prepare it:  you can serve it in a sweet/sour sauce, with caramelized onions in a beef gravy, or how about smoked Texas-style?
I'm pretty true to my traditions and love brisket drenched in a sweet, tomato-based sauce.  This steps it up a bit by creating a barbecue sauce that has a smoky, sweet tone to it, using fire-roasted crushed tomatoes, dark brown sugar, apple cider vinegar, Worcestershire sauce and liquid smoke.  Combine that all together and you get this wonderful smoked barbecue sauce!
To make this brisket, first sear it in a very hot skillet.  This will sear in the flavor, develop the color of the meat and caramelize the exterior.  Once it's seared, transfer it to a slow cooker.  Add all of the sauce ingredients and let it go for a while.
If you have time, I would make it the day prior so that it can sit in the fridge overnight.  This does two things:  first, it allows the fat to congeal so that it is easily removed (see the above pictures) and second, a cold piece of brisket is much easier to slice the a hot piece.  You can slice it and then put it back in the same baking dish, pour the smoked bbq sauce over it and reheat the entire dish.  It is out of this world!
Serve it as a sandwich or as dinner along with Parmesan-Roasted Potatoes or Potato Latkes.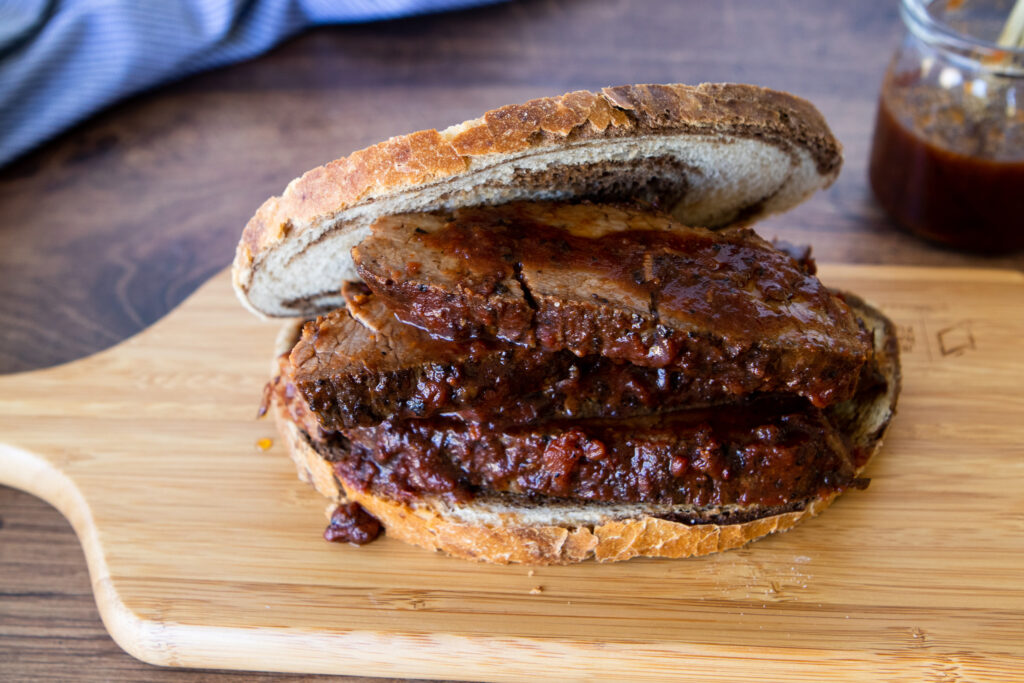 Lastly, if you make Smoked Slow-Cooker BBQ Brisket, be sure to leave a comment and/or give this recipe a rating! Above all, I love to hear from you and always do my best to respond to each and every comment. And of course, if you do make this recipe, don't forget to tag me on 
Instagram
! Looking through the photos of recipes you all have made is one of my favorite things to do!
Smoked Slow-Cooker BBQ Brisket
Makes: 6-8 servings
Prep Time: 15 minutes
Cook Time: 6 hours & 10  minutes
Total Time: 6 hours & 25 minutes
Ingredients
3 tbsp olive oil

One 4-pound

brisket

Kosher salt and freshly ground black pepper, to taste

One (28-ounce) can fire-roasted or regular crushed tomatoes

1/2 cup dark brown sugar

2 tbsp apple cider vinegar

2 tbsp Worcestershire sauce

1 tbsp 

liquid smoke
Instructions
In a large skillet, heat the oil over medium-high heat. Season the brisket with salt and pepper, and sear, flipping once, until golden brown, 4 to 5 minutes per side. Transfer to a slow cooker.
Add the remaining ingredients to the skillet and stir, scraping off any brown bits on the bottom of the pan, then pour the mixture over the brisket. Cook on high for 6 hours until tender, then slice and serve. If you have time, cool and then refrigerate the brisket overnight. When ready to serve, remove the congealed fat with a spoon, slice the cold brisket and place the slices back in the bbq sauce. Reheat at 350°F for 20 minutes.
Smoked Slow-Cooker BBQ Brisket