Farfalle with Baby Spinach & Roasted Peppers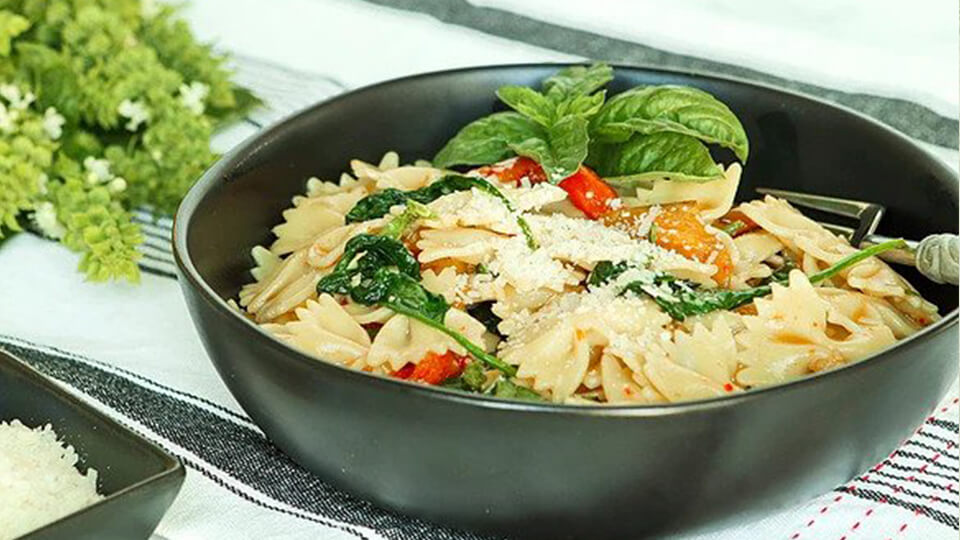 For a light pasta (is there such a thing?), try Farfalle with Baby Spinach & Roasted Peppers!
Pasta has always been a little taboo for me.  My mind goes to the carbs versus the deliciousness of pasta and I forgo it with sadness.  But, there are times when it's perfect for a picnic or buffet table, or when my guy just needs a bowl of pasta.  Then, despite my best efforts, I dig in and enjoy the heck out of it!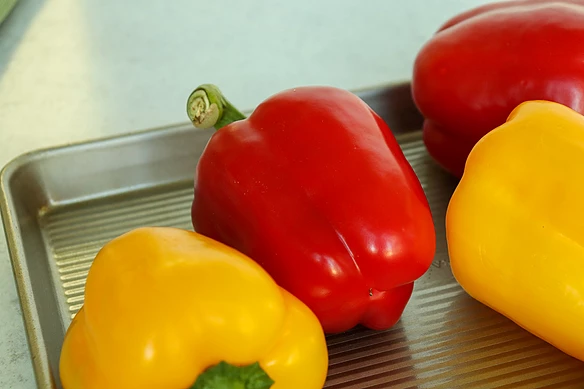 This recipe makes a very light sauce, which is my preference if I'm gonna eat it!  You first roast the peppers, either on the grill or under the broiler, then you cut them into julienned strips.  Make sure you follow my instructions and don't EVER, while trying to get all of the seeds off of the roasted peppers, rinse away all that lovin' goodness under the tap (I made that mistake, and a chef friend who saw me do that looked at me like I was crazy!  Lesson learned!).  You want to collect all those pepper "juices" to use in the sauce.
The sauce uses the red peppers, sautéed spinach, white wine, garlic, chicken stock to make a lovely, light glaze for the farfalle.
Si Mangia!!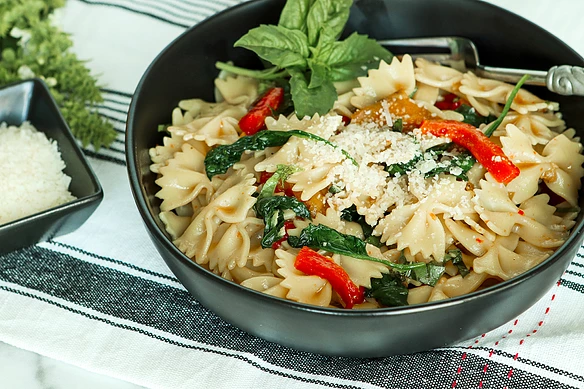 Lastly, if you make Farfalle with Baby Spinach & Roasted Peppers, be sure to leave a comment and/or give this recipe a rating! Above all, I love to hear from you and always do my best to respond to each and every comment. And of course, if you do make this recipe, don't forget to tag me on 
Instagram
! Looking through the photos of recipes you all have made is one of my favorite things to do!
Farfalle with Baby Spinach & Roasted Peppers
Makes: 6 servings
Prep Time: 20 minutes
Cook Time: 33 minutes
Total Time: 53 minutes
Ingredients
2 yellow peppers

2 red peppers

2 tbsp extra-virgin olive oil

10 ounces baby spinach

1 tsp minced garlic

3 tsp salt, divided

Freshly ground pepper to taste

1/4 cup white wine

2 cups chicken stock

1 pound farfalle pasta

1/4 cup slivered basil

2 tbsp extra-virgin olive oil

1/4 cup Parmesan cheese
Roast the Peppers:
Preheat oven to broil.  Place peppers on a sheet pan and put in oven on shelf as close  as possible to the broiler heat. (The alternative is to grill the peppers over high heat).  Turn the peppers every 3-4 minutes until the entire pepper is charred.  This can take 15-20 minutes.  Once peppers are charred, remove from oven and place in a medium bowl.  Cover with plastic wrap and let the peppers steam for 10 minutes.  Remove the plastic wrap and let cool until you can handle the peppers, 15-30 minutes.
In order to collect the juices from the peppers, once you can hold them, start to peel the charred skin off of them but do so over the bowl they were steaming in.  Once the pepper breaks open a bit, the juices (and probably some of the seeds) will pour out into the bowl below.  Reserve until after the peppers are cut.  Once the skin is removed and disposed of, make sure all of the seeds are off of the peppers.  Do not run them under water to remove the seeds, just use your fingers to wipe all the seeds away.
Cut the peppers into 1/4" strips the length of the pepper, and then cut those strips in 1/2 or 1/3's depending on the size of the pepper.  Pour the juices that you collected in the steaming bowl through a sieve and over the julienned peppers.  Set aside.
Make the Sauce:
In a large sauté pan over high heat, warm the oil.  Add spinach, 1/2 tsp garlic, 1/2 tsp salt and 1/4 tsp pepper. Sauté until soft, 2-3 minutes.  Transfer to a plate.  
Reduce heat to medium and add 1/2 tsp garlic, roasted peppers, wine, stock and 1/2 tsp salt.  Simmer until sauce begins to thicken, 8-10 minutes.
Pasta:
Meanwhile, in a large pot, combine 6 quarts of water and 1 tsp salt;  bring to a boil.  Add pasta and cook until tender to bite, 10-13 minutes.  
Assemble:
Stir basil, spinach and olive oil into the sauce.  In a large serving bowl, toss pasta and sauce.  Season with additional salt and/or pepper if necessary.  Sprinkle with Parmesan cheese and serve.
Farfalle with Baby Spinach & Roasted Peppers