Roasted Ratatouille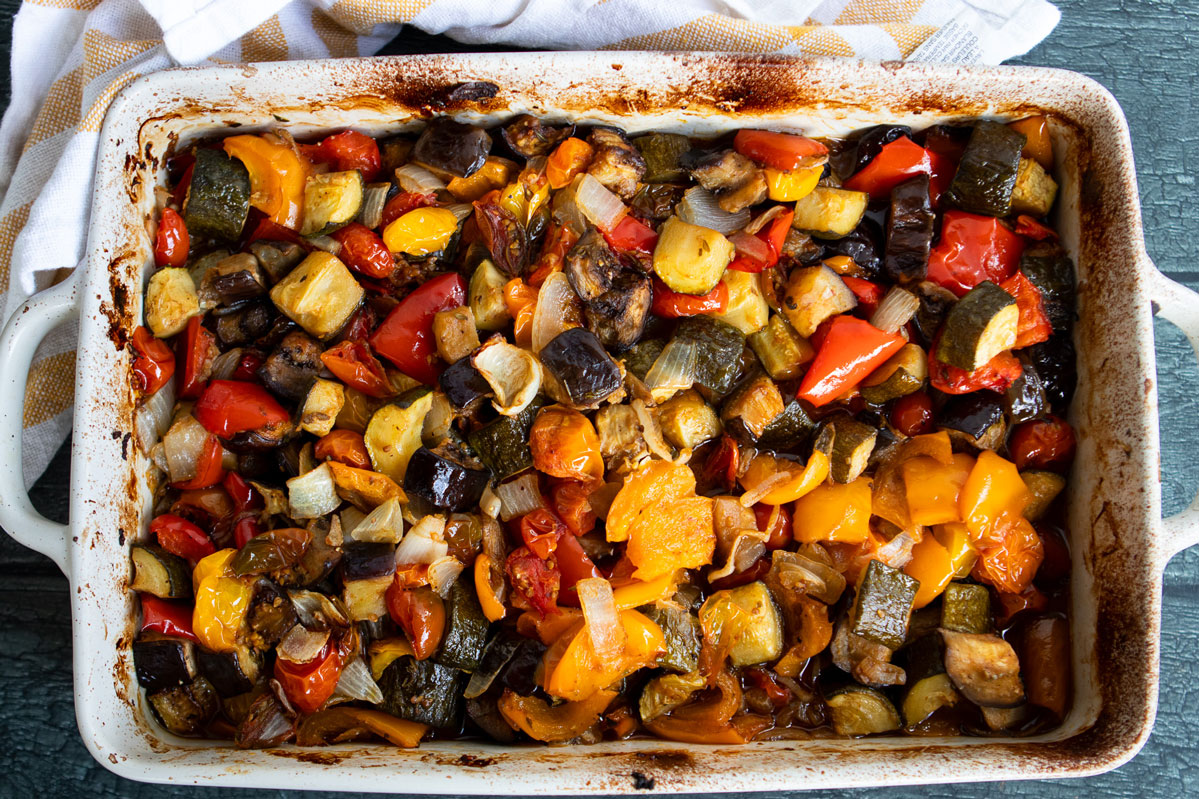 Roasted Ratatouille is a delicious combination of vegetables, olive oil, white balsamic vinegar and fresh thyme that roasts until it's a saucy, stewy mixture.
It's versatile (use whatever veggies you want), it's forgiving (pop it all in the oven at the same time) and it can be eaten as a side dish, over pasta or a light lunch.
Using vegetables such as eggplant, zucchini, bell peppers, cherry tomatoes, onion, garlic and shallots gives this a "caponata" flavor profile.  Toss them all together in a roasting pan and salt the veggies.
In a small bowl, whisk together the olive oil, white balsamic vinegar and thyme.  Pour it all over the vegetables and toss to coat.
Bake the ratatouille for 60-75 minutes, stirring halfway, until the juices begin to thicken and the vegetables are tender.
To serve, use it as a side dish or top cooked pasta with ratatouille, grated parmesan,  and fresh basil.
Lastly, if you make Roasted Ratatouille, be sure to leave a review down below at the bottom of this page (stars are also appreciated)! Above all, I love to hear from you and always do my best to respond to each and every review. And of course, if you do make this recipe, don't forget to tag me on 
Instagram
! Looking through the photos of recipes you all have made is one of my favorite things to do!
Makes: 1-3 quarts
Prep Time: 15 minutes
Cook Time: 60-75 minutes
Total Time: 1 hour & 30 minutes
Ingredients
12 ounces eggplant, (about 1), chopped into 1-inch pieces

1 & 1/4 pounds tomatoes, chopped into 1-inch pieces

12 ounces zucchini (about 2), chopped into 1-inch pieces

2 red bell (or other) peppers, seeded and coarsely chopped

1 yellow or white onion, chopped

1 shallot, thinly sliced

4 cloves garlic, minced

1/4 cup olive oil

2 tbsp white balsamic vinegar

2 tsp chopped fresh thyme

1 tsp kosher salt plus more to taste

Freshly cracked pepper to taste
For the Pasta:
dried pasta

roasted ratatouille

freshly grated parmesan

basil
Instructions
Preheat the oven to 400° F. In a large roasting pan or casserole, combine the tomatoes, eggplant, zucchini, peppers, onion, shallot, and garlic. Add the vegetables to the pan as you finish chopping them, and sprinkle each layer of vegetables lightly with salt.
In a small bowl or measuring cup, whisk together the olive oil, vinegar, and thyme. Pour over the vegetables. Toss to coat. Season with pepper.
Bake for 30 minutes, then stir well. Bake for another 30 to 45 minutes until the vegetables are all very tender and the released juices are beginning to thicken. Taste and adjust seasoning with more salt and pepper as desired.
To serve, spoon over toast or toss with cooked pasta, grated parmesan, finely chopped basil and enough of the reserved pasta cooking liquid to make a nice sauce.
Recipe by Alexandra's Kitchen