Robyn's Sweet Noodle Pudding (Kugel)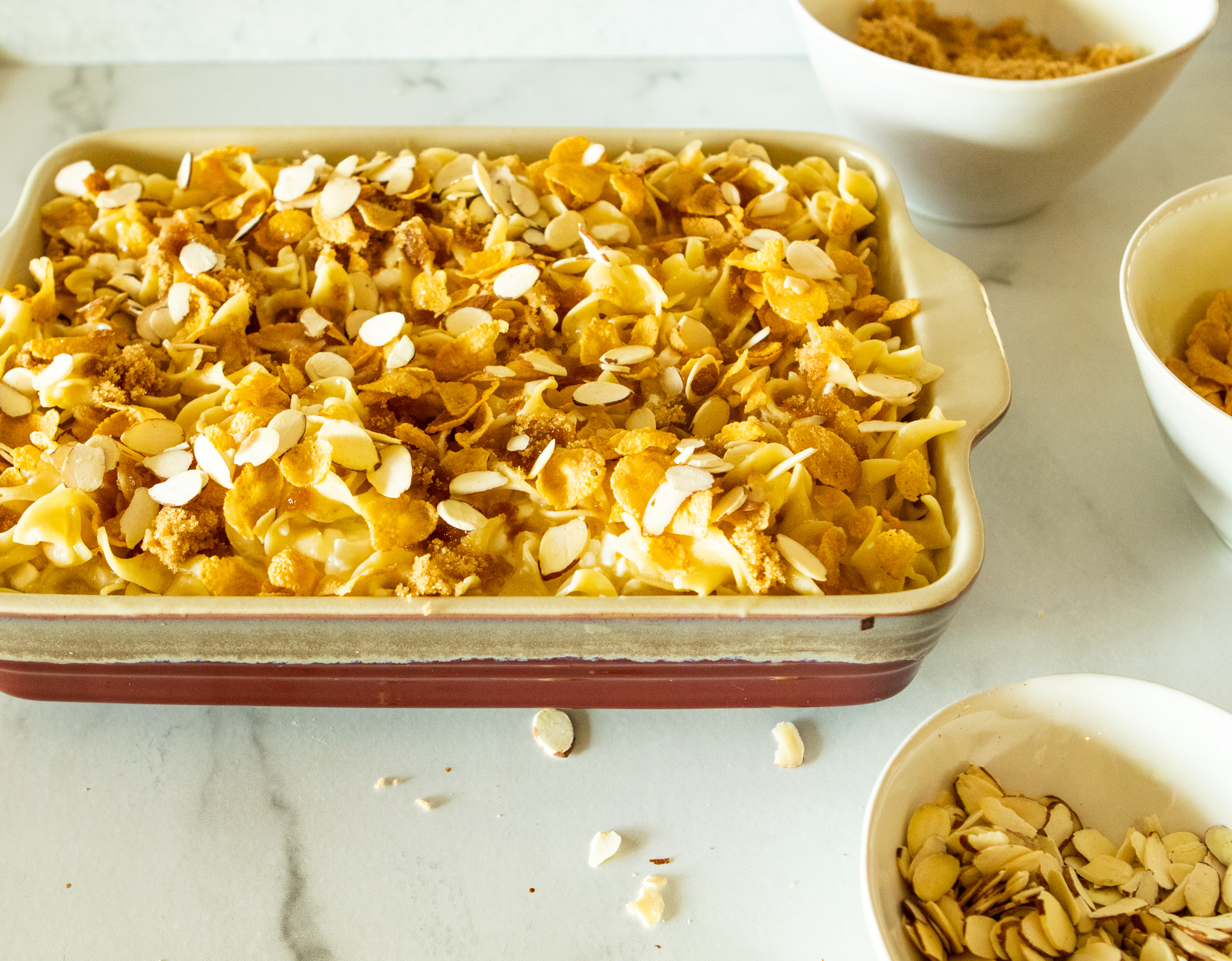 A funny thing happened on the way to making this post…I knew that I wanted to offer a kugel (also known as sweet noodle pudding) to fill out a Break the Fast menu to end the Jewish holy day of Yom Kippur. I have always made the most delicious kugel but didn't have the recipe with me at my cabin. I thought that my sister, Robyn, always made the same kugel. I asked her to send me the recipe and she asked "which one…yours or mine?" Hmmmm…I thought they were the same. So she sent me both and I saw the differences. I decided to have my own little kugel bake-off!
Our recipes, while very similar, had some distinct differences. For both, you boil up egg noodles. While they are boiling, you mix up eggs, cottage cheese, sour cream, milk, butter and sugar. In my recipe, I separated the eggs and whipped the egg whites so that they were stiff. Robyn's recipe didn't require that, which gave it a check mark for simplicity. You add the cooked noodles in with the egg mixture and with my recipe, you fold in the egg whites.
Once the noodle mixture is poured into the baking dish, her recipe tops the noodles with corn flakes, brown sugar, slivered almonds and drizzled butter. Mine tops it with crushed graham crackers.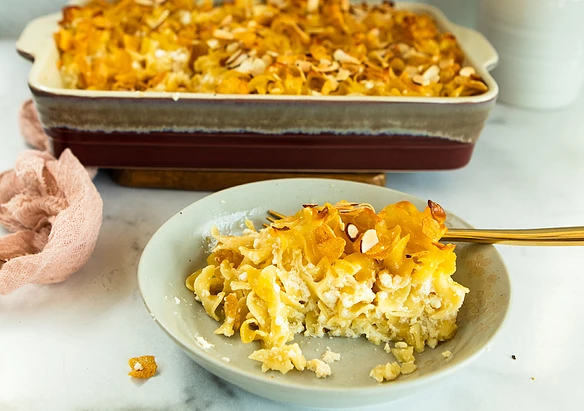 The results: Robyn's recipe won the day! The topping is crunchy and delicious! The ease of her recipe beat mine, with very little taste difference. So, here you have it!
Oh yeah, I inadvertently didn't follow hers precisely, so she has allowed me to take full credit for the recipe. I'm not doing that, but thanks, sis!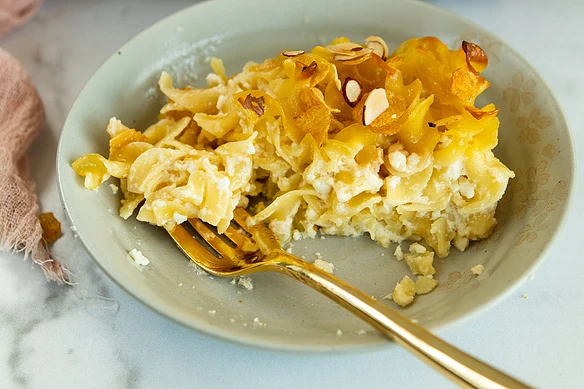 Lastly, if you make Robyn's Sweet Noodle Pudding (Kugel), be sure to leave a review down below at the bottom of this page (stars are also appreciated)! Above all, I love to hear from you and always do my best to respond to each and every review. And of course, if you do make this recipe, don't forget to tag me on 
Instagram
! Looking through the photos of recipes you all have made is one of my favorite things to do!
Robyn's Sweet Noodle Pudding (Kugel)
Makes: 8-10 servings
Prep Time: 20 minutes
Cook Time: 1 hour & 10 minutes
Total Time: 1 hour & 30 minutes
Ingredients
12 ounces wide egg noodles

3 eggs

1/2 cup sugar

8 ounces sour cream

12 ounces small curd cottage cheese (4% milkfat)

1/2 cup milk

1/2 cup + 3 tbsp butter, melted and separated

1/2 cup raisins (optional)

1/2 cup corn flakes

1/3 cup brown sugar

1/2 cup sliced almonds
Instructions
Preheat oven to 325°F. Grease a 9 x 13-inch baking dish.
Cook noodles according to package, then drain.
Beat eggs until foamy (you can use a hand mixer, stand mixer or beat by hand). Add sugar gradually and continue beating. Add sour cream, cottage cheese, milk and 1/2 cup melted butter. If using raisins, add now. Add cooked noodles to egg mixture. Mix well.
Put noodle mixture into prepared dish. Sprinkle cornflakes and brown sugar over the top. Drizzle the 3 tablespoons of melted butter over the top, and then sprinkle with sliced almonds. Bake for one hour or until top is crispy and brown and middle is set.
Recipe adapted from Robyn Schnitzer
Robyn's Sweet Noodle Pudding (Kugel)