15-Minute Butter Fried Rice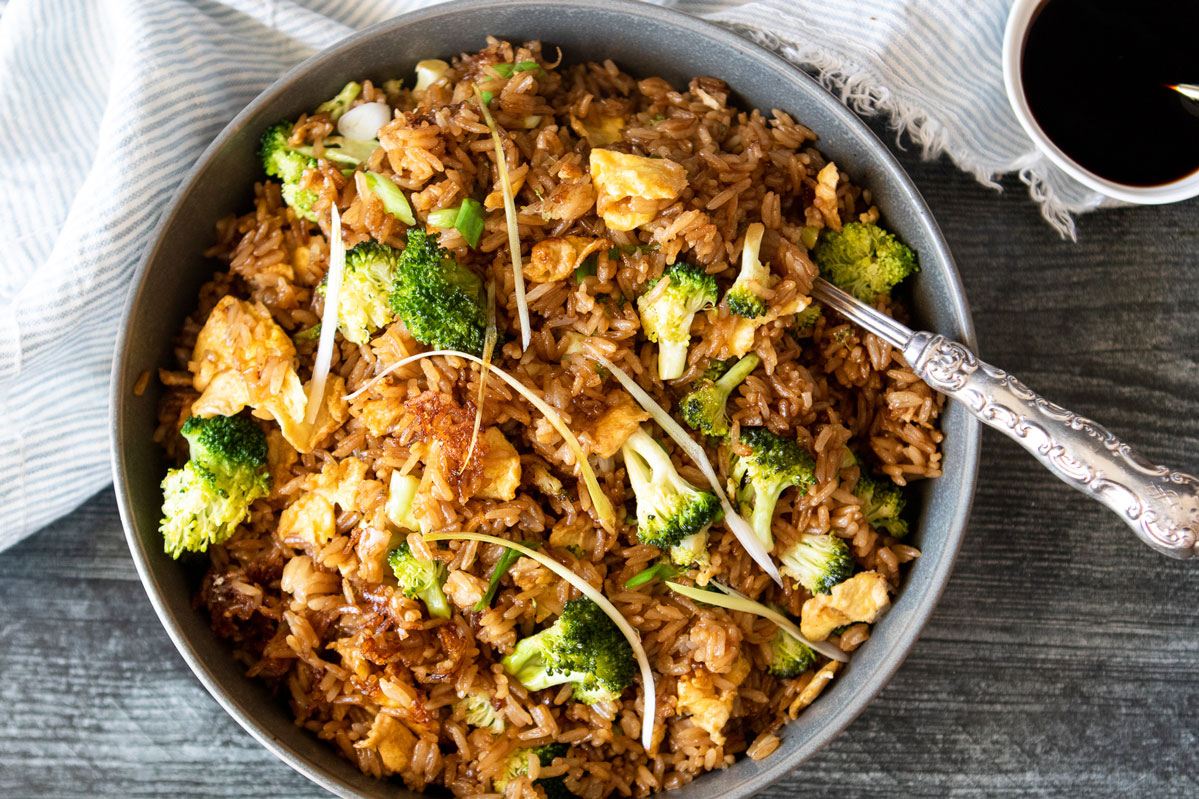 15-Minute Butter Fried Rice is an easy, quick and delicious way to create a wonderful side dish.  If you are fortunate enough to have leftover steamed rice from your last take-out Chinese food meal, then you are in great shape!  If not, no worries…just cook some up and get ready for a tasty dish!
The richness of this dish comes from frying the rice in butter.  It's a great touch.  It also creates wonderful crunchy bits of rice that are over the top!
The rice has chopped broccoli, fried egg, green onions and a great sauce.  It can be elevated to a main course dish by adding chicken or shrimp to it.  See my notes at the bottom of the recipe.
Begin, by combining the soy sauce (or tamari), honey and chile flakes and set aside.
Next, cook the eggs until just set and scramble them.  Add the rice, broccoli and additional butter.  Toss this together with the eggs and cook until the butter coats all of the rice.  
Add the sauce and cook until the crispy bits start to form.  Finally, stir in the green onions.
In about 15 minutes, you have a delicious side dish that will be gone in less that 15 minutes!
Lastly, if you make 15-Minute Butter Fried Rice, be sure to leave a comment and/or give this recipe a rating! Above all, I love to hear from you and always do my best to respond to each and every comment. And of course, if you do make this recipe, don't forget to tag me on 
Instagram
! Looking through the photos of recipes you all have made is one of my favorite things to do!
15-Minute Butter Fried Rice
Makes: 4 servings
Prep Time: 5 minutes
Bake Time: 10 minutes
Total Time: 15 minutes
Ingredients
1/3 cup tamari or low sodium soy sauce
1 tsp honey
Chili flakes, to taste
4 tbsp salted butter
1 1/2 cups roughly chopped broccoli
2 large eggs, beaten
4-5 cups steamed rice
3 green onions, thinly sliced
Instructions
In a small bowl, combine the tamari and honey, and season to taste with chili flakes.
Melt 1 tablespoon butter in a large skillet over medium heat. Add the eggs and let cook until the edges start to set, 1-2 minutes. Gently scramble the eggs. Add the rice, broccoli, and remaining butter. Toss the rice in with the butter and cook until the butter coats the rice. Pour in the sauce, cook until the rice is crisping, 4 to 5 minutes. Stir in the green onions and remove from the heat.
Serve warm, topped with green onions and chili flakes.
Chef's Note:
To add chicken to the rice, I recommend cooking cubed chicken breasts or skinless thighs with a couple tablespoons of olive oil, 1-2 cloves garlic, a splash of tamari, and a pinch of black pepper. Then stir the cooked chicken into the rice with the green onions.
Recipe from Half Baked Harvest
15-Minute Butter Fried Rice