Fattoush Salad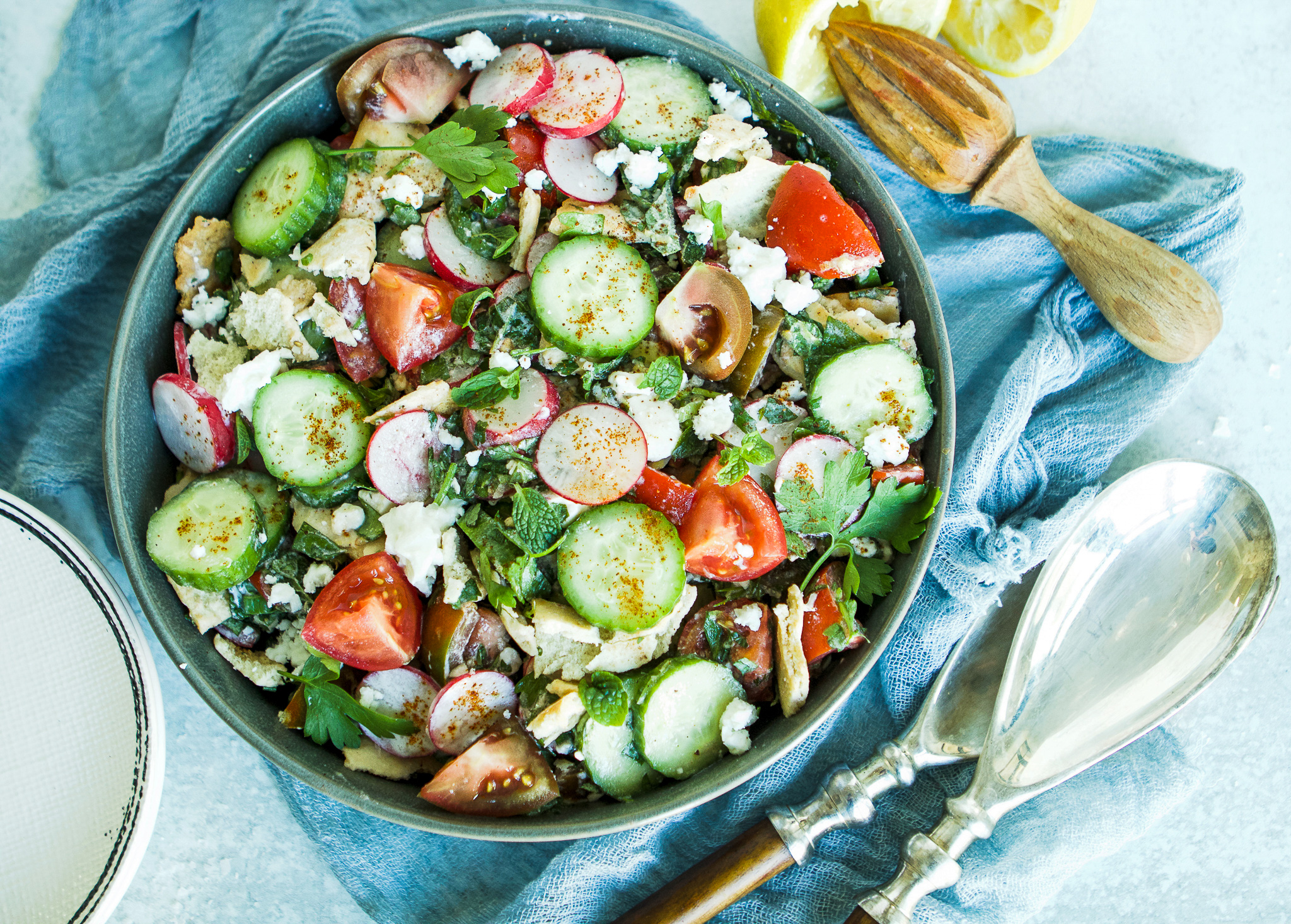 Fattoush salad…fun to say, right?  Fattoush is a Middle Eastern salad, comprised of tomatoes, cucumbers, feta, mint, parsley and a yogurt-based dressing.  Toss in some toasted pita bread pieces and sumac, and you're all set.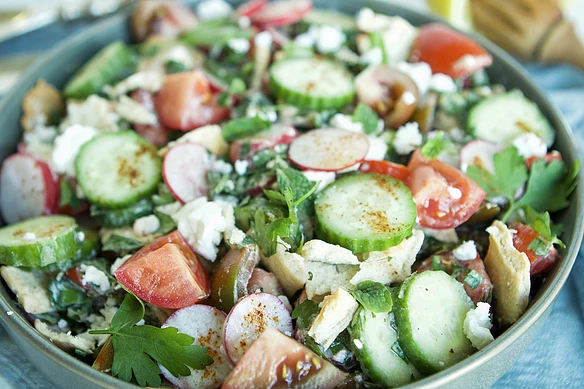 Start by mixing the Greek yogurt and milk and let it sit for a while so that it can ferment.  This adds a tangy flavor that is divine in this salad. Once the dressing is ready, this salad comes together in minutes.  For additional ease, prepare all the ingredients ahead of time, then just toss them all together right before serving.    
Enjoy!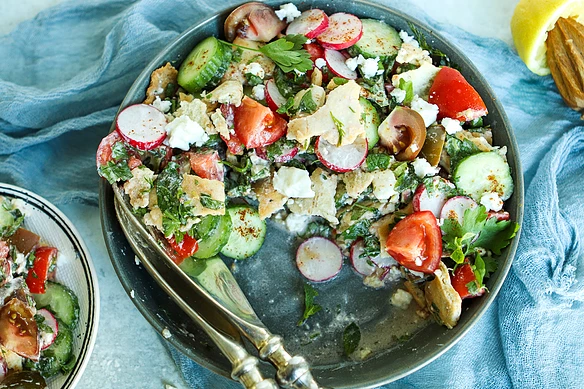 Lastly, if you make Fattoush Salad, be sure to leave a comment and/or give this recipe a rating! Above all, I love to hear from you and always do my best to respond to each and every comment. And of course, if you do make this recipe, don't forget to tag me on 
Instagram
! Looking through the photos of recipes you all have made is one of my favorite things to do!
Makes: 2-3 servings
Prep Time: 15 minutes
Total Time: 25 minutes plus chill time 2 hours & 20 minutes
Ingredients
1 cup Greek yogurt

2/3 cup whole milk

3–4 large heirloom tomatoes, diced

3 oz radishes, thinly sliced

5 mini cucumbers, thinly sliced

1 scallion, diced

1/2 oz fresh mint, coarsely chopped

1 oz flat-leaf parsley, coarsely chopped

1 large clove garlic, diced

3 tbsp freshly squeezed lemon juice

1/4 cup olive oil, plus extra to drizzle

2 tbsp red wine vinegar

1/2 tsp freshly ground black pepper, plus more to taste

1 tsp fine grain sea salt, plus more to taste

4 pita breads, toasted until golden and fully hard

6 oz feta cheese, crumbled

2 tsp sumac (or more to taste) (See Chef's Note)
Instructions
In a mason jar or cup with a lid, shake milk and yogurt together and place in fridge until bubbles form on the surface. Let sit at least 2 hours, but up to 1 day.
When you're near ready to serve, combine fermented yogurt mixture with tomatoes, radishes, cukes, scallion, mint, parsley, garlic, lemon juice, olive oil, and vinegar. You may not want all of the dressing…it all depends on how you like your salad dressed.  You can always add more at the end if it seems dry.  Sit for at least 20 minutes for all the flavors to combine
When you're ready to serve, crumble the pita into large pieces and toss to combine. Towards the end of your mixing, toss in feta. Garnish with sumac and serve!
Chef's note:  
The sumac (click the word "sumac" for link to product) is key in this salad, so don't skip it!
Recipe from Broma Bakery