Lox and Bagel Breakfast Bowl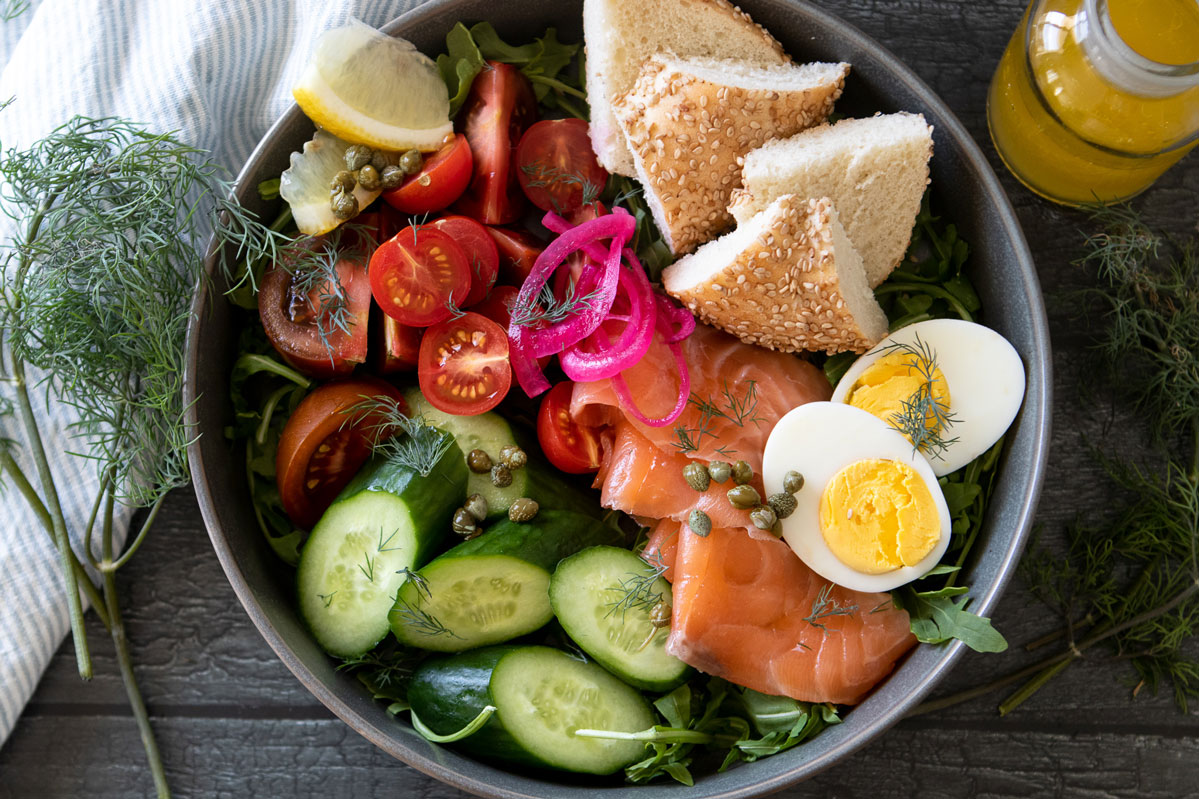 For a healthy, simple and gorgeous way to start your morning, try Lox and Bagel Breakfast Bowl.  This fresh bowl filled with all things wonderful and topped with a lemon-honey dressing will satisfy all tastes.
I typically make myself a breakfast that's very healthy and delicious:  my go-to is a fried egg laid over peppery arugula, with cukes, chopped tomatoes and red bell pepper on the side.  All I need is some good salt and freshly ground pepper and I am very, very happy.
I make my own cured salmon (it's so easy, you must try it!) and started adding that to my plate instead of the egg, or sometimes with it!  
But, I could never get the look right to be able to photograph it well, so I decided to switch it up a bit…how about a bowl versus a plate?  How about hard-boiled eggs instead of a fried egg?  And how about pickled red onions, capers and dill to top it and pop it? Yes, yes and yes!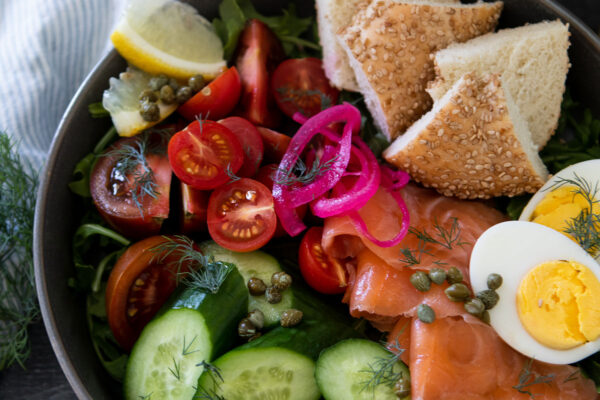 The components are simple:
arugula or romaine for the base of the bowl
halved cherry tomatoes
sliced mini or Persian
cucumbers
thinly sliced cured salmon (try either Beet-Cured Salmon Gravlax or Sugar & Salt-Cured Salmon) or store-bought smoked salmon
hard-boiled eggs
capers
dill
lemon, honey, olive oil for the dressing
This recipe comes together in no time, especially if the salmon, red onions and hard-boiled eggs are all prepped ahead of time.
Now, time for a relaxing Sunday morning!
Lastly, if you make Lox and Bagel Breakfast Bowl, be sure to leave a comment and/or give this recipe a rating! Above all, I love to hear from you and always do my best to respond to each and every comment. And of course, if you do make this recipe, don't forget to tag me on 
Instagram
! Looking through the photos of recipes you all have made is one of my favorite things to do!
Lox and Bagel Breakfast Bowl
Makes: 4-6 servings
Prep Time: 20 minutes
Total Time: 20 minutes
Ingredients
Lemon Dressing:
¼ cup olive oil

2 tbsp fresh lemon juice

2 tsp honey

¼ tsp lemon zest

¼ tsp kosher salt
Bowl:
8 cups chopped romaine lettuce or arugula

2 cups cherry tomatoes, halved

1 & 1/2 cups sliced cucumber

6 oz Sugar & Salt-Cured Salmon or store-bought smoked salmon, sliced

4 hard boiled eggs, halved

1 tbsp capers, drained

1 tbsp chopped fresh dill

Quick Pickled Red Onions, optional

Bagels or bagel crisps, for garnish
Instructions
For the dressing, whisk olive oil, lemon juice, honey, lemon zest and salt. Set aside.
To assemble the bowls, place lettuce in 4 serving bowls. Divide tomatoes, cucumbers, smoked salmon, eggs, capers and dill between the bowls. Garnish with Quick Pickled Red Onions, if desired. Drizzle dressing over top and garnish each serving with bagel crisps. Serve with more dressing on the side.
Recipe adapted from Bite Me More
Lox and Bagel Breakfast Bowl