Golden Beets and Honey Burrata Salad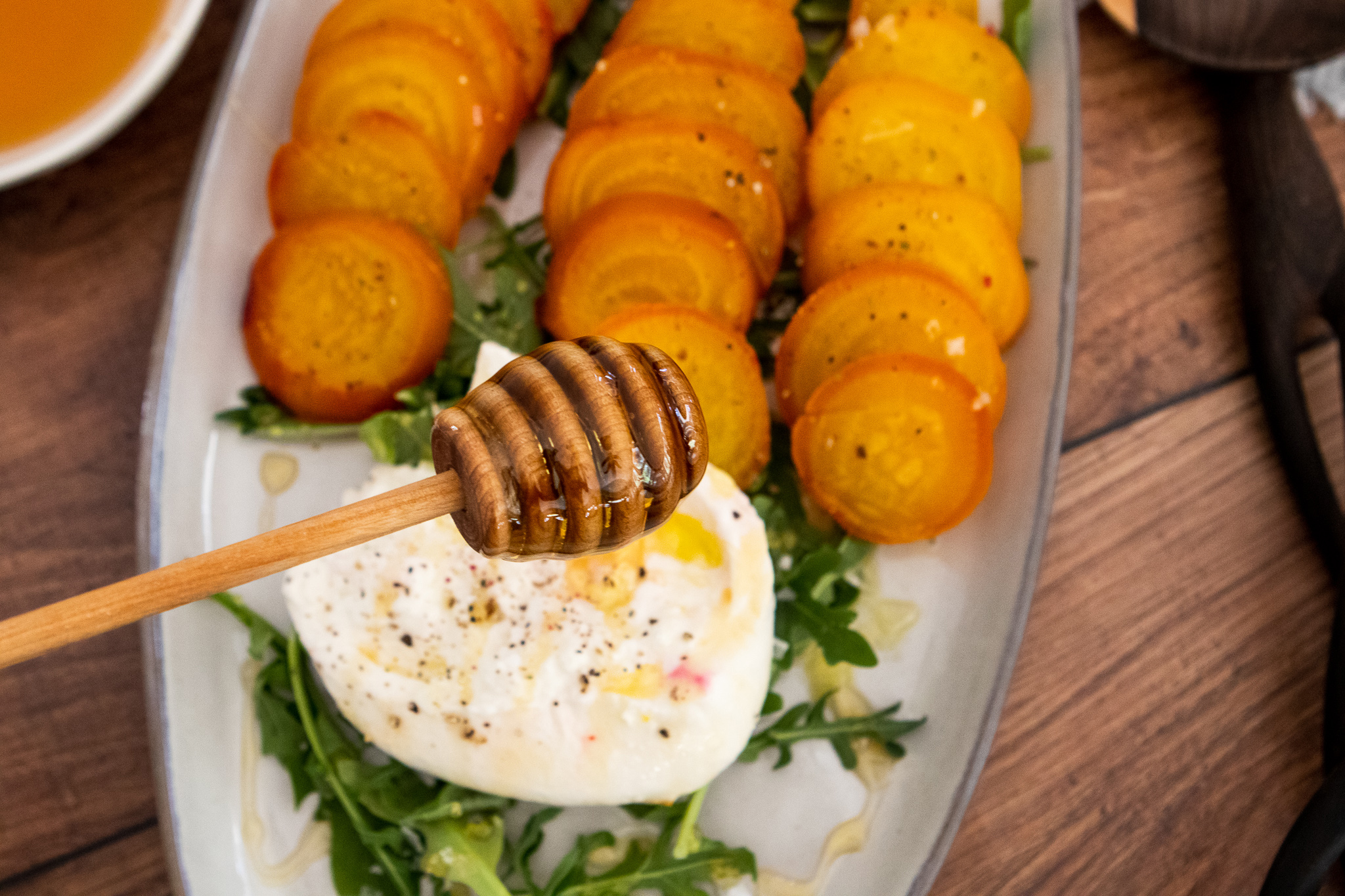 Colorful beets are aplenty at my local farmers market, so this Golden Beets and Honey Burrata Salad was screaming to be made when I saw those beauties!
I am a huge fan of beets or all colors:  red, pink, golden, chiogga (pink and white striped).  Whatever I can get my hands on provides the inspo for all sorts of dishes.  And, one ingredient that is no joke with beets is burrata!  Burrata cheese is that creamy ball of cheese that looks like mozzarella, but when you break it open, this oozy filling melts out of it.  Schmear a little of that over your freshly roasted beets and you have the makings of an awesome salad.
Take it to the next level by drizzling it with some honey and sprinkling some smoked flaky sea salt and freshly cracked pepper over the top.
I love smoked flaky sea salt, but if you can't find it, regular flaky sea salt will be just as delicious (Maldon makes both…Check out this link).
Lastly, if you make Golden Beets and Honey Burrata Salad, be sure to leave a comment and/or give this recipe a rating! Above all, I love to hear from you and always do my best to respond to each and every comment. And of course, if you do make this recipe, don't forget to tag me on 
Instagram
! Looking through the photos of recipes you all have made is one of my favorite things to do!
Golden Beets and Honey Burrata Salad
Makes: 4 servings
Prep Time: 15 minutes
Cook Time: 60 minutes
Total Time: 1 hour & 15 minutes
Ingredients
6 golden beets, washed & trimmed
1 tbsp olive oil
1 tsp Kosher salt
1 tsp freshly ground black pepper
2 cups arugula, lightly packed
1 (8 ounce) ball burrata
2 tbsp honey
1/2 tsp smoked flaky salt (regular flaky sea salt will work, too)
Freshly ground black pepper
Instructions
Roast the Beets:
Preheat oven to 400°F. Place beets in a shallow small roasting pan, drizzle with olive oil, salt and pepper, and cover with foil.
Place them in the oven for 45-60 minutes, depending on the size. They are ready when a sharp knife pierces them easily. Remove from oven and let them sit for about 10 minutes or until you can handle them safely. Using a paper towel, rub the skin off of them. Cut into 1/4″-thick rounds.
On a serving platter, arrange arugula over the bottom. Fan out beet circles in rows or circle, overlapping slightly. Break open the burrata and set on the arugula.
Drizzle with honey, sprinkle flaky salt and freshly ground pepper over the burrata and beets and serve!
Golden Beets and Honey Burrata Salad