Fried Egg BLT with Arugula Aioli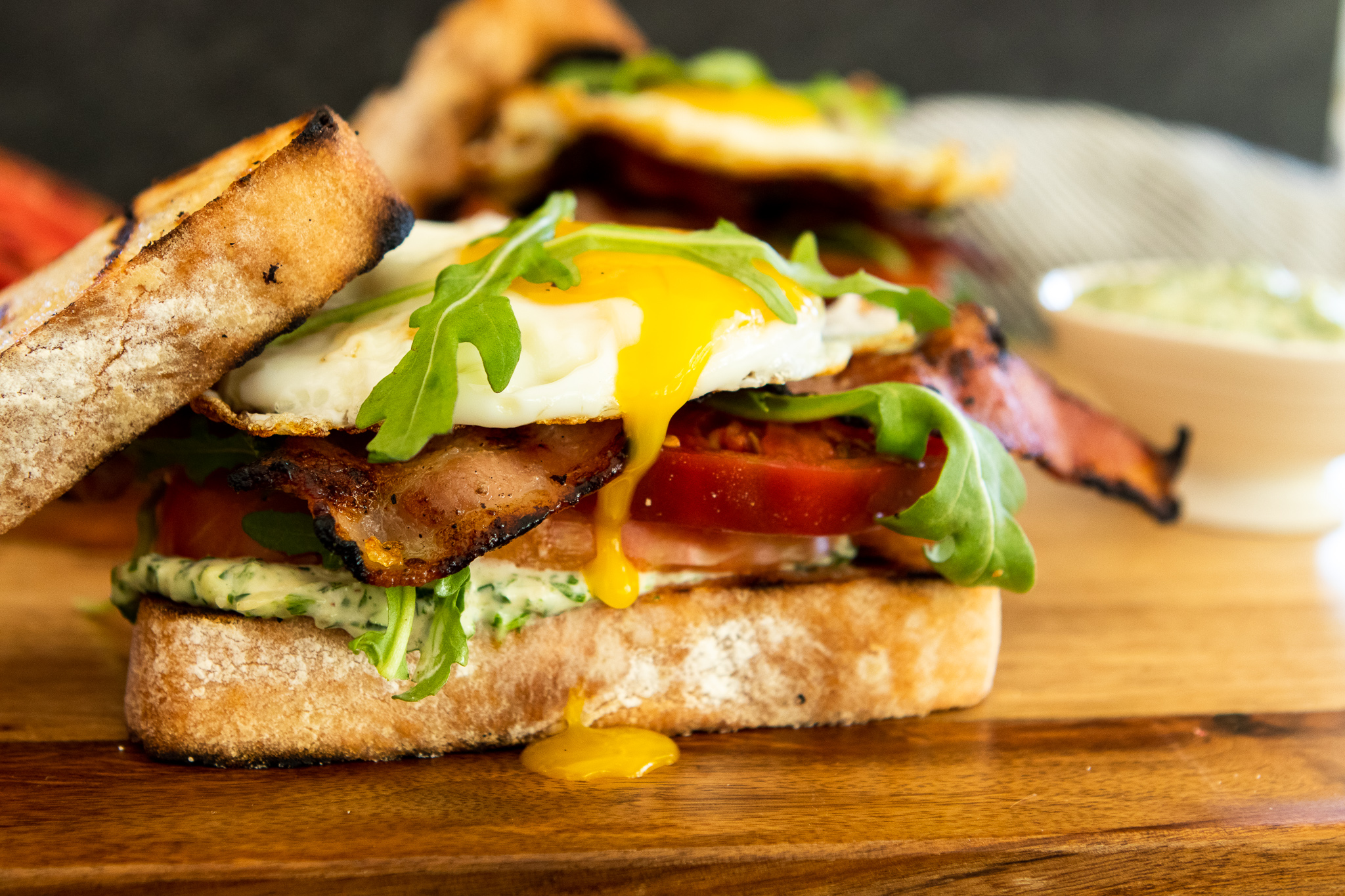 When my boys, Zach and Sam, were little, their first choice for breakfast was an egg sandwich. For them, that meant Mom fries up bacon and eggs and layers it on toast with cheese and tomatoes. Oh, and the eggs need to be runny so that when you cut into it, it oozes across the plate! Twenty some-odd years later, it's still their favorite breakfast sandwich. Sam just came to visit me at our cabin and reminded me that some things never change!
I decided to step up this version of the "egg sandwich" by making a rich, herby aioli instead of the cheese, grilling the bread and adding some arugula. The rest remains unchanged. I'm sure my boys would say this is nowhere near as good, but hey, what do they know? Just kidding, guys…Mommy loves you.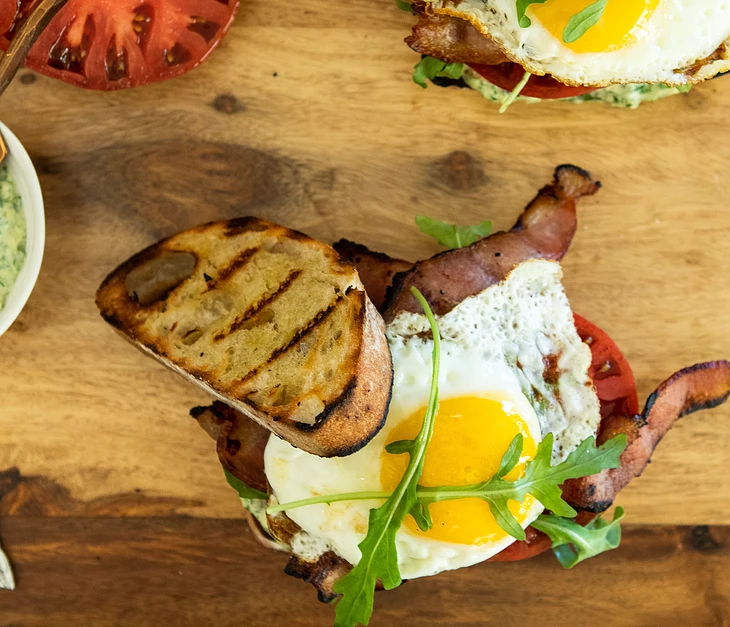 Lastly, if you make Fried Egg BLT with Arugula Aioli, be sure to leave a review down below at the bottom of this page (stars are also appreciated)! Above all, I love to hear from you and always do my best to respond to each and every review. And of course, if you do make this recipe, don't forget to tag me on 
Instagram
! Looking through the photos of recipes you all have made is one of my favorite things to do!
Fried Egg BLT with Arugula Aioli
Makes: 6 servings
Prep Time: 10 minutes
Cook Time: 15 minutes
Total Time: 25 minutes
Ingredients
1 tbsp pine nuts 

1 & 1/2 cups lightly packed baby arugula (2 ounces) 

1/4 cup lightly packed parsley leaves 

1/4 cup lightly packed basil leaves 

1 garlic clove 

1 cup mayonnaise 

2 tbsp freshly grated Parmigiano-Reggiano cheese 

1/4 cup extra-virgin olive oil, plus more for brushing 

1 & 1/2 tablespoons fresh lemon juice 

Kosher salt 

Freshly ground pepper 

12 thick-cut slices of rustic Italian bread 

12 slices of thick-cut bacon (12 ounces)

2 large heirloom tomatoes, sliced 1/4 inch thick 

3 ounces arugula, torn into bite-size pieces (1 1/2 cups) 

6 large eggs
Instructions
In a small skillet, toast the pine nuts over moderate heat until lightly golden, about 4 minutes. Let cool.
In a food processor, combine the pine nuts, arugula, parsley, basil and garlic and pulse until coarsely chopped. Add the mayonnaise, grated cheese, 1 tablespoon of the olive oil and 1 tablespoon of the lemon juice and puree until smooth. Season the aioli with salt and pepper.
Preheat a large griddle. Brush both sides of the bread slices with olive oil and griddle over moderate heat, turning once, until toasted, about 2 minutes. Transfer the toasts to a plate. Add the bacon to the griddle and cook over moderate heat until crisp, 3 to 4 minutes per side; drain on paper towels.
In a medium bowl, gently toss the tomato slices and torn frisée with 1 tablespoon of the olive oil and the remaining 1/2 tablespoon of lemon juice; season with salt and pepper.
In a large nonstick skillet, heat the remaining 2 tablespoons of oil. Crack the eggs into the skillet and fry sunny-side up or over-easy. Transfer to a plate and season with salt and pepper.
Lay 6 slices of toast on a work surface and spread with the aioli. Top with the tomatoes and frisée, then the bacon and eggs. Close the sandwiches, cut in half and serve right away.
Recipe from Jimmy Banno Jr of Food & Wine
Download PDF
Fried Egg BLT with Arugula Aioli