Giant Peppermint Meringues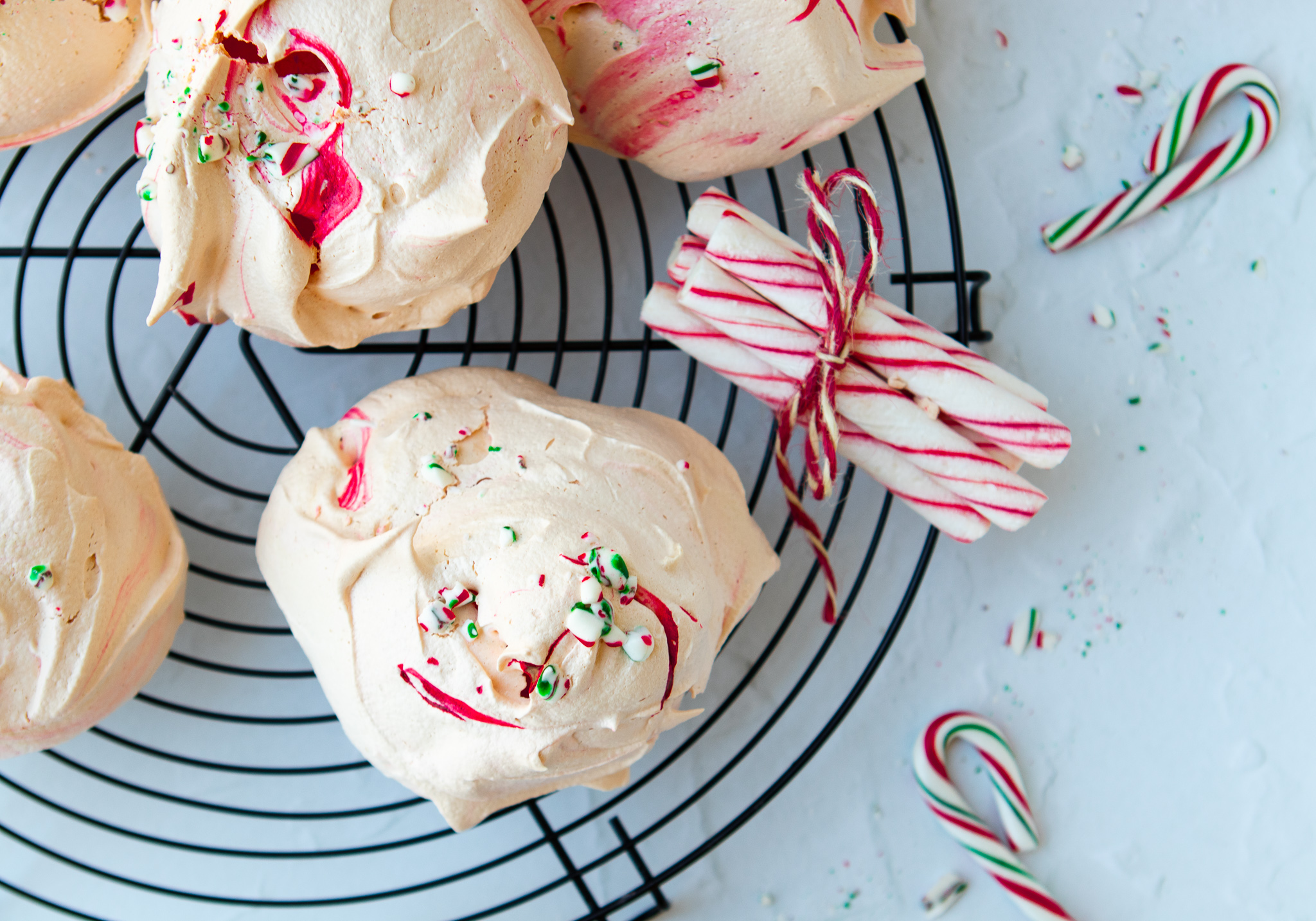 Trying to figure out the perfect holiday dessert? How about these amazing Giant Peppermint Meringues?
I love these for a bunch of reasons: the outer shell is so crunchy that when you bite into them, they "shatter"; the interior is "mallowy" (yes, like a marshmallow) and chewy at the same time; the peppermint flavor adds a fresh, cool taste and the crunchy candy cane bits are wonderful in each bite.
On top on that, they are so festive! You will delight your friends and family with this billowy confection!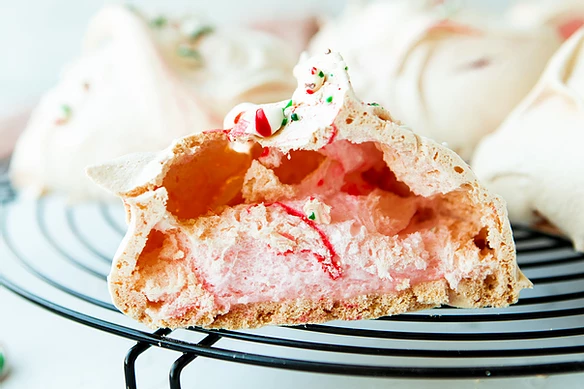 These treats can be made in advance, so why wouldn't you?? They can be stored at room temperature in an airtight container, but I like to make them weeks in advance and freeze them. To defrost them, just place them on a wire rack and let them come to room temperature. They are as good as when you first made them. The chewy interior stays chewy and the crisp exterior stays crisp. Perfection!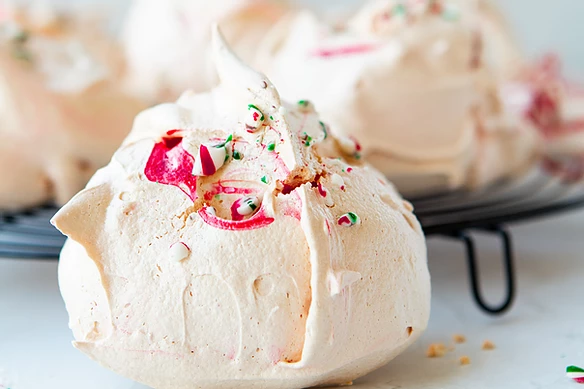 Lastly, if you make Giant Peppermint Meringues, be sure to leave a review down below at the bottom of this page (stars are also appreciated)! Above all, I love to hear from you and always do my best to respond to each and every review. And of course, if you do make this recipe, don't forget to tag me on 
Instagram
! Looking through the photos of recipes you all have made is one of my favorite things to do!
Giant Peppermint Meringues
Makes: 12 meringues
Prep Time: 25 minutes
Bake Time: 1 hour
Total Time: 1 hour & 25 minutes
Ingredients
4 egg whites

1 cup superfine sugar (see Chef's Note)

1 tsp vanilla extract

1/2 tsp peppermint extract

Pink and red gel food coloring

Crushed candy canes, for topping
Instructions
Heat oven to 275°F. Line 2 baking sheets with baking parchment. In a clean bowl, whisk the egg whites until very stiff – the whites should stand in stiff, not floppy, peaks when the beaters are lifted out. Once you have reached this point, slowly pour in roughly half the sugar, the vanilla extract and the peppermint extract and whisk again until the mixture becomes very thick, firm and shiny. Add the remaining sugar and whisk again until thick, firm and shiny.
Take 1 cup of meringue and put it into a small bowl. Add red food coloring to get a dark red color. To the remaining meringue, add a few drops of pink food coloring and mix to get your desired base color. Then, swirl the red meringue into the pink. Don't over-mix it or you will lose the streaks.
Drop spoonfuls of meringue onto the sheet. I like to use a large spoon that holds approximately 1/2 cup of meringue for the giant cookies. For these meringues, I like a free-form look vs a piped look. The meringues will spread slightly as they cook, so leave enough space between each one. Sprinkle some crushed candy canes on the top of each meringue. Bake in the oven for 1 hr, turning the heat down to 250°F after 30 mins.
Remove from the oven – they should peel easily away from the parchment – and cool on a wire rack. Can be made up to a week ahead and kept in an airtight container, or frozen for up to 3 months, between layers of parchment, in an airtight container.
Chef's Note:
Superfine sugar is also called Baker's Sugar. If you can't find it, pulse the sugar in a food processor 5-6 times.
Giant Peppermint Meringues