Peach Thyme Tarts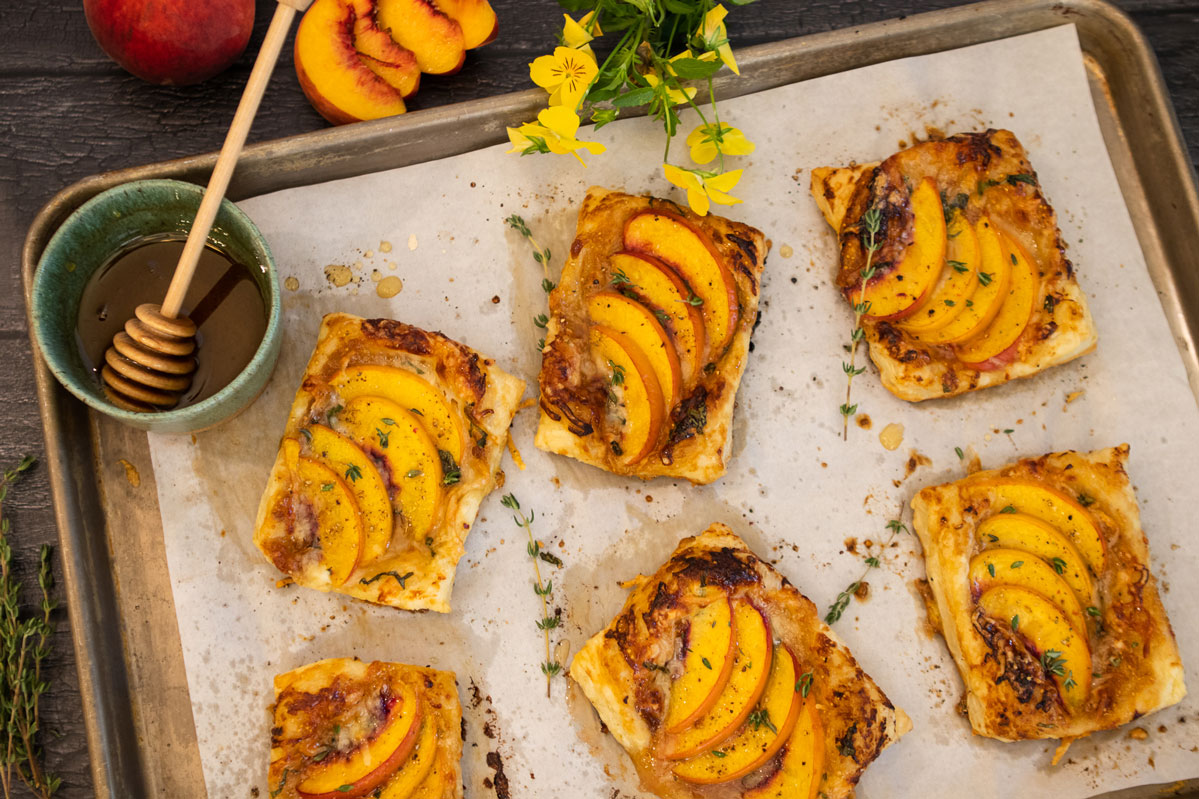 It's hard to classify Peach Thyme Tarts.  Are they savory summer appetizers or sweet peach dessert tarts?  The combination of peaches, fig preserves, melty cheese, honey and thyme over puff pastry just gets a little confusing.  But, the good news is that you don't have to decide what category of foods this belongs to…just make them and eat them!
These delicious tarts are wonderful as a starter with some sparkling rosé on a hot summer night.  They are equally as wonderful eaten after a meal as a light peachy dessert. 
And, the great news is that it doesn't take much to make these.  You probably have most of the ingredients in your fridge.  While summer peaches are still available, grab them, ripen them, and slice and bake them into these mouth-watering tarts.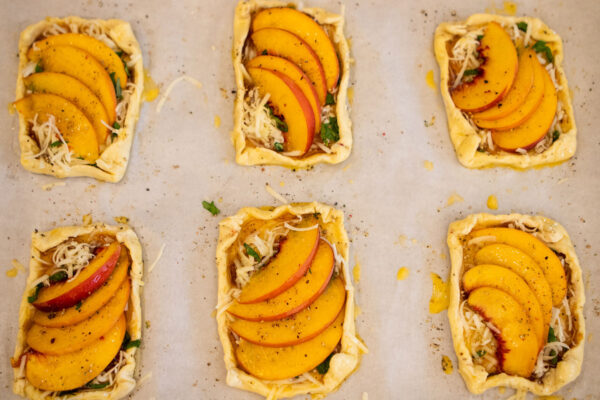 Begin this recipe by thawing 2 sheets of frozen puff pastry.  You can easily half the recipe, depending on how many servings you'd like.  Cut each sheet into 6 rectangles.
Spread the fig preserves over each rectangle, then layer the shredded cheese and the fresh basil.
A word about the cheese:  although I recommend 3 different types of cheese, I especially love the fontina cheese.  It's a bit sharp in flavor which is a perfect complement to the sweetness of the peaches, fig jam and honey.  It's also less expensive than Gruyère.  As always, use the cheese that appeals most to you.
Layer thin slices of the peaches over the cheese and basil leaves and press them into cheese.  Drizzle a little olive oil over and then fold up the edges of the puff pastry to enclose the peaches.
Brush beaten egg on the pastry, sprinkle with pepper and pop them into the oven.  Once they are nicely browned and puffy, bout 15-20 minutes, remove the tarts from the oven, drizzle with honey and sprinkle with thyme.
Now, enjoy the appetizers/dessert/side dish…whatever these are to you, you're going to love them!
Lastly, if you make Peach Thyme Tarts, be sure to leave a comment and/or give this recipe a rating! Above all, I love to hear from you and always do my best to respond to each and every comment. And of course, if you do make this recipe, don't forget to tag me on 
Instagram
! Looking through the photos of recipes you all have made is one of my favorite things to do!
Makes: 2 servings
Prep Time: 15 minutes
Bake Time: 15 minutes
Total Time: 30 minutes
Ingredients
2 sheets (1 box)

frozen puff pastry, thawed

1 cup shredded Gruyère, Fontina, or Brie cheese

1/3 cup

fig preserves

1/4 cup

fresh basil, chopped

4 ripe peaches or nectarines, sliced

extra virgin olive oil, for drizzling

flaky salt and freshly crushed black pepper

1

egg, beaten

1/3 cup

honey

2 tbsp

fresh thyme leaves
Instructions
Preheat the oven to 425°F. Line a baking sheet with parchment paper.
Cut each sheet of puff pastry into 6 rectangles. Spread each rectangle with about 1 teaspoon fig preserves, leaving a 1/4-inch border. Top with cheese and sprinkle with basil. Arrange the peaches slices over the cheese and basil, pressing them into the cheese to adhere slightly . Drizzle with oil and season with salt and pepper.
Fold the edges of the pastry inward to enclose. Brush the edges of the pastry with beaten egg and sprinkle with black pepper.
Transfer to the oven and bake one sheet at a time for 15-20 minutes or until the pastry is golden and the cheese melted. Top with fresh honey and thyme. Serve and enjoy!
Recipe by Half Baked Harvest