Harvest Apple Arugula Salad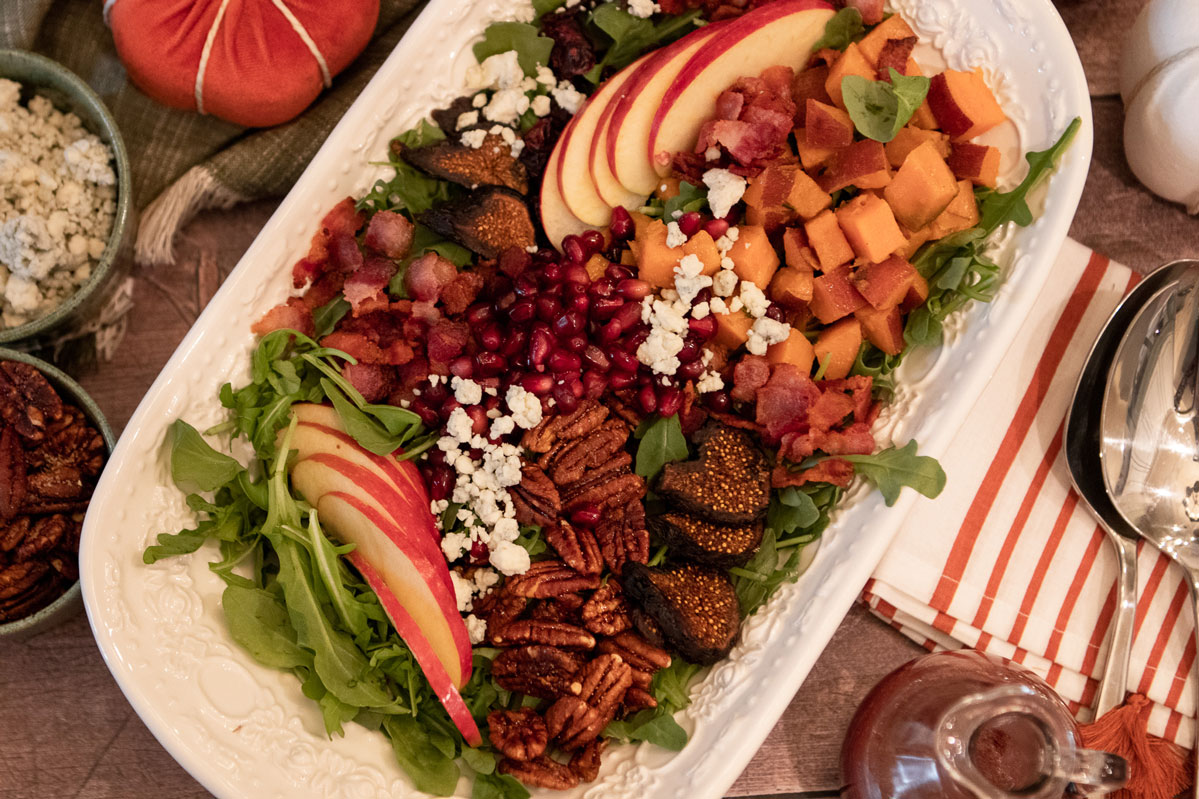 This Harvest Apple Arugula Salad is the perfect way to kick off Autumn and would be a wonderful addition to any fall celebration.  This bountiful salad has a cornucopia of fall ingredients in it:  crisp apples, spiced pecans, figs, caramelized sweet potatoes, smoky bacon, cranberries, and pomegranate seeds.  It's tossed in a divine Pomegranate Ginger Vinaigrette.  Every bite will bring a medley of flavors and textures not to be matched in most salads.
There are a number of separate steps to making this salad, but all can be done ahead of time, with the final assembly taking only minutes.  
Begin by making the Caramelized Sweet Potatoes.  This is a side dish that you'll want to keep on rotation throughout this season.  Quick and tasty, these sweet potatoes come together in about 20 minutes.
Once cooked, use the same skillet to crisp up bacon pieces and set aside.  The bacon fat is then used to toast pecans with salt and rosemary.  Set these aside.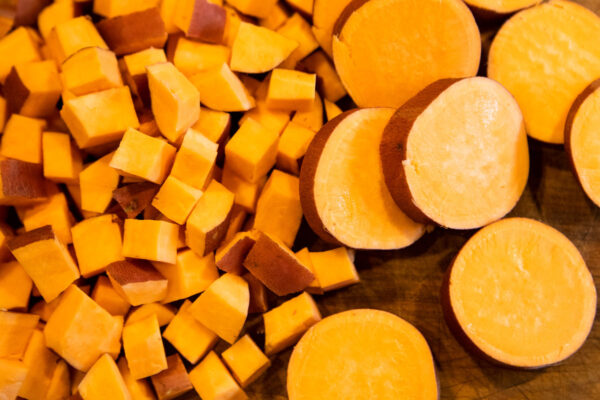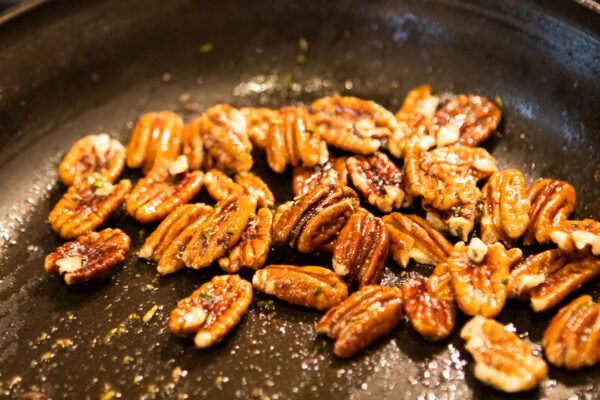 The Pomegranate Ginger Vinaigrette is an easy salad dressing to make.  The key is to reduce pomegranate juice until it's slightly thickened and add it to oil, ginger, garlic and balsamic vinegar.  I like to use white balsamic vinegar to keep the vibrant purple color, but if it's not available, it's fine to use regular balsamic vinegar.
Place the arugula in the bottom of your serving bowl.  Arrange the bacon, sweet potatoes, sliced apples, figs, cranberries and pecans over the arugula.  Top with pomegranate seeds and blue cheese.  Pass the salad dressing separately or toss the salad with the vinaigrette before hand.  I prefer presenting the salad without being tossed as it's pretty dramatic to look at and serving the dressing on the side.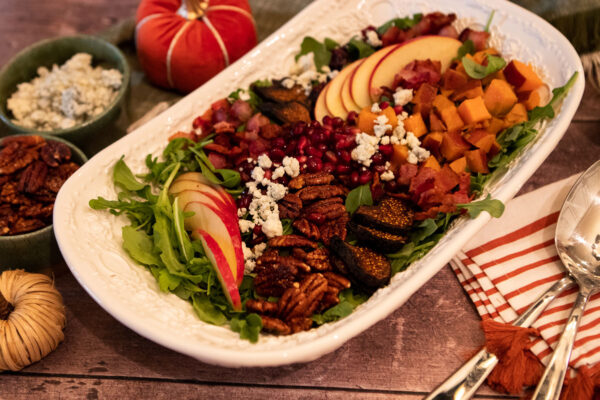 Lastly, if you make Harvest Apple Arugula Salad, be sure to leave a comment and/or give this recipe a rating! Above all, I love to hear from you and always do my best to respond to each and every comment. And of course, if you do make this recipe, don't forget to tag me on 
Instagram
! Looking through the photos of recipes you all have made is one of my favorite things to do!
Harvest Apple Arugula Salad
Makes: 6 servings
Prep Time: 30 minutes
Cook Time: 30 minutes
Total Time: 1 hour
Ingredients
1/2 recipe C

aramelized Sweet Potatoes

4 slices thick-cut smoky bacon, halved and cut in ½-inch strips

1/2 cup pecans

1/4 tsp kosher salt

1 tsp finely chopped fresh rosemary

5 ounces arugula

1 medium apple, halved, cored and thinly sliced

4-5 medium-size dried figs thinly sliced (I used Sunkist Mission figs)

1/3 cup dried cranberries (see Chef's Note)

1/2

cup

pomegranate arils or seeds

1/3

cup crumbled blue cheese

Pomegranate Ginger V

inaigrette
Instructions
Make the Caramelized Sweet Potatoes per this recipe link. When done, transfer the sweet potatoes to a bowl and cover to keep warm. Add the bacon to the same pan and cook until golden and crisp, stirring occasionally. Transfer the bacon to a paper towel-lined plate and set aside.
Pour off all of the bacon fat except 1 teaspoon. Add the pecans, salt and rosemary to the pan. Stir to combine then toast over medium-low heat, stirring occasionally until pecans are crisp and turn a deeper shade. Set aside.
Add the arugula to a large bowl. Arrange the bacon, sweet potatoes, sliced apple, figs, dried cranberries and pecans over the arugula. Top with the pomegranates and blue cheese. Drizzle with Pomegranate Ginger Dressing and pass more at the table.
Chef's Note:
If the dried cranberries are dry and not nice and plump, place them in a heat-safe bowl and cover them with boiling water. Let them sit for 5 minutes, then drain well and set aside.
Recipe by The Cafe Sucre Farine
Harvest Apple Arugula Salad