Rainbow Salad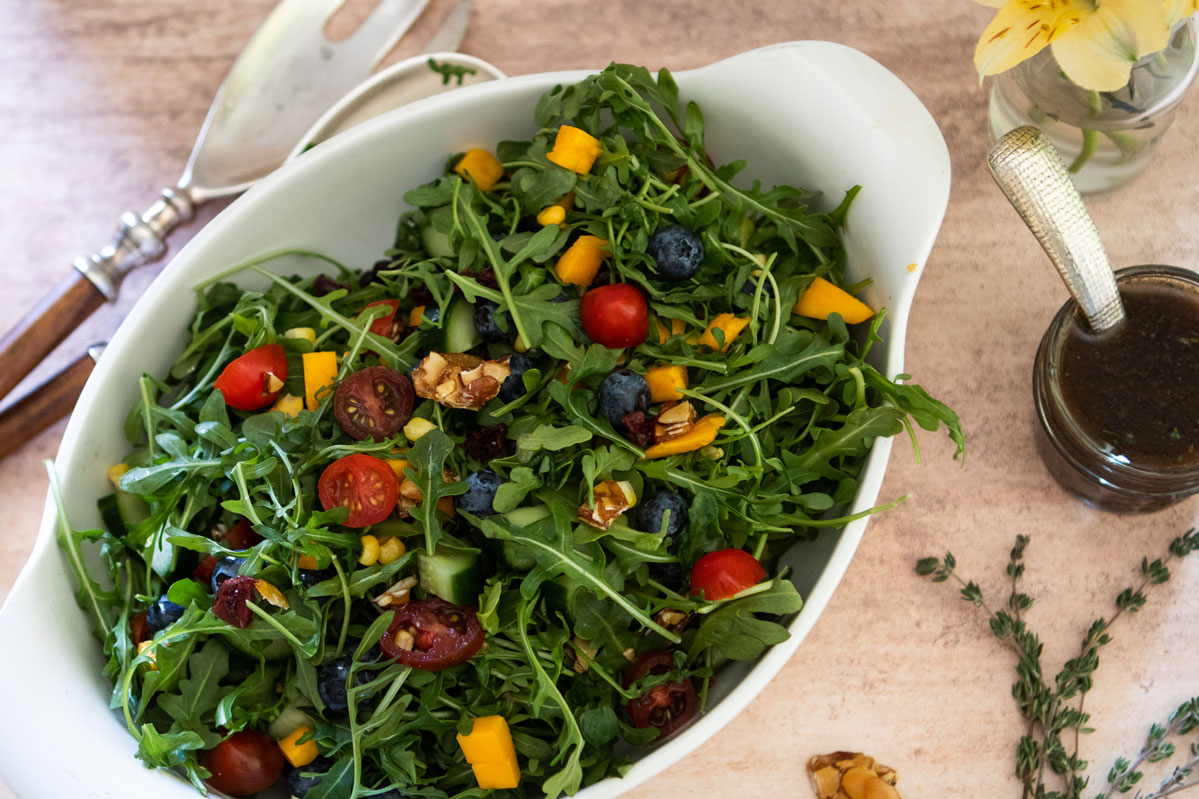 This Rainbow Salad could be renamed as "anything you want" salad or "choose your colors" salad, but "Rainbow" sounds so much more whimsical! 
The dressing is a lovely combination of balsamic vinegar, Dijon mustard, maple syrup, garlic, and thyme which comes together with the snap of your fingers.
This salad can use any vegetables, fruit, lettuce, or nuts that you have on hand.  It's very versatile.  It takes about 20 minutes to make.  So, what's stopping you??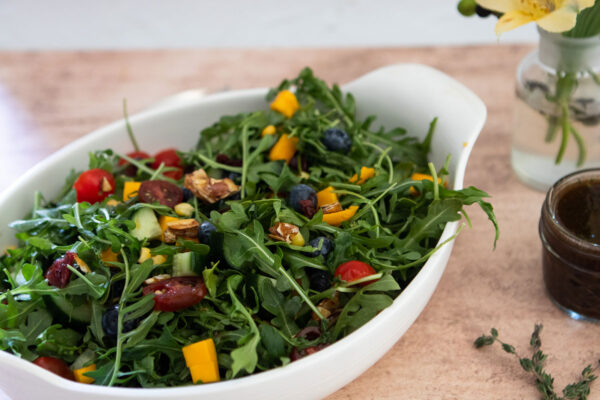 This ingredients are listed by color…
Green:  choose your lettuce base.  If you prefer arugula, go for it.  Romaine or spinach work nicely too.
Yellow:  choose fresh corn kernels or diced mango (I actually chose both).
Red:  Sliced cherry tomatoes or diced red peppers.
Orange:  shredded carrots, diced orange bell peppers or sliced oranges.
Green (again):  sliced cucumbers, celery or diced avocado.
Blue/Purple:  Blueberries or sliced purple cabbage
The cranberries and candied nuts (almonds, pecans or cashews) are for texture and sweetness but again, you have choices when it comes to nuts.  You could also substitute dried cherries  or blueberries for the cranberries.  Choice!!
All you need to do with the dressing ingredients is combine them in a glass jar, give them a shake and pour them over the salad ingredients.  Toss the salad and you are ready to serve!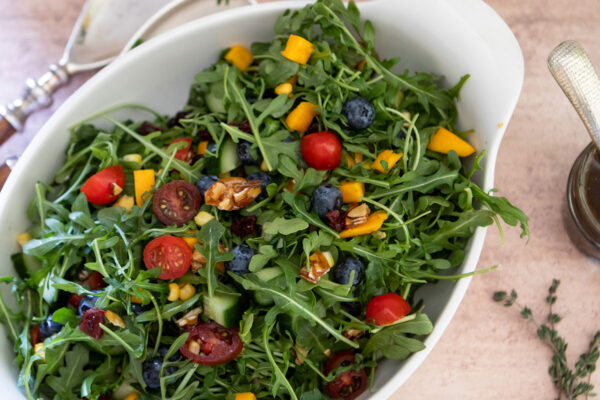 Lastly, if you make Rainbow Salad, be sure to leave a review down below at the bottom of this page (stars are also appreciated)! Above all, I love to hear from you and always do my best to respond to each and every review. And of course, if you do make this recipe, don't forget to tag me on 
Instagram
! Looking through the photos of recipes you all have made is one of my favorite things to do!
Makes: 6-8 servings
Prep Time: 15 minutes
Total Time: 20 minutes
Ingredients
4 cups romaine, arugula or spinach leaves

1 cup fresh corn kernels or diced mango (or combination)

1/2 cup chopped red bell pepper or sliced cherry tomatoes

1/2 cup shredded carrots, diced orange bell pepper or sliced oranges

1 cup sliced cucumbers, celery, or diced avocado

1 cup thinly sliced purple cabbage or blueberries

1/3 cup dried cranberries

1/2 cup candied almonds, pecans, or cashews
Dressing:
1/3 cup light olive oil

2 tbsp balsamic vinegar

1 tbsp Dijon mustard

1 tbsp pure maple syrup

2 cloves garlic, minced

1 tsp minced fresh thyme

Kosher salt & freshly ground black pepper
Instructions
Place lettuce into a large serving bowl. Add toppings and gently toss. Cover; refrigerate.
Combine dressing ingredients in a glass jar; seal tightly and shake well.
Shortly before serving, toss salad with dressing.