Mushroom Marsala Pork Tenderloin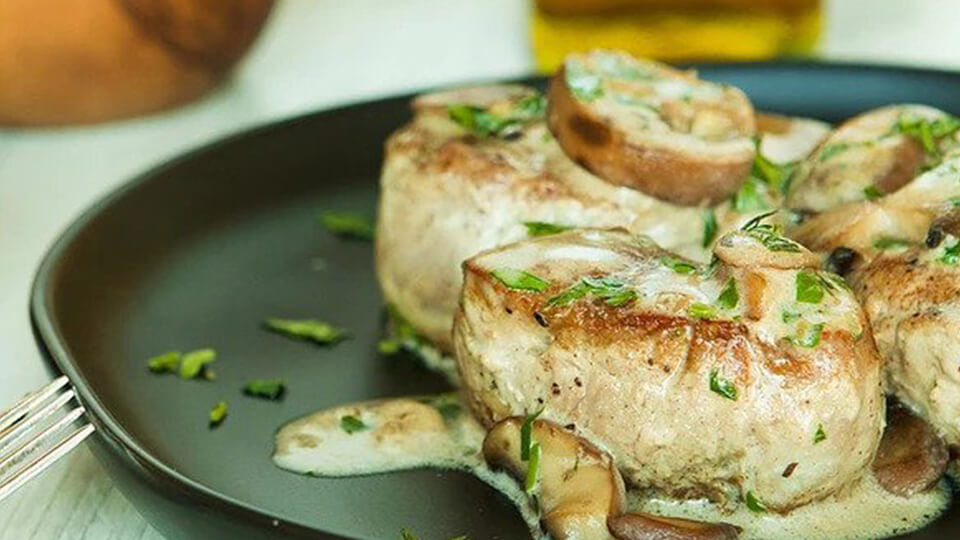 I know people that love pork tenderloin, and for years, I just didn't get it.  I thought it was bland and it really did nothing for me until I discovered this recipe for Mushroom Marsala Pork Tenderloin.
I love great Italian food and a treat for me is an excellent earthy Marsala sauce.  When it's on the menu, it's not difficult to know what I'll choose.  So, when I came across this recipe, I was overjoyed!  After serving it one evening, my Chicago-born, Italian food-loving guy said it was the best Marsala he'd eaten.  Ok, then…it is now a staple in our home!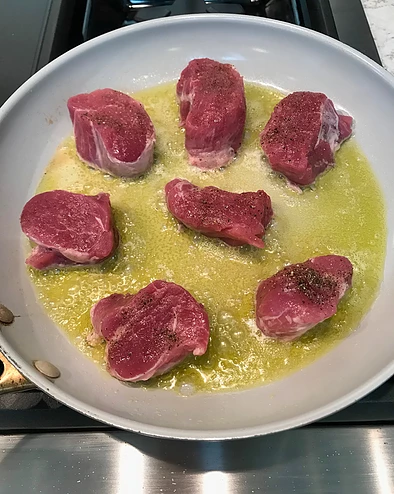 You want to start with some very nice tenderloin, cut into medallions.  If you aren't a pork fan, feel free to substitute beef tenderloin or veal. 
Chicken would definitely work too!   ​ The key is a very hot pan to sear them off.  Once they are nicely browned, remove them from the pan, and it's time to make the Marsala sauce.  Add the shallots and mushrooms to the pan, and sauté until they are browned.  Then comes the Marsala wine, some chicken stock, and finally a splash of cream.
This is an absolutely delicious dish that pairs well with a salad and a roasted veggie! Enjoy!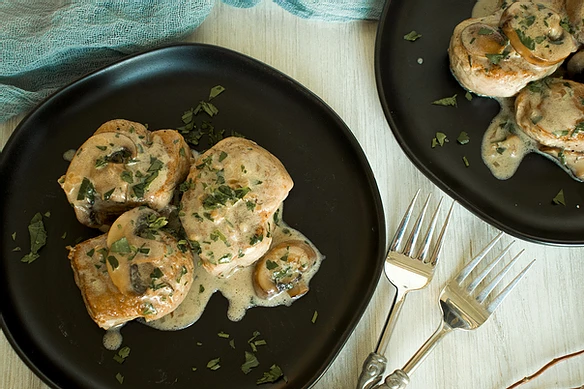 Lastly, if you make Mushroom Marsala Pork Tenderloin, be sure to leave a comment and/or give this recipe a rating! Above all, I love to hear from you and always do my best to respond to each and every comment. And of course, if you do make this recipe, don't forget to tag me on 
Instagram
! Looking through the photos of recipes you all have made is one of my favorite things to do!
Mushroom Marsala Pork Tenderloin
Makes: 4 servings
Prep Time: 10 minutes
Bake Time: 20 minutes
Total Time: 30 minutes
Ingredients
2 pounds pork tenderloin (about 2 small or one large tenderloin)

Kosher salt and freshly ground black pepper

3 tbsp extra-virgin olive oil

3 tbsp unsalted butter, divided

2 medium shallots, finely diced (can substitute red onion)

12 oz Cremini mushrooms, thinly sliced (or regular button mushrooms)

1 tbsp all-purpose flour

1/2 cup dry Marsala wine

1 cup chicken broth

3 tbsp heavy cream

1/4 cup chopped fresh flat-leaf parsley plus more for garnish
Instructions
Trim the tenderloins of silver skin and any excess fat.  Cut the tenderloins into medallions about 1 & 1/2-inches thick.  Place medallions with the cut side up and press down with the palm of your hand to flatten slightly. 
Season the meat with salt and pepper. Heat 3 tbsp oil and 1 tbsp of the butter in a large skillet over high heat, somewhere between medium-high and high.  You want a really hot pan, but not so hot that it will scorch.  When the butter is melted and foaming, add the meat and sear until browned, 2 to 3 minutes.  Don't over-crowd the pan.  Do in two batches, if necessary. 
Flip and cook the other side until the meat is well browned and slightly firm to the touch, about another 2 min.  Transfer pork to a plate. Melt the remaining 2 tbsp butter in the pan.  Add the shallots and a pinch of salt and cook, stirring for about 30 seconds, using a wooden spoon to scrape up any browned bits from the bottom of the pan.   Add the mushrooms and cook until all of the mushroom liquid has evaporated and the mushrooms are golden, about 3 minutes. Sprinkle with the flour and add the Marsala.  
Allow the Marsala to boil until almost completely evaporated. Once the Marsala has almost completely evaporated, add the chicken broth and cook until the mixture is reduced by half, about 3 minutes.  Stir in the cream and parsley.  Return the pork and any accumulated juices to the pan, and cook, flipping the pork once, until it's firm to the touch and still a little pink in the middle (cut into a piece to check), 2 to 4 min.  Taste for salt and pepper and serve.  Serve garnished with additional parsley.
Recipe from Seasons & Suppers
Mushroom Marsala Pork Tenderloin