Lemon Scones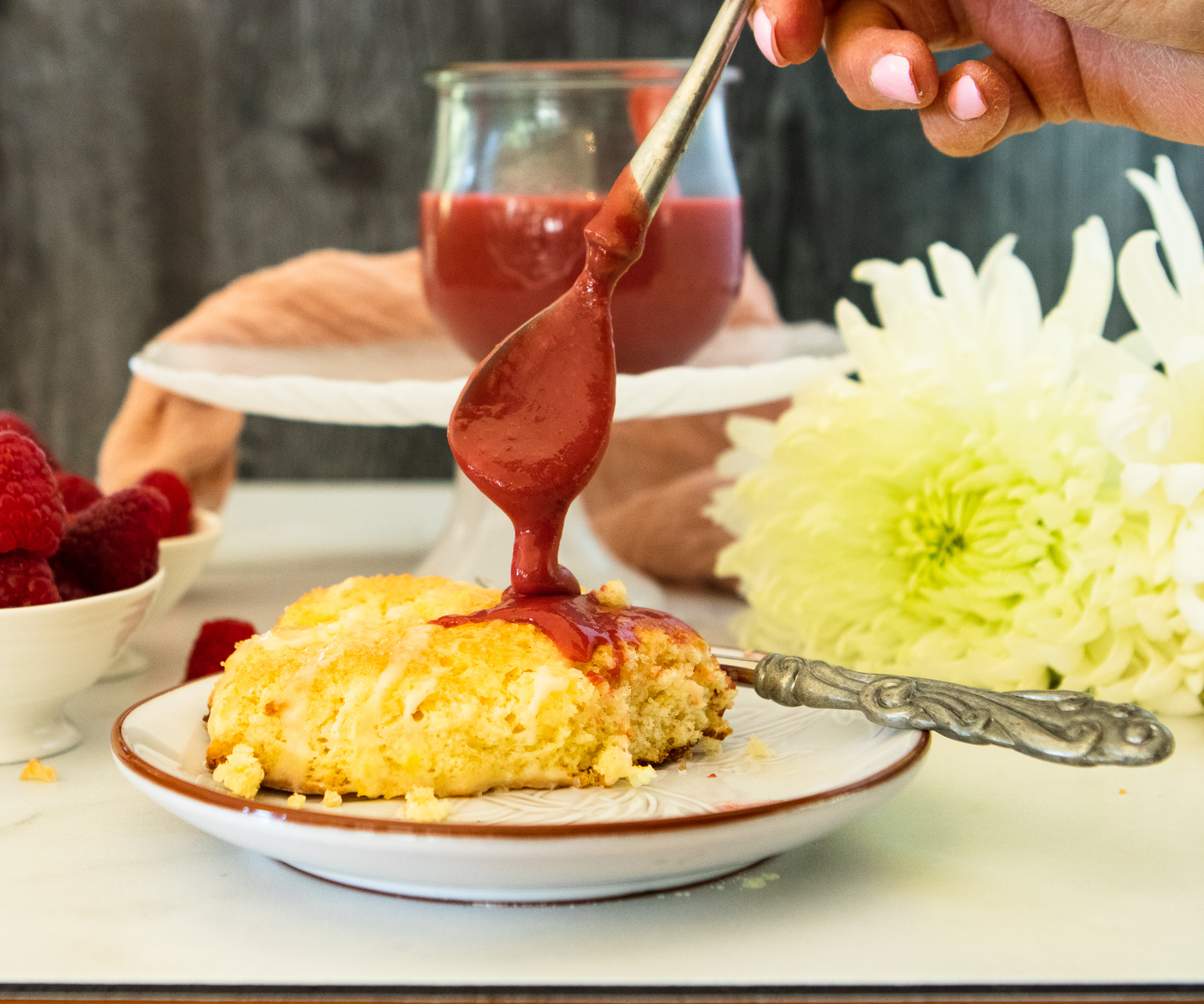 Making scones is a very easy task.  I know that for many, baking is daunting, precise, stressful, and so why do it?  But, if you want something homemade, that is wonderful enough to serve to guests, scones are always a good choice.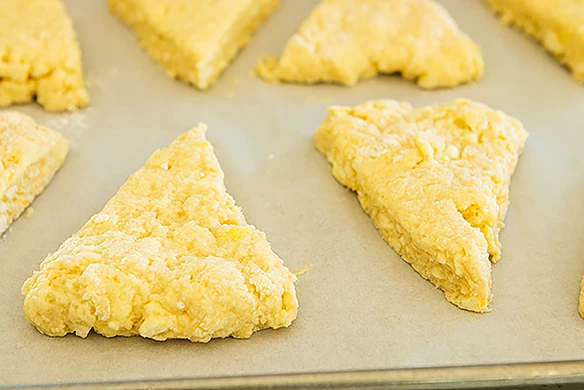 These lemon scones came to me while trying to figure out what to put my raspberry curd on (recipe here).  It occurred to me that the traditional idea is lemon curd on raspberry scones, but why not flip that?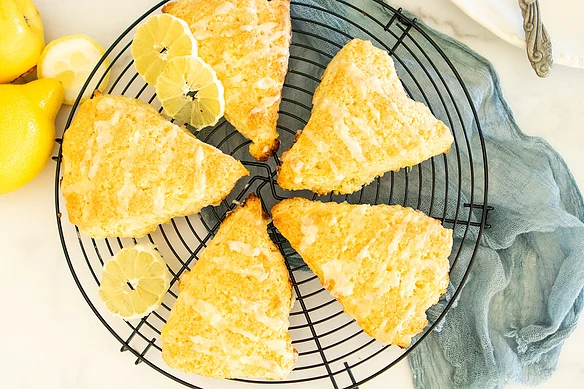 So, now that you know why I made them, you will be as happy as I was with this recipe.  It makes these large gorgeous scones.  They are slightly crispy around the edges and the top (thank you, turbinado sugar) and have a tender cake-like interior.  This is one of the few "lemon" recipes that sings of lemon flavoring…tart, but sweet.  So dang good!
And, you must make the Raspberry Curd and top them with it…not only is it gorgeous, but the flavors mesh up beautifully!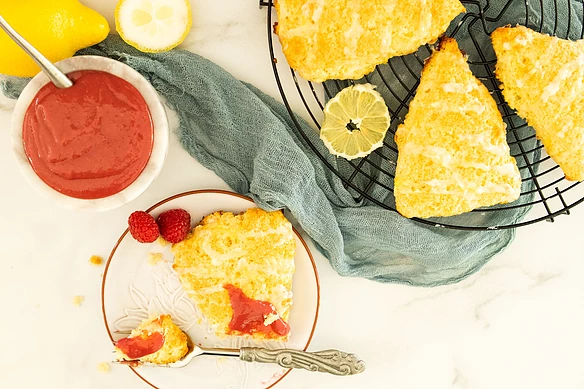 Lastly, if you make Lemon Scones, be sure to leave a review down below at the bottom of this page (stars are also appreciated)! Above all, I love to hear from you and always do my best to respond to each and every review. And of course, if you do make this recipe, don't forget to tag me on 
Instagram
! Looking through the photos of recipes you all have made is one of my favorite things to do!
Makes: 8 scones
Prep Time: 10 minutes
Bake Time: 15 minutes
Total Time: 25 minutes
Ingredients
For the Lemon Scone Dough:
2 cups all-purpose flour

1/2 cup granulated sugar

1 tbsp baking powder

1/2 tsp kosher salt

1/2 cup very cold, unsalted butter, cut into small cubes

1 large egg, cold

1/2 cup very cold heavy cream, half and half, or buttermilk (plus more for brushing the tops)

1 tbsp lemon juice

1/2 tbsp lemon zest

Turbinado sugar or sanding sugar (optional)
For the Lemon Glaze:
1 cup powdered sugar

1 tbsp grated lemon zest

2-4 tbsp lemon juice
Instructions
Preheat the oven to 425°F. Line a baking sheet with parchment paper or a silicone baking mat.
In a large bowl whisk together the flour, sugar, baking powder, and salt, until well combined. Add the pieces of cold butter into the dry ingredients. Cut the butter into the dough using a pastry cutter or a fork until the texture or coarse meal.
Lightly whisk together the heavy cream (or half and half or buttermilk), the egg, lemon zest, and lemon juice together. Add the wet ingredients into the bowl with the dry ingredients and stir just until combined. Do not over-mix.
Lay the dough out on a lightly floured work surface and lightly knead with a lightly floured hand about 4 times. Be gentle so that you do not overwork the dough. Pat the dough out to an 8 or 9 inch circle (about 1 inch thick) and cut into 8 triangle shaped pieces.
Gently transfer the scones onto the prepared baking sheet. Brush lightly with cream and sprinkle liberally with turbinado sugar or sanding sugar, if desired. Bake for 12-15 minutes until golden brown. Allow the scones to cool completely before glazing.
Make the lemon glaze by whisking the powdered sugar and lemon zest with the lemon juice little by little until you have a thick but pour-able consistency.
Store leftovers completely cooled in an airtight container for up to 2 days or wrap cooled scones in plastic wrap or in a ziplock freezer bag and store in the freezer for up to 3 months. Refresh in the oven at 300°F until warmed through.
Recipe from Baker Bettie
Download PDF