Lobster Confetti Salad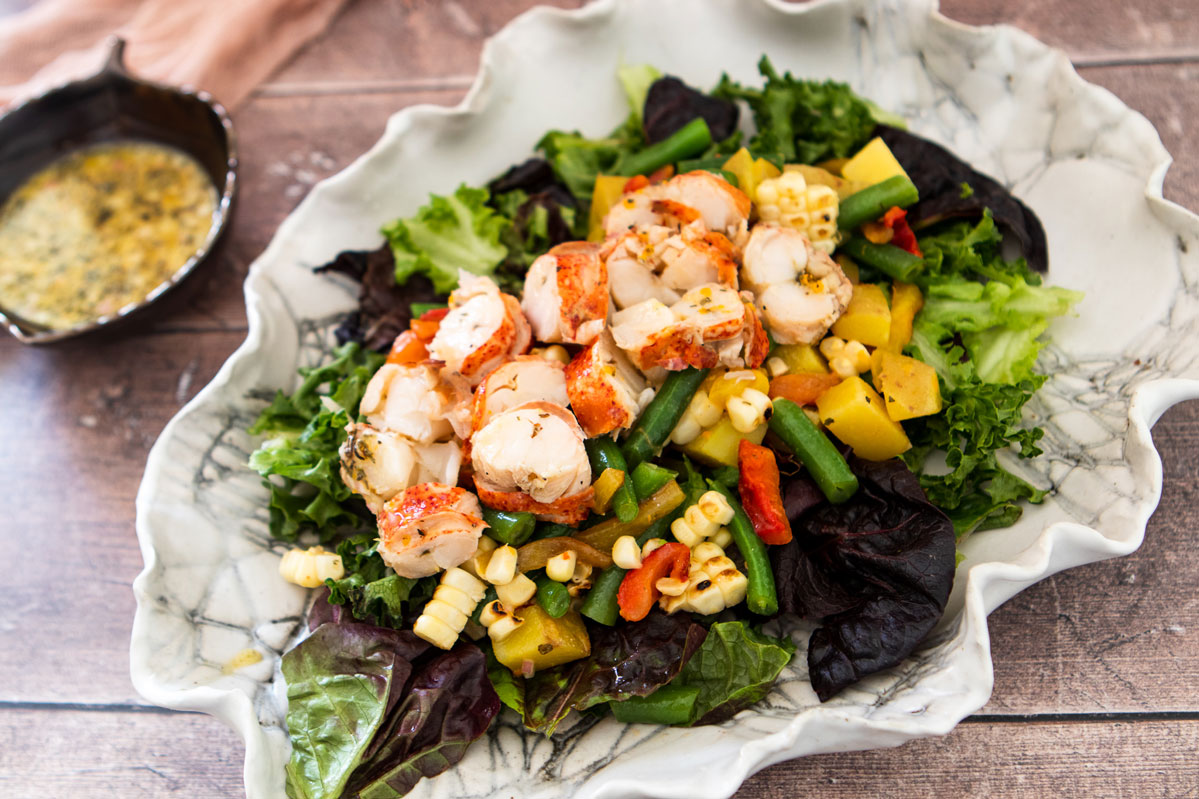 Lobster Confetti Salad has it all:  tender chunks of fresh lobster meat, a panoply of vegetables such as grilled corn, red and yellow peppers along with steamed green beans and white potatoes drizzled with a fresh orange juice and tarragon vinaigrette.  Wow! 
It gets its name from the small chunks of very colorful vegetables and the bright beautiful tones of the cooked lobster tails.
This is a stunning, healthy summer salad that would be perfect as a main course, starter salad to accompany a dinner or on a buffet table.  And, the beauty of it is that it can all be made ahead of time.  All you have to do is arrange the greens, veggies and dressing right before serving.  Gotta love it!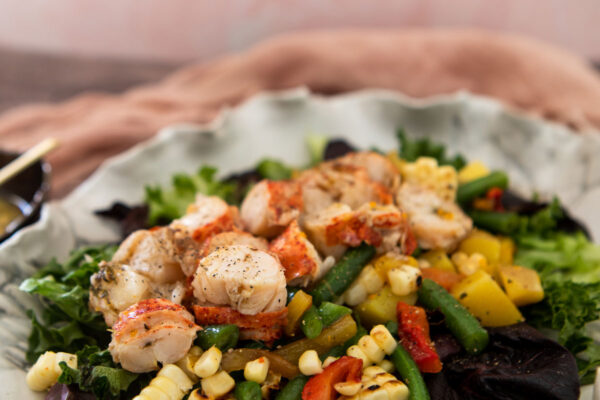 Where to begin?
Let's start with the salad dressing as it can just hang out while you're working on the rest of this divine salad.  Whisk Dijon mustard, rice vinegar and fresh orange juice together in a small bowl.  Gradually whisk in some olive oil and then mix in the tarragon, shallot and orange peel.  You can adjust the salt and pepper as you prefer.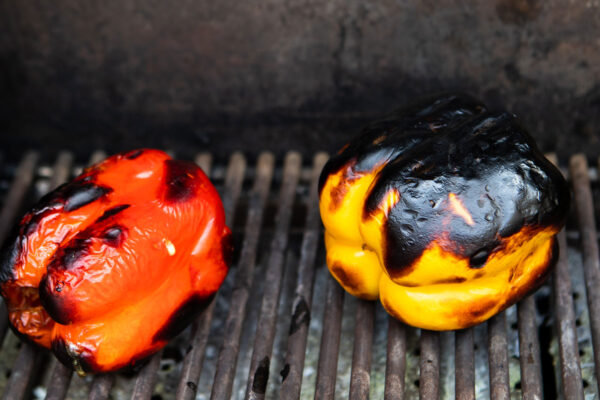 The next step involves the grill. Heat up your grill and char the bell peppers until they are blackened on all sides.  Once done, remove from the grill and either enclose in a paper bag or place in a bowl and cover with plastic wrap;  let the peppers sit for 10 minutes.  This will steam them and make it easier for the skins to come off.  Once steamed, peel and seed the peppers and cut them into 1/2-inch pieces and place them in a large bowl.
The corn should be thrown on the grill while the peppers are steaming.  Grill the corn until it is lightly charred.  Once the corn is cool enough to handle, cut the kernels off.  Corn hack:  use a serrated knife and stand the cob up in a deep bowl.  Cut down on one side of the cob and continue until all of the kernels are off the cob.  The serrated knife will help keep the corn from flying everywhere.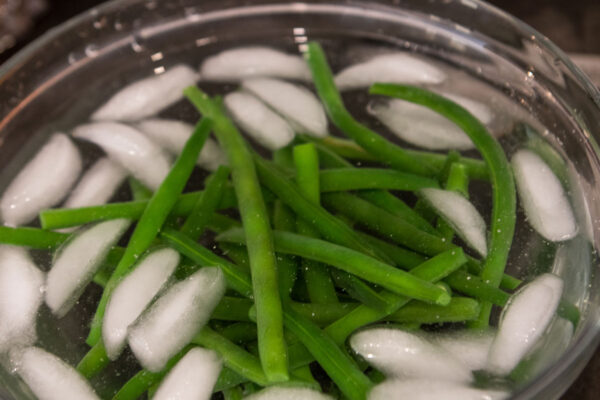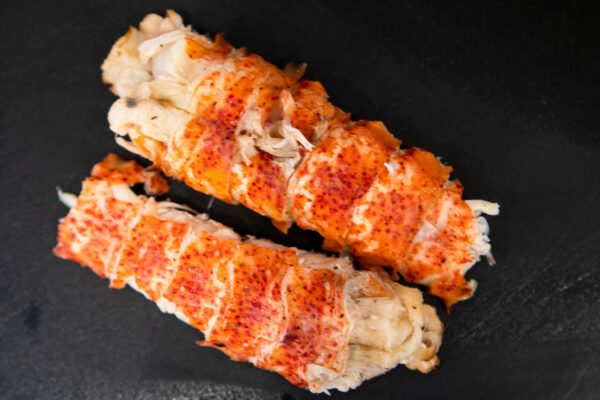 Now for the lobstah'…bring a pot of salted water to a boil and pop the tails into the water.  Cook for 10 minutes.  While the lobster tails are cooking, prepare an ice bath by putting ice and cold water into a large bowl.
Once the tails are done transfer them with tongs to the ice bath and cool them.  Once cooled (it only takes a minute or two), remove and add more ice to the water.
Add the green beans to the pot that the lobster tails were in and bring to a boil.  Cook the green beans until they are crisp-tender (a funny term but it really describes the texture well:  you want them to be crisp enough to get a tiny snap when you bite into them but tender enough that they don't seem raw.  Almost like "al dente" when you describe pasta.)
Transfer the green beans to the ice bath and add the potatoes to the same pot of boiling water.  After about 4 minutes, drain the potatoes and mix them with the peppers.
Pile the rest of the veggies (green beans and corn) to the same bowl and combine it all with a dollop of salad dressing. 
Remove the lobster from the shells, slice it into nice rounds and toss it with a bit of the dressing.
The last thing to do is arrange the salad.  Place the greens on a platter and pile the confetti vegetables on top.  Arrange the lobster over the veggies and serve it with extra dressing.  
Voilá!  A beautiful summer salad that everyone will enjoy!
Lastly, if you make Lobster Confetti Salad, be sure to leave a comment and/or give this recipe a rating! Above all, I love to hear from you and always do my best to respond to each and every comment. And of course, if you do make this recipe, don't forget to tag me on 
Instagram
! Looking through the photos of recipes you all have made is one of my favorite things to do!
Makes: 4 servings
Prep Time: 10 minutes
Bake Time: 30 minutes
Total Time: 40 minutes
Ingredients
1 tbsp Dijon mustard

3 tbsp seasoned rice vinegar

2 & 1/2 tbsp fresh orange juice

1 & 1/2 tbsp olive oil

1 & 1/2 tbsp chopped fresh tarragon or 1 1/2 teaspoons dried

1 large shallot, minced

1 tsp (packed) grated orange peel

1 large yellow bell pepper

1 large red bell pepper

2 8-to-10 ounce uncooked lobster tails (thawed, if frozen)

12 ounces small green beans, trimmed

1 large white-skinned potato, cut into 1/2-inch pieces

1 large ear fresh corn

10 cups mixed baby greens (about 5 ounces)

Instructions
Place mustard in small bowl. Whisk in 2 tablespoons vinegar and orange juice. Gradually whisk in oil. Mix in tarragon, shallot and orange peel. Season dressing to taste with salt and pepper.
Char bell peppers over gas flame or in broiler until blackened on all sides. Enclose in paper bag and let stand 10 minutes. Peel and seed peppers; cut into 1/2-inch pieces. Place in large bowl. Add corn to barbecue and grill until slightly charred. When cool enough to handle, cut kernels from cob and set aside.
Bring large pot of salted water to boil. Add lobster tails and cook 10 minutes. Transfer to bowl of ice water and cool. Add green beans to same pot of boiling water and cook until crisp-tender, about 5 minutes. Using slotted spoon, transfer beans to another bowl of ice water and cool. Add potato to same pot of boiling water and cook 4 minutes. Drain well; add to bowl with peppers. Drain green beans; pat dry with paper towels. Add beans to potato mixture. Add corn kernels to mixture.
Drain lobster; remove meat from shells. Cut meat crosswise into rounds. (Dressing, lobster and salad can be prepared 4 hours ahead. Cover separately and refrigerate.) Mix lobster with 1 1/2 tablespoons dressing. Mix remaining dressing into salad. Season with salt and pepper.
Toss greens with remaining 1 tablespoon vinegar. Place on large platter. Mound salad on greens. Arrange lobster over greens and serve.
Recipe from Epicurious